2020 Virtual Annual Roadshow
Virtual Event
Get ready for East Anglian Air Ambulance's Virtual Annual Roadshow experience!
14 Oct 20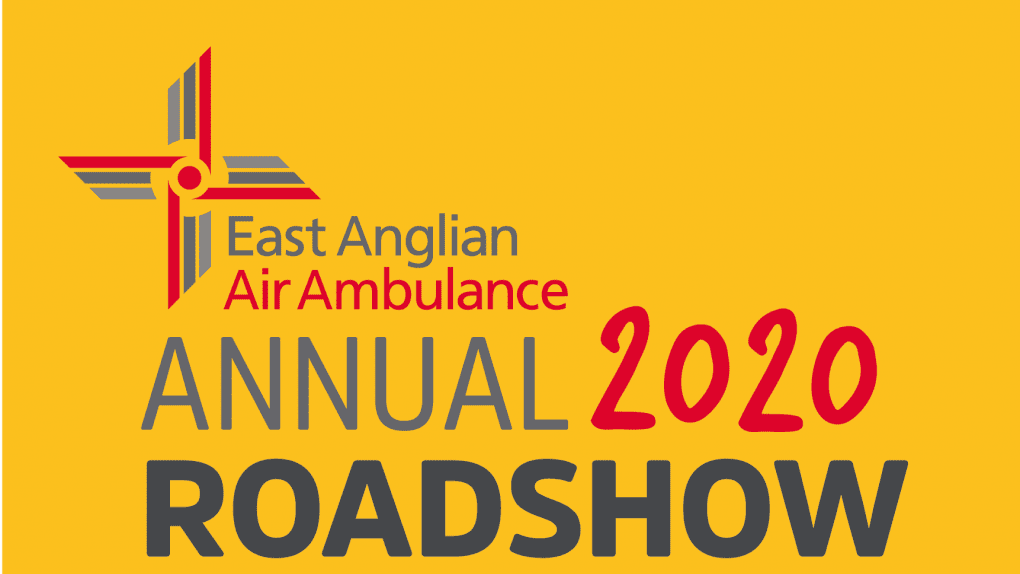 Wednesday 14th October, 5.00pm - 6.00pm
Free to attend, donations welcome
To register for this event, please fill in the form at the bottom of the page.
Last year it was great to see almost 300 of our wonderful supporters in-person at our Annual Roadshows, and we cannot wait to 'see' many more of you this year as we take this event to the virtual stage for 2020. We think it is really important to be able to share, with you, our activity over the past 12 months and be on hand to answer your questions and hear your thoughts.
On Wednesday 14th October we will be bringing together speakers from across EAAA to provide their insight into how this lifesaving charity has continued to remain operational throughout the pandemic, taking a look at how the challenges of Covid-19 have shaped the charity, and thank our wonderful supporters for their kindness, loyalty, and encouragement.
It will be a fantastic opportunity to learn from some remarkable speakers and a chance to celebrate our 20 years of service, only made possible by you and the rest of our dedicated supporters. We look forward to sharing an impromptu tea break with our on-duty crew, hosting a live Q&A session with the team and giving you a backstage tour around our very own H145 helicopter!
Some highlights that should not be missed:
Receive a backstage pass to an exciting, behind the scenes tour!
Take a look back and celebrate our 20 years of service.
Have a cuppa to hand for a virtual tea-break check in with the on-duty crew, mission dependent!
Listen to an incredibly powerful and inspiring story of achievement from one of our former patients.
Indulge in the opportunity for a live audience Q&A with the crew to feedback and talk trends, challenges and opportunities.
And, enjoy the chance to hear from a variety of speakers at EAAA that will enlighten, inspire and entertain, including an update on the charity's response to Covid-19.
Register for FREE today, invite your friends, family and colleagues and get ready for some exciting updates from the EAAA Team! Please check out our FAQ page, or contact us at info@eaaa.org.uk with any questions.
We have received a few requests from supporters who would like to make a donation towards the event of what it would have otherwise cost them to attend the in-person version. If you feel this is something you would like to do also, we would be extremely grateful and you can do that here.
Register:
Please fill out your contact information below to register for the 2020 Virtual Annual Roadshow. We will send a link, to the email you use to register with, to view the event and how to join, 3 days prior.
Once you have signed up to our Annual Roadshow we will send a link, to the email you use to register with, to view the event and how to join, 3 days prior.
The event will be recorded and shared with those that registered and weren't able to attend following the event.
Please remember to add a reminder to your calendar.
Need Help? Ask Us a Question
Please check out our FAQ'S below, or contact us at info@eaaa.org.uk with any questions.
Downloads