We are immensely proud to have been listed as the number one charity to work for in the 2021 Best Companies list for the Charity Sector. The charity has also been recognised as the 6th Best Company to Work For in the East of England in the 2021 listings and 14th in the Top 100 Mid-Sized Companies to Work For in the UK. In 2020, EAAA was awarded Employer of the Year in the Norfolk and Cambridge Business Awards.
The benefits of working with East Anglian Air Ambulance don't just start and end with your salary. We also offer a generous pension scheme, health benefits and flexible working.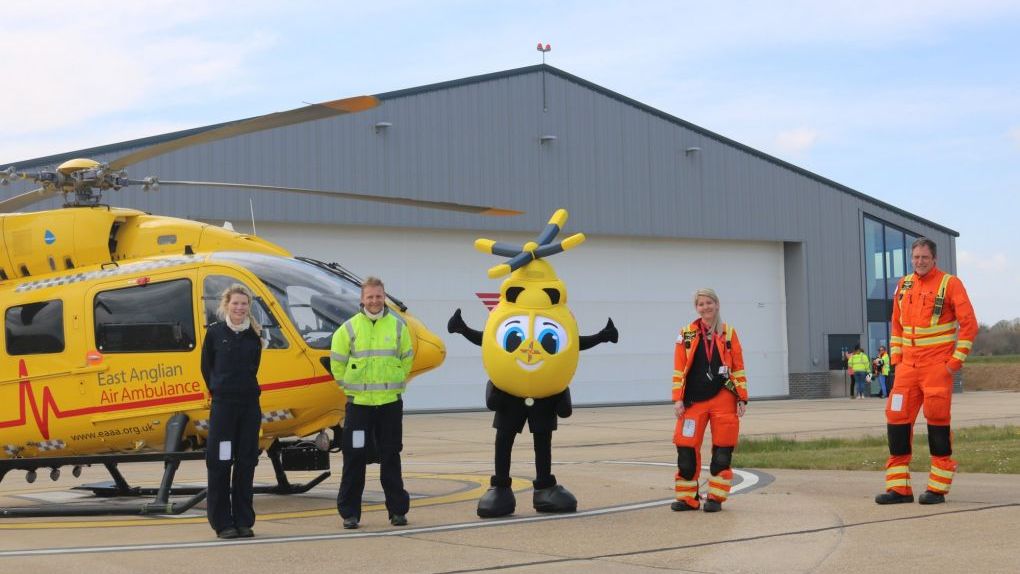 What we offer
This is an organisation that cares for its staff, its patients, its volunteers, its donors, the environment and the community it serves. To play our part in this, we should be: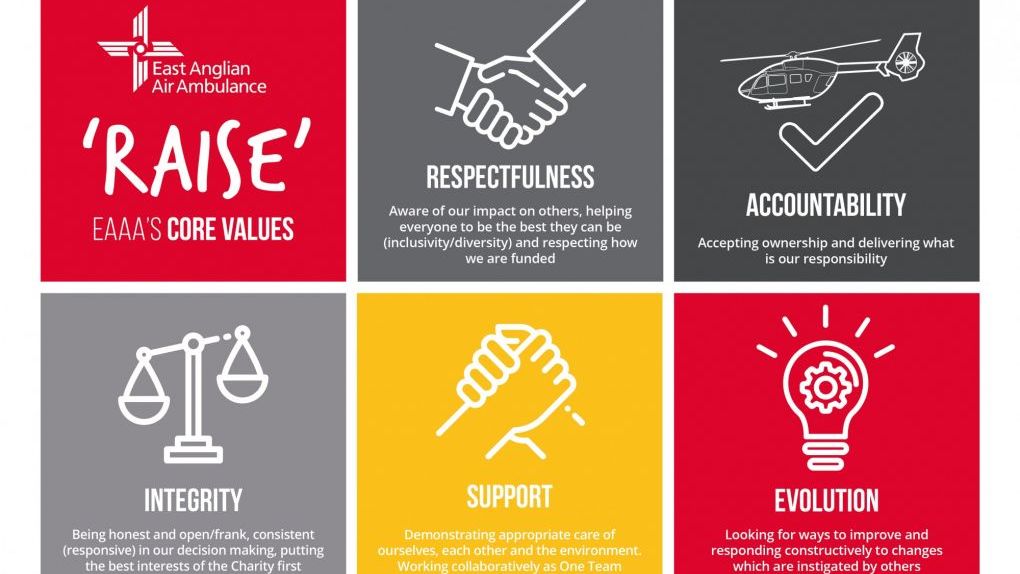 We operate with total patient focus. This is best encapsulated through our staff days, where we gather centrally throughout the year to share successes and hear directly from patients on how our work has made a difference to them and their families.
Once you are appointed you will be sent two crucial documents ahead of your start – your Boarding Pass and your EAAA Passport.
The Boarding Pass contains detailed induction plans and information on practicalities of day to day work. It also includes your contract and payroll documentation so we can make your transition to EAAA as smooth as possible.
The Passport sets out the culture and personality of the organisation. It offers insight into who we are and delivers key corporate messages to help you feel at home as quickly as possible.
We take pride in giving every member of staff an annual appraisal. This is a mutually beneficial meeting to work with your manager to identify your achievements, to give you the time to reflect on your experiences and to identify development opportunities. This becomes part of our centralised training plan that is delivered over the following year.
Our training budget is generous and we look to deliver bespoke courses across the region. Every quarter we launch a Training Brochure which details new courses available for Staff to take part in. More person specific training is developed with your manager and we support a range of professional qualifications for our staff.
We have offices in Cambridge, Melbourn, and Norwich. Since the beginning of the Covid-19 pandemic, a mixture of home and office working has become the norm for most roles, and we anticipate this will continue. We have adapted quickly to working remotely and have found new ways to work collaboratively and continue to support joint learning.
Provided by the charity for all staff on day one of your employment the Simply Cash Plan allows you to receive contributions towards the cost of some health treatments including the dentist, optician and chiropractor.
We have a flexible working policy that aims to keep people happy, healthy and with good physical and mental health. We offer paid leave from work for the following:
Wellbeing (Mental Health) days
Volunteering leave
IVF leave
Enhanced contractual sick pay
25 days annual leave plus 8 days bank holiday rising to 28 days annual leave after 5 years service
Study leave
Enhanced Maternity Pay
"I never thought I would be lucky enough to land my dream job twice in a lifetime (former holiday rep) but I did! Since starting in Feb 2020 I was welcomed with open arms into the EAAA family whose emphasis is on the importance of getting the work life balance right. I am given the autonomy to run with my ideas and love to get involved with all the activities that are arranged internally. There is so much scope to develop in my role and to progress in my career – what more could you want from a job?! "

EAAA
"I joined EAAA in February 2020 having been encouraged to apply by a friend who had just started working here - despite my initial misgivings about the distance from my home in Lincolnshire, I'm so pleased that I took his advice because I've had the most amazing year. Working as a HEMS doctor with EAAA means working alongside some of the giants of pre-hospital medicine and the educational experience that I've received has been second to none - there's no doubt in my mind that my placement with EAAA will make me a better doctor, both in my theatre & ICU work and in my volunteer pre-hospital roles. Living away from my friends and family at home during a global pandemic has been a definite challenge but the amazing support mechanisms put in place by the charity from the outset coupled with the stunning East Anglian scenery have made it all the more bearable. EAAA has proven itself to be more than just a place of work and has become my second family with the base my home away from home. It's rare to have a job where you look forward to going to work every day but the fact that it's possible to go to work and make a real difference to someone's life while also working with some of your best friends means that I've been in that position for the last year. EAAA really is a special place to work and I'm grateful to be part of it. "

EAAA
"It is very motivating to know that my work is supporting highly trained clinical teams to deliver the best possible care to the people who need it most. EAAA's pilots and medics have a reputation for constantly working at the top of their game – but the "ground crew" that enables their work is just as dedicated. That singular focus on what is best for the patient makes for an effective and supportive organisation where, together, we really do save lives. "

EAAA
Volunteer for us
Can you donate your time and skills? Find out more about our volunteer opportunities
East Anglian Air Ambulance (EAAA) is a charity providing a helicopter emergency medical service (HEMS) for East Anglia
Medical placements
Our clinicians are passionate about developing the most advanced emergency pre-hospital treatment for our patients