Introducing Your 2020 Team Captains
Join Doctor Joanna, Neil, Pam or Drew to lead your team to victory in our new virtual event, Together We Run!
Doctor Joanna Stevens
How long have you been with EAAA: I've been with EAAA since February this year – which has been an interesting introduction to HEMS during the COVID pandemic!
Why you're excited about this event: I want to take part in this event as a thank you for all the support I have received personally in this new role, and to the Charity and public for the support we as the clinical crew have received over the last 6 months.
Your favourite part about being an EAAA doctor: Working alongside a brilliant and dedicated team, who have, during lockdown, also taken on the roles of teachers, friends, fellow tea-drinkers, and counsellors has been the been the absolute highlight of working for EAAA.
How far you intend to walk/run: I don't usually run - unlike my fellow captains I do not have a glorious running career but I'm really excited about this event because I have a week off work and am going to use the opportunity to explore parts of East Anglia I haven't yet visited. I have pledged to walk or run (most likely walk the majority) 64 miles – this is the distance between the Norwich and Cambridge bases. I will have my border collie Artie for company all week, and I will hopefully have friends and family joining me along the way.
Why you think people should get involved: I hope I can encourage many of you to take part, and I look forward to hearing more of your stories. I have absolute faith we can make the 2000 mile target together.
Doctor Drew Welch
How long have you been with EAAA: 5 years
Why you're excited about this event: I'm excited about this event because Pam has said she thinks it would be fun to do her distance in full crew uniform including one of our sweat-retaining Tyvek suits... I'll be doing mine in running gear!
How far you intend to walk/run: I would like to walk/run 27.5 miles because that's how far it would take me to get to the Air Ambulance base to work from home. I aim to do it in 2-3 chunks across the week!
Why you think people should get involved: If you set yourself a challenge, it focuses the mind on the future. Spending time thinking about the future and what we could achieve is highly motivating and very positive for our mental wellbeing.
Your favourite part about being an EAAA doctor: We often see people on the worst day of their lives. To be able to make that experience a little easier or a little less traumatic for them is a wonderful thing to do. Although we often talk about the technical skills of providing an advanced intervention at the roadside, it's often the non-technical skills that are most useful. Being able to comfort a bereaved relative or supporting an ambulance crew with a tricky situation is just as rewarding... I also like driving the Rapid Response Vehicle on blue lights!
Doctor Pam Chrispin
Role: Deputy Medical Director at EAAA
With EAAA since: 2008!
Excited about Together We Run because: My team are going to win!
Miles pledged: Three
Anything to add: I used to run a lot (My first running trophy was from 1982, for a 27.2 mile run where I was fastest female!) but age and dodgy hips curtailed that some years ago, so three miles is going to be painful for me. If I can do that anyone can play their part so please commit even if it's just one mile. Every mile earns a pile!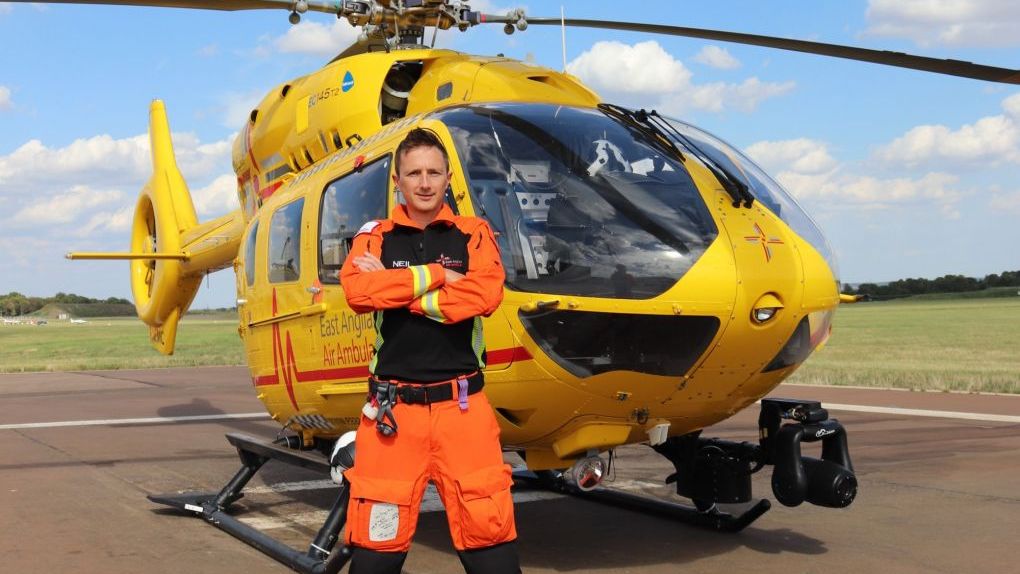 Doctor Neil Berry
Excited about Together We Run because: I am too competitive to let the other team captains win!
Miles pledged: at least 15. With some help from my kids (aged 7 and 8) I'm hoping we can complete a marathon altogether.
Role: Consultant Doctor at EAAA
With EAAA since: 2013
"Small disclaimer - I have a minor hip injury at the moment, but hopefully that won't hold me back too much. I am aiming to run and walk at least 15 miles over the week. By encouraging my kids to walk five miles each, we should be able to hit a marathon from the Berry Household. EAAA is a fantastic cause so let's raise as much money as we can! (And win!)"
"I love working with the charity and all my colleagues and I particularly love being able to offer life-saving and life-changing care when people of our community really need it. Out of work, I love my exercise. I've always been a keen competitive runner but this has also led to cycling and swimming, so I now put all three together and race in triathlons. I normally train at least five times a week and compete in multiple races each year. Pam, I see your running trophy and raise you my multiple medals!"
Pledge your miles and get involved
Run or walk 2,000 miles and celebrate 20 years of saving lives, together.
"2,000 miles? Are you sure?" – we hear you ask.
We know 2,000 miles is a long distance to accomplish on your own but we're in this together. So simply pledge the distance you hope to achieve and as one big team, we will reach it!
Whether it's a 6 or 10 mile run, or a 24 mile trek, every mile you complete will go towards the overall target of 2,000 miles. By pledging your miles and fundraising along the way, you will help keep our teams flying and saving lives. Sign up to Together We Run and support East Anglian Air Ambulance!