EAAA call on East Anglia to help run 2,000 miles next month 
07 August 2020
Together We Run is a new fundraising challenge from East Anglian Air Ambulance (EAAA) which is encouraging the people of East Anglia to pledge miles towards a collective 2,000 mile target.
EAAA normally organises several mass participation challenge events throughout the year, raising hundreds of thousands of pounds to help keep its yellow helicopters flying and saving lives. These events cannot go ahead this year, so the charity is asking its supporters to take part in Together We Run instead, a virtual fundraising challenge from 14 – 20 September, to run (or walk) a combined 2,000 miles, wherever and whenever suits them.
If successful, this virtual running event could become a regular addition to the charity's event calendar, along with its Only the Brave muddy obstacle run and Trek 24 walking challenges.
Celebrate 20 years together
A 2,000 mile target has been chosen as EAAA was established in September 2000, twenty years ago. EAAA would like to thank the people of East Anglia for their incredible support over the last 20 years which has enabled EAAA to help more than 17,000 local people when they needed emergency care. EAAA does not receive regular government funding and relies on the generosity and kindness of local people to save lives.
Signing up to take part in Together We Run is a simple way to help celebrate this milestone for the charity – and for East Anglia - at a time when we can't physically come together. Participants can walk or run as much or as little as they like, and are encouraged to submit their activity using exercise tracking app, Strava.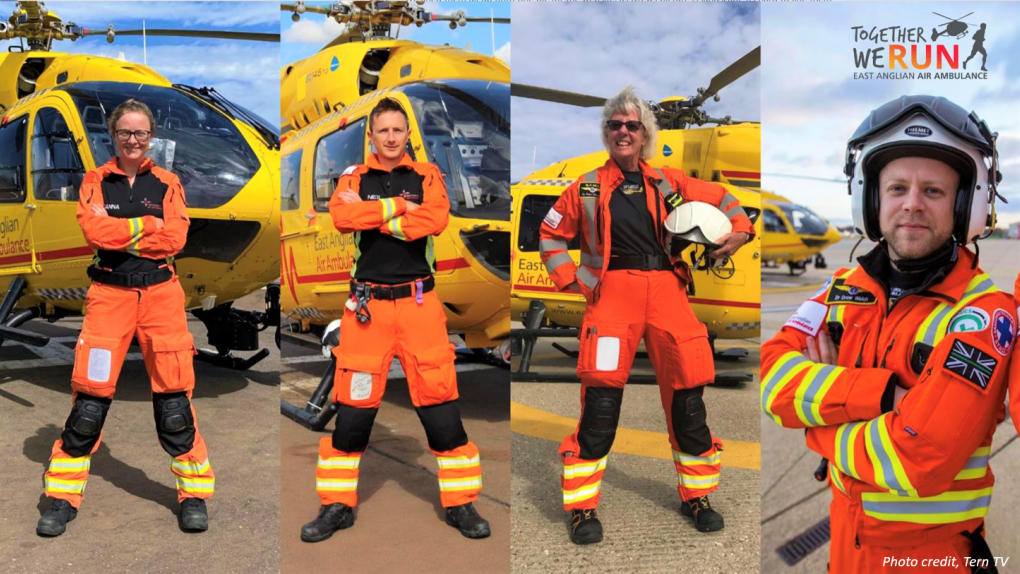 Join a Team and see who will be crowned the winners?
To add an extra element of fun to this challenge, there will also be four Together We Run teams, headed up by members of the EAAA crew. Deputy Medical Director Doctor Pam Chrispin, Consultant Doctor Neil Berry, Consultant Doctor Drew Welch and Doctor Joanna Stevens.
Participants will be randomly allocated to one of these teams. Team points will be awarded not just on the number of miles completed per team, but also for every pound raised to help keep the EAAA crews airborne and saving lives. Who can raise the most or cover the largest distance? You decide!
"If you take part in Together We Run, you could be in my team! I've been a doctor with EAAA for 12 years and just love everything about this charity, especially the way that it puts its patients at the centre of everything it does.  "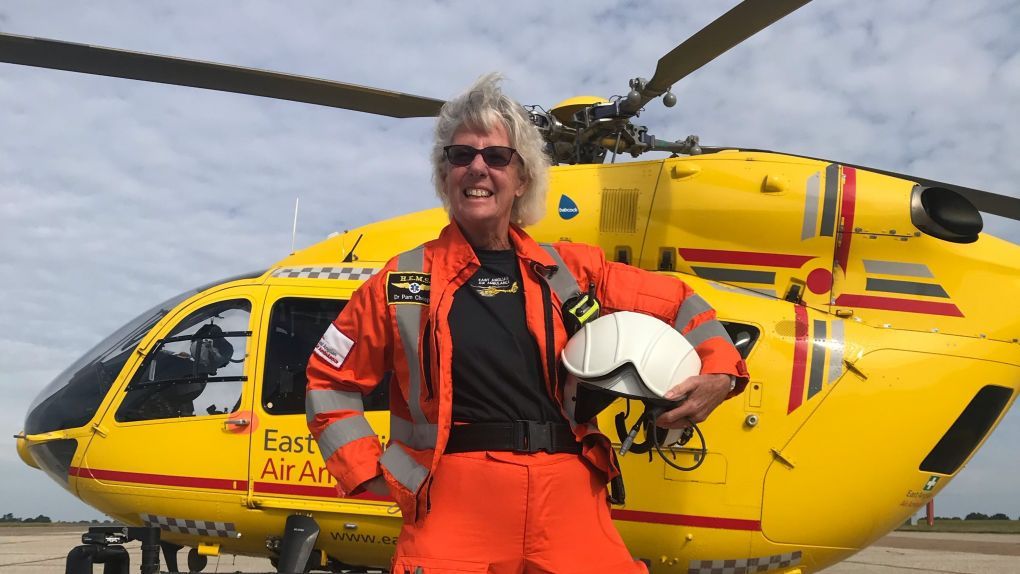 Doctor Pam Chrispin continued: "It's really simple. We can't fly without community support and donations, and we're incredibly lucky to have been here for 20 years already. We're really excited to be organising our first virtual challenge event to ensure that our fundraising can carry on safely this year, so I encourage everyone to take part – even if it's just walking one or two miles. Your support will help to keep our yellow helicopters flying and saving lives.
"I'll be aiming to run three miles. I used to run a lot but age and dodgy hips curtailed that some years ago, so three miles is going to be painful for me. If I can do that, anyone can play their part so please commit even if it's just one mile. Every mile earns a pile!"
To take part, tickets range from £5 to £15. Additional fundraising is encouraged.
How many people are needed to take part?
To complete a collective distance of 2,000 miles, we calculate it would require on average:
•100 people to walk or run 20 miles
•200 people to walk or run 10 miles
•400 people to walk or run 5 miles
•1,000 people to walk or run 2 miles
Events Manager, Leanne Kershaw, added: "This is EAAA's first virtual challenge event, so we really hope people will get behind us, get active and take part in whatever capacity is right for them. It's certainly not all about covering the largest distance, and it's not about speed, the fundraising is just as important, as we rely on community support to fund every mission that we attend.
"It's been a really busy few months at EAAA. Our crews haven't missed a shift and have been working around the clock, with new procedures and PPE to keep them and our patients safe, and we've sadly had to cancel or postpone all of our planned fundraising events for this year. But, we really wanted to be able to find a way to still bring people together, especially as we are about to reach our 20th anniversary milestone, and we know we simply wouldn't be here without the fantastic community which keeps us flying. So, please join us in September to collectively walk or run 2,000 miles to celebrate saving lives together for the last twenty years."
For more information and to sign up, go to https://www.eaaa.org.uk/get-involved/events/together-we-run