Our life-saving work wouldn't be possible without the support of businesses. Thank you.
No two business are the same, so no two partnerships should be either. Our avid team of fundraisers will take the time to get to know you and your business and find out what you'd like to achieve from working with East Anglian Air Ambulance (EAAA).
Named Best Charity to Work For in the 2021 national Best Company Awards, EAAA is one of the most recognised and trusted charities in East Anglia. Working with us offers exciting PR opportunities, as well as building awareness and positivity about your own brand.
Sign up to Flightpath, the newsletter specifically written for the businesses that support EAAA. Sent quarterly, the e-newsletter highlights the impact that support from businesses has on the charity and how you help us to do this, as well as how we might be able to help you tackle some of the challenges your business faces.
No matter the size of your business, there are a number of ways to get on board as a corporate partner.
How to get on board:
Choosing EAAA as your Charity of the Year is an excellent way to boost employee morale, increase awareness of your brand and demonstrate your commitment to your local community. Your dedicated account manager will help you plan your year and support your fundraising activity in line with your objectives.
Let us know if you have the opportunity to nominate EAAA as your workplace's Charity of the Year so we can support you through the selection process.
EAAA look for partners that are well aligned with our values and through working together, achieve shared goals in our local communities. Our strategy is to continually improve patient outcomes by developing a robust and sustainable income stream that allows us to invest in high-performing staff and the best equipment we can afford, to deliver the very best services to patients and the community.
We're looking for partners that can help us achieve this. If your business aligns with our brand, we'd love to have a chat about setting some shared goals.
Sponsors help to ensure that funds raised go directly towards saving lives. We have a wide range of events, campaigns and equipment that your business could sponsor.
We're working hard to confirm dates and details of our 2024 challenge events. Be among the first to hear about the sponsorship packages available by completing this form.
In November 2021, Zoll® sponsored our Pre-Hospital Research Conference. This hybrid event was the first conference held by our research, audit, innovation and development group (RAID) and focused on how collaborative working and data sharing across the sector could improve research and development opportunities and patient outcomes. 
Businesses that donate through the sale of goods or services are classed as commercial participators. Your account manager will get to know your business and help you to complete an easy-to-fill-in commercial participation agreement (CPA).
This is an important statutory requirement charities must comply with when working with commercial participators. This is at no cost to your business and is in place to keep your business safe. You can read more about this on The Fundraising Regulator website.
Easy Clean Windows have been supporters since 2018 and pledge to donate £1 for every new customer and in addition, £0.25 for every clean (visit) for existing customers. To date they have raised over £2,300 and recently visited Helimed House for a tour.
Payroll Giving is a simple way for your employees to give to EAAA. Donations are taken each payday from your salary before tax, which means more money goes to charity. Speak to your Payroll Department to see if your workplace is set up to support charities through Payroll Giving. If not, please get in touch to see if we can help.
We're looking for locations with space in their car parks to host one of our new clothing banks. For every tonne of clothing recycled through our banks, EAAA will receive at least £200. Not only will the banks help to keep our helicopters flying, they'll help you to achieve your environmental goals by reducing the amount sent to landfill. Some key info: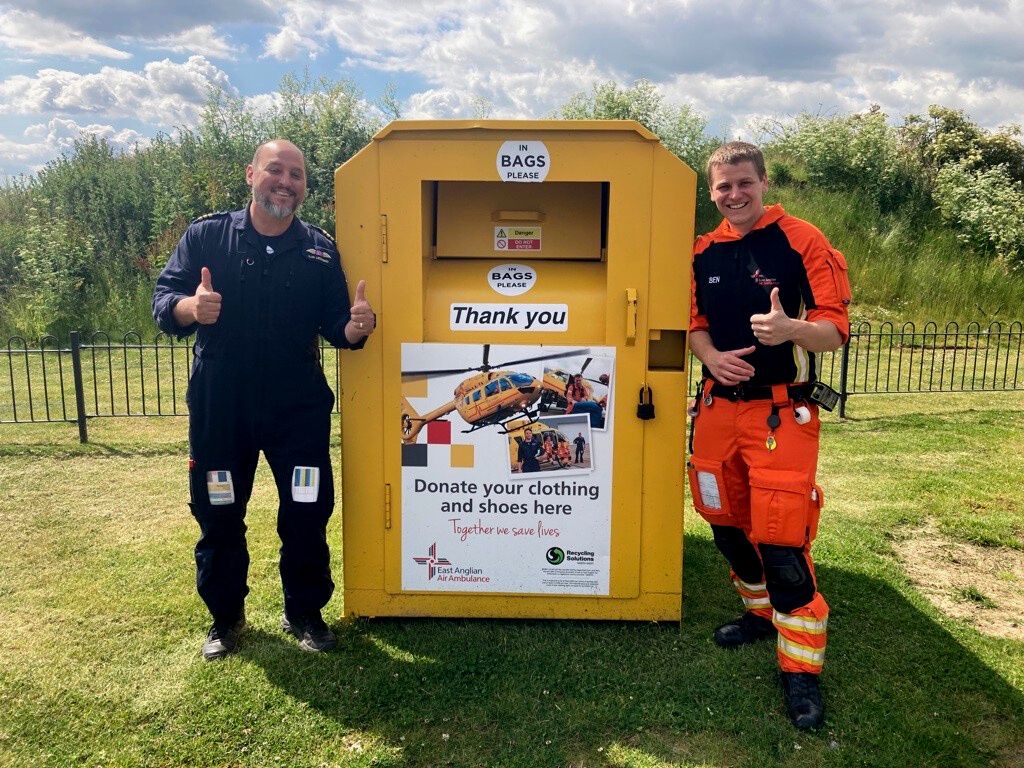 Banks are 5 feet wide, 5 feet deep and 6 feet tall
They come with all the appropriate licenses and insurances
Maintenance and collection costs are covered by Recycling Solutions, our textile recycling partner
There is no cost to you.
We always welcome support from businesses to lend their time and expertise. Corporate volunteering comes in many forms, whether you'd like to offer specialist pro-bono support or cheer on our event participants, there's something for all businesses to get involved with. We're open to ideas too, so please let us know if you can help in another way!
Complete this form to enquire about corporate volunteering and our team will be in touch.
Every year approximately 12,000 people suffer a cardiac arrest in the East of England. Only about 40% of those who suffer a cardiac arrest receive any form of bystander cardiopulmonary resuscitation (CPR) before the arrival of the ambulance service and less than 20% have a defibrillator deployed before emergency services arrive.
The cardiac arrest survival rate in the UK is only around 8%, but if a defibrillator is used alongside effective CPR within the first 3-5 minutes, the chances of survival can increase between 40% - 70%. East Anglian Air Ambulance is committed to training as many people as possible CPR and the use of a defibrillator so together we can save more lives.
Our 1 hour Community CPR Volunteer and Trainer led sessions will provide all attendees with Basic Life Saving skills and at the end of the session you will be confident in delivering bystander CPR and the use of a lifesaving defibrillator (AED).
We understand that some businesses might prefer to support EAAA by donating products or services. Let us know if your business would like to join our incredible list of suppliers that help to reduce our operating costs.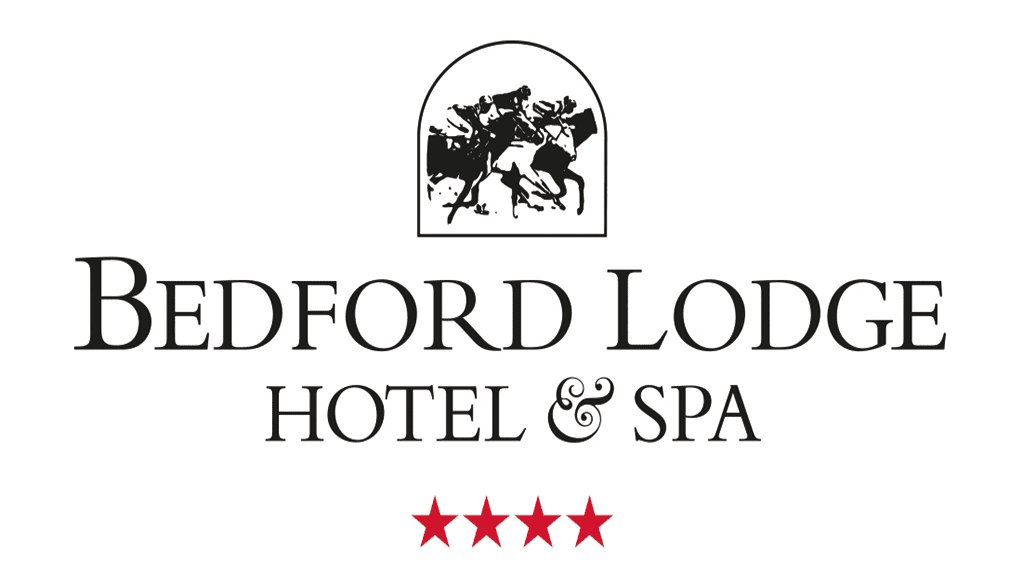 Thanks to the Bedford Lodge Hotel and Spa in Newmarket who have gifted our on-shift Anglia Two crew dinner while working on Christmas Day!
Sweet Causes deliver delicious tuck shop boxes free of charge for your staff and customers to enjoy. They are perfect for your staff room, reception areas and trade counters, plus you'll be supporting EAAA. If your business would like a tuck shop box, please complete this form (the link will take you to the Sweet Causes website).
Hosting a collection box near your till or in your reception area is a great way to raise money for EAAA – the contents soon add up!
If your business has a high footfall from the public, you might be interested in hosting one of our 'Any Currency Any Age' boxes that collect exactly what it says on the tin – it doesn't matter how old the coins are or where they're from. Our partner, Cash4Coins, converts what has been collected to Stirling and makes donations directly to us.
We also have contactless donation options available, including tap-to-donate machines that are held by a cut out of our Critical Care Paramedic, Rod.
By funding one of East Anglian Air Ambulance's missions, your business guarantees the very best possible chance of survival for a local person in their hour of greatest need. Your support ensures that expert critical care is rapidly dispatched to the scene and helps keep families and communities together.
Is your company ready to take on the Trade-up Challenge?
The East Anglian Air Ambulance (EAAA) Trade-up Challenge is a brand-new business and group challenge taking place between April and May 2024.
The goal? Simply turn £100 into £1,000 (or more!) and take on like-minded businesses in East Anglia to raise the most amount of money in the quickest time!
Find out more
In the spotlight: featured partners
Support from previous partners