EAAA partner with Chariots of Fire charity race in Cambridge
19 May 2021
East Anglian Air Ambulance (EAAA) is limbering up for this year's Chariots of Fire after being selected as the official recipient charity for this year's race on Sunday 19th September. Tickets are now on sale for teams of six to take part in the iconic 1.7-mile race in Cambridge. Although sadly postponed during 2020 due to the pandemic, the race celebrates its 29th anniversary this year.
The race starts and ends on Queens' Green. Each of the six runners per team will follow a picturesque and unique 1.7-mile route through some of Cambridge's historic city centre and two world renowned Cambridge University Colleges, over the Cam and along the Backs, before passing on the baton to the next runner at Queens' Green.The race provides an ideal opportunity for local businesses, the college community and the general public to come together, take part and raise much needed funds all for a good cause. Chariots of Fire is the region's longest running charitable relay race and is organised by Hewitsons Charitable Trust, the charity established and supported by Hewitsons LLP.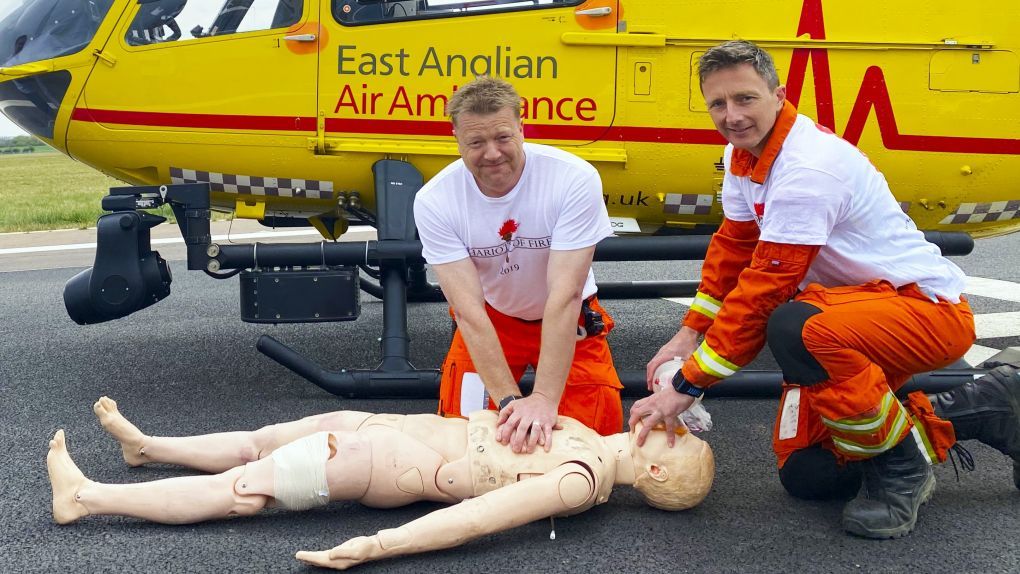 Through the Chariots of Fire partnership EAAA hopes to raise vital funds to help its dedicated CPR training team save more lives. With a target of £97,500 to support a three-year project, EAAA is passionate about teaching more people in Cambridgeshire how to deliver life-saving bystander CPR and how to use a defibrillator, to improve patient outcomes when a person suffers a cardiac arrest.
Critical Care Paramedic and CPR Trainer Mark Milsom said: "What many people are surprised to learn is that EAAA actually attend more cardiac arrests than any other type of emergency. In these situations, the most important part of the patient's survival is not the EAAA team. It's a by-stander performing CPR, before the emergency teams arrive. And the early use of a defibrillator if one is available.
"That's why we're passionate about training as many people as possible in these vital, life-saving skills, so that when we're called out to someone who has had a cardiac arrest, either at home or in the workplace, or out in the community, that person will have the very best chance of survival. By taking part in Chariots of Fire this year and fundraising for EAAA you will be helping EAAA to save many lives by delivering this vital training."
In the UK the survival rate from an out of hospital cardiac arrest is currently just one in 10, but increased confidence in delivering bystander CPR and using a defibrillator can help to change this.
Race Director, Charles Hewitsons said "The work of EAAA in delivering their bystander CPR training has demonstrated the immediate and positive impact this makes to improving the chance of survival and equipping local communities with life-long, lifesaving skills which cannot be underestimated. Like me, I'm sure others will have been surprised to learn the volume of cardiac arrests in the East of England and I am proud to support EAAA in bringing this essential service to Cambridgeshire.
"Despite taking the necessary decision to postpone the event last year, I am hopeful that this year will see the return of the thousands of runners to Queens' Green in September, raising funds what is a very worthy cause."