East Anglian Air Ambulance receives gift of nine helmets in memory of Doctor Carl McQueen
24 September 2022
East Anglian Air Ambulance (EAAA) is honoured to have received nine helmets as a gift in memory of Doctor Carl McQueen who died by suicide in 2016.
The helmets, which all display a copy of Dr McQueen's signature, have kindly been donated by his family to symbolise his legacy. They will not only "protect heads" but will greatly improve communication within the aircraft thanks to their Bluetooth capability and will form an essential part of the Charity's HEMS (Helicopter Emergency Medical Services) response to patients.
"It is very moving to see the helmets arrive at EAAA with Carl's familiar signature on display. Carl was extremely humble but so passionate about making a difference. These nine helmets bearing his name are simply a way we can continue to make that difference, using his energy as the catalyst. The symbolism of the helmets, protecting heads and facilitating communication, given how Carl died and the work we've done with EAAA to promote open discussions on mental health, brings it all together."

Carl's wife
Following Carl's death, Kirsty and her family have worked with EAAA to develop The McQueen Charter, which is designed to guide HEMS on the best way to support the mental health of those who work in any role within the sector. Their input did not just stop at the words, Carl and Kirsty's children designed much of the artwork for it and have helped present it at various conferences.
"Seeing the helmets all lined up with Carl's signature on actually left me quite emotional even though I never met him. It is testament to how he lived and the memories he gave his family, that you can feel confident he would have loved this project"

Director or People and Culture at EAAA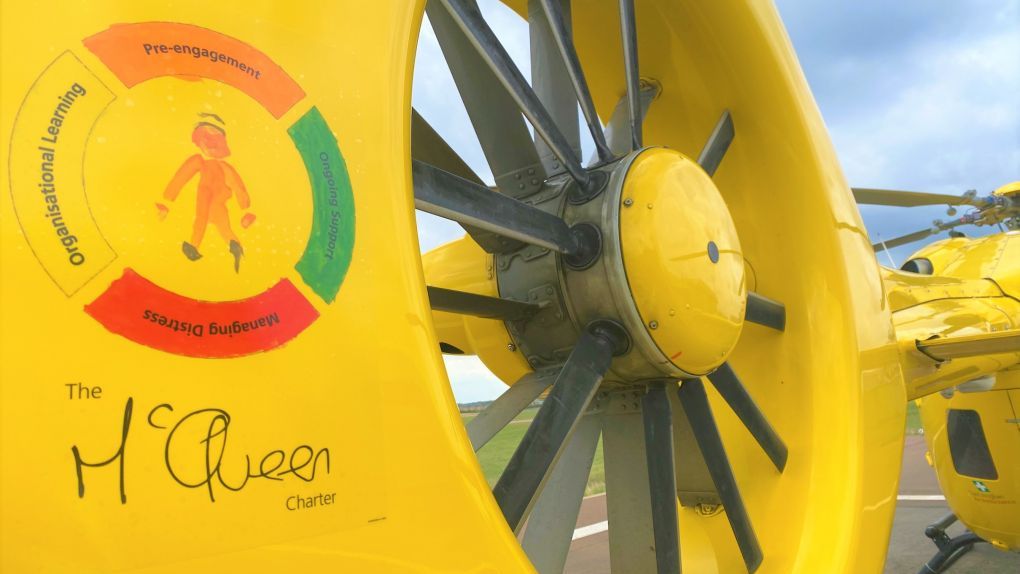 The McQueen Charter logo, designed by his children, is now being displayed on both EAAA helicopters. The stickers will remain in place for what would have been Carl's 41st birthday on 24 September, before being removed after 10 October, World Mental Health Day.