24 December 2018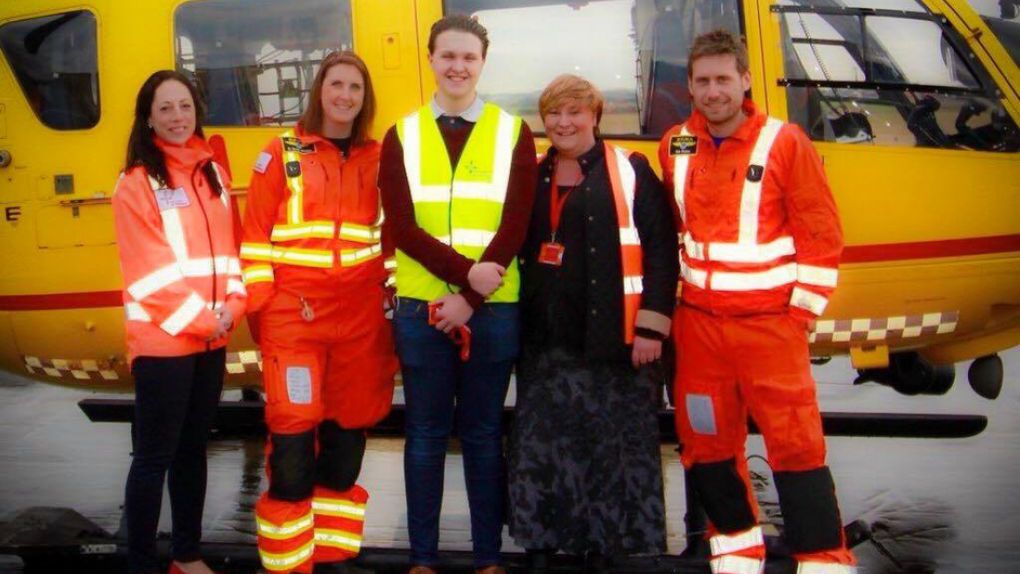 We'd like to share a very special poem with you all this Christmas Eve. In 2016 Sue Ling's son Matthew collapsed suddenly, having suffered a tension pneumothorax. Sue bravely carried out CPR on her son until help arrived. A team of 15 medical professionals, including EAAA's Dr Sophia De Maria and CCP Rob Riches, operated on Matthew for an hour and a half before transferring him to Addenbrooke's Hospital for further treatment. After several operations and a huge sense of determination on his part Matthew made an incredible recovery, and his mum Sue wrote the below poem for those that saved her son. Please read through and be sure to give your loved ones an extra hug this Christmas. Many thanks to Sue and Matthew for letting us share their story with you.
As this season encloses its mantle
Of joy, heartfelt warmth and good cheer
As we gather our loved ones around us
To welcome the end of the year
I'll attempt to express the words 'thank you'
For that day I can never forget
With a gratitude so monumental
To those heroes I barely have met
Now parts of this story are dismal
Not perhaps a great Christmassy theme
But to gather just how much it matters
You need to grasp every extreme
This one has a miracle ending
Which still fills me with wonder aglow
All down to the teamwork of strangers
To people I don't even know!
On a late summer morning in August
In a heartbeat our world turned around
On an axis of unforeseen horror
With barely an audible sound
It happened so terribly quickly
He suddenly felt quite unwell
In a second of desperate anguish
He begged me for help and then fell
I was wholly unable to stop it
Like the sun going down on the day
A shadow drew near, the outcome was clear
And I watched as my son passed away
Time stood perfectly still for a lifetime
As I pumped his chest over again
Willing his heart to start beating
Calling and calling his name
I felt such acute desolation
Fuelled on with imaginings wild
As I counted in dire desperation
To the unseeing eyes of my child
You appeared like a quiet tornado
And swept in with an unsurpassed might
This team of amazing life givers
Brought in hope and a true ray of light
The hours that followed were endless
As you waged your own war against death
With incredible skill and composure
As we held an interminable breath
You stayed by his side on his journey
Till safe in the hospital's care
Then like all superheroes before you
You vanished right into thin air
Like a thief time stole away seasons
As autumn went by in a haze
Of lung operations and healing
In a world full of hospital days
I am blessed with such friends and my family
Who stoically stood by my side
Picking up all my lost marbles
As Matt took it all in his stride
I have never seen bravery like it
Or felt pride to such depths of degree
As my son recovered completely
And raced back to Uni – once free!
Every day I wake up and I wonder
Have you any idea what you've done?
In your world of such everyday struggles
Do you know that this battle was won?
I know we're a drop in the ocean
In your daily life changing affray
But I want you to know from the depths of my heart
You saved more than just one soul that day
When you sit with your loved ones at Christmas
Just know there's a family out there
Who will never be able to thank you enough
For your strength and incredible care
For all that you are as a being
And all that you do every day
You are simply and truly amazing
Paltry words will never portray
The gratitude felt from this Mother
Whose whole world was askew for a while
But who sits here tonight and thinks of you all
With hot tears and a so thankful smile
I hope you have time to make merry
To relax and take time to have fun
You gave me the best present ever
The gift of the life of my son.
"Thank you!"
Sue & Matthew Ling