Year In Review: Your Questions Answered!
22 November 2022
Thank you for taking the time to support us as we reflected on another busy 12 months as a charity.
Last month we held our annual Year in Review (formally the Annual Roadshow) - an event which aims to celebrate our successes and achievements over the past year and an opportunity to share our plans for development and progression.

We are so grateful to everyone who came and got involved on the day, and we hope you enjoyed hearing from the team at East Anglian Air Ambulance about the achievements, none of which would be possible without your support!

We were overwhelmed by the number of questions sent in and received more than we were able to answer on the night, however we took note of the unanswered questions so that we could follow up with the team and provide the responses for you below.
When a HEMS mission is received, the crew are given a 6-figure grid reference which can then be plotted on a map.  This gives the crew the first chance to consider the suitability of the location.  The crew uses electronic mapping via an iPad which is also 3G enabled.  As a result, on the way to a job one of the pilots can have a look on Google Earth and review the satellite imagery.  A lot of places now have Google street view images and we can also review these images, if available.  While this is all very useful, nothing replaces doing a full 'recce' of the landing site once the helicopter is overhead and we fly a racetrack pattern and visually assess the suitability of the landing site.  Since we now operate 24 hours, we also do this recce at night, and this takes longer because it can be harder to identify any potential hazards to landing.  At night, we also have an impressive array of landing lights on the helicopter, the pilots wear night vision goggles, and the clinical team also use night vision monocles and lookout from the rear of the helicopter.  All of these things help us to make sure it is safe to land.
The helipad is a bit closer, but we still need to transfer the patient to a waiting ambulance to then drive the patient to the hospital.  The clinical team will book the helicopter into land at the helipad so normally the ambulance is already there waiting for us.
By its very nature, flying at night is challenging and the pilots maintain a rigorous training regime to ensure they keep up with their night flying skills.  One of the ways we are doing this is by the use of night training landing sites within the Eastern region and crews will conduct training flights to these sites on a regular basis.  Even when training, the clinical team are also onboard, and we are on call at a moment's notice to respond should a HEMS mission be received whilst airborne.  Flying 24 hrs can be challenging as fatigue is a factor, particularly in the early hours of the morning.  This is mitigated by the fact the EAAA fly multi pilot operations which adds an additional level of safety since the pilots can monitor each other should they be feeling the effects of fatigue.
Some of the hardest places to land are in the middle of a town or city.  There are a multitude of things to consider such as the size of a potential site and also what is surrounding it.  The helicopter has quite a strong downwash and we want to ensure that, where possible, we don't cause damage to people's property.  We also need to consider what access the clinical team have in terms of getting out of the helicopter and getting to the patient as quickly as possible.  Thankfully the Eastern region is pretty flat, so we don't have too much terrain to think about. 
Anyone authorised to drive on blue lights within EAAA has undertaken an approved emergency services driving course through the ambulance service.  Each driver is then subject to a 5 year Section 19 High Speed Driving Assessment.
It would usually be the Paramedic, however a small number of Doctors working with EAAA have undertaken the same level of training as the Paramedics and are authorised for blue light driving.
The new operating base has, thus far, exceeded our expectations. Running costs are as expected.
The number of missions has been quite stable over the last five years. We are confident we can meet the current demand and more if required.
Out of the 1800 patients we attended in 2021/22, 66 were categorised as being a result of a Sport/Leisure injury. 36 of these were equestrian accidents. The other 30 were sports related injuries, such as football and rugby. If a patient were to suffer a cardiac arrest whilst partaking in a sport then this is more likely to be coded as a cardiac arrest than a sport/leisure injury.
I think the greatest driver of change will be technology, in the fields of medical equipment, aviation and information systems. Our medical capability will progress and our ability to transmit diagnostic data to receiving hospitals will develop. We will be thinking very hard to understand how drone and autonomous aviation technology might be able to assist us, and whether electric propulsion will become a suitable technology within HEMS. Whether there is scope to adopt artificial intelligence in any aspect of our operations will also be an interesting area to explore. Away from technology considerations, we will need to move our southern operating base from Cambridge City Airport within this timeframe, and this will be an opportunity to enhance the training and rest facilities for our Anglia 2 crew.
We work closely with Magpas, as we do with Essex & Herts Air Ambulance within the eastern region and in partnership with East of England Ambulance Service (EEAST). The HEMS crews of all three air ambulances are tasked by EEAST and we coordinate our activities at a regional level and aim to ensure that the development of our services does not result in duplication or waste. In other respects, the charities are completely independent of each other and are autonomous in their decision-making.
Couldn't attend?
Or if you simply want to watch it again, you will find the recording below to catch up on demand.
Watch now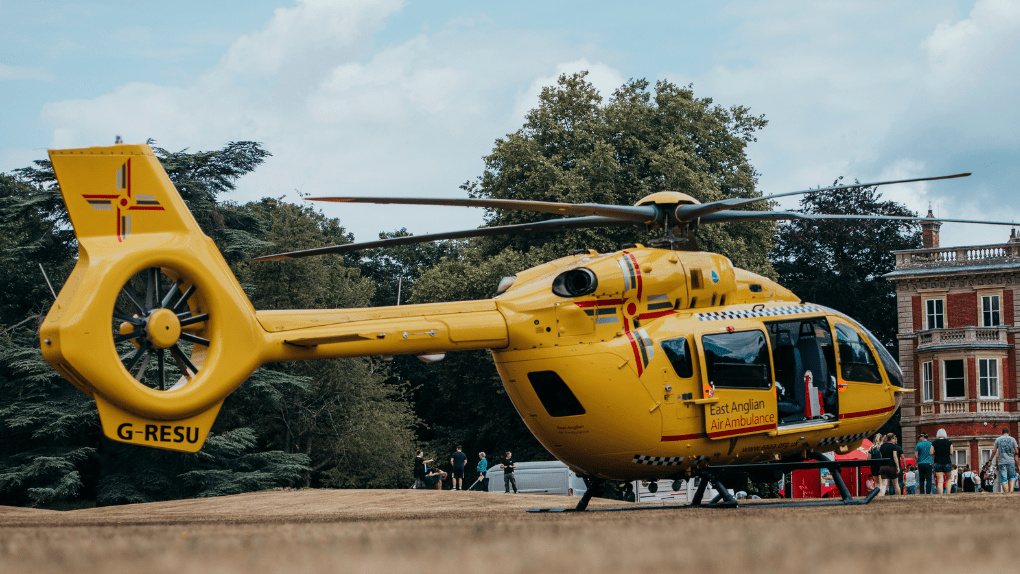 Read our latest annual review
Over the past 12 months we have achieved some ground-breaking milestones and made plans that will impact our future. Read our 2021-22 annual review to find out more.
Read Now