In August 2021, runner Dan Gilkes age 56 from Bury St Edmunds, was in training for his seventh marathon when he suffered a cardiac arrest in the early hours of the morning.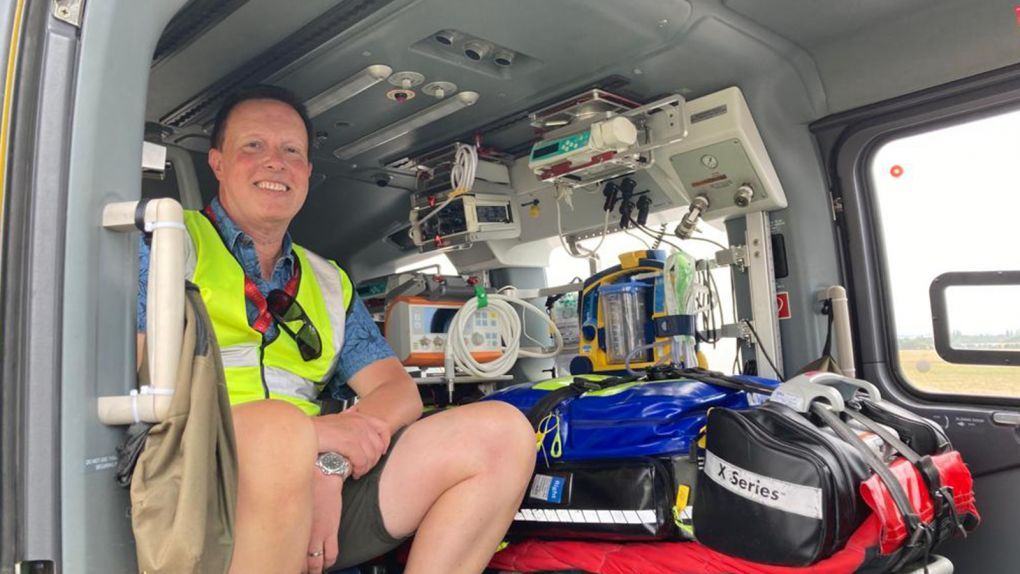 "My wife, Mel woke up and thought I was snoring, but she quickly realised something was seriously wrong and dialled 999," Dan explains.
The emergency services call handler instructed Mel to get Dan off the bed and talked her through CPR.
"This was no mean feat as I am over 15 stone," Dan continues, "but she grabbed the sheets and somehow hauled me off the bed."
Guided by the call handler, Mel commenced CPR. Thankfully, an East of England Ambulance was just four minutes away. East Anglian Air Ambulance (EAAA) was also tasked and critical care paramedic (CCP) Joe Dowsing was extremely close by in one of our Rapid Response Vehicles (RRVs). All our response vehicles carry the same equipment as our helicopters and give our crews an alternative way of getting to patients in the quickest time possible.
Dan received the critical care he needed within minutes.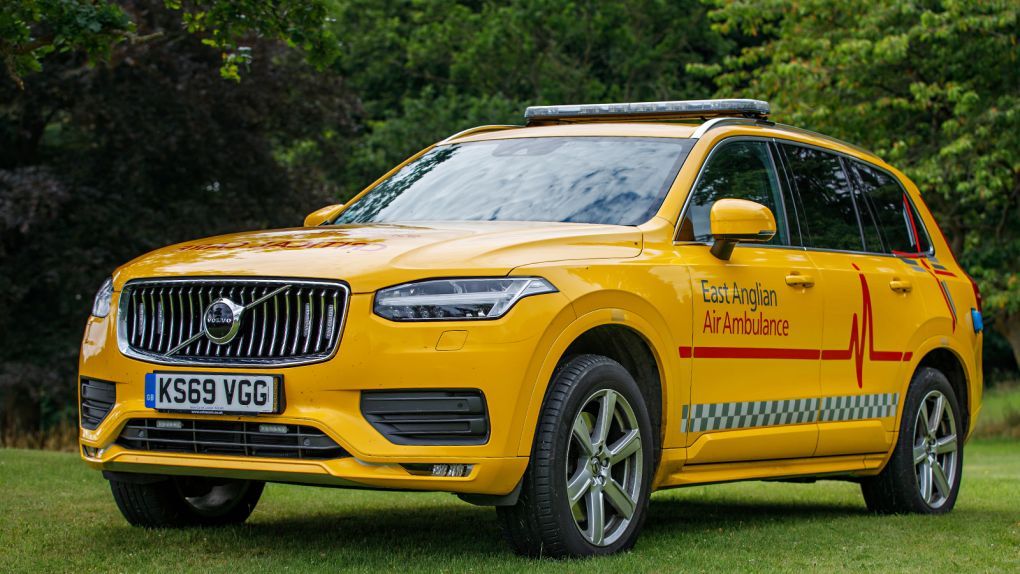 East of England Ambulance Service was the first on the scene and quickly identified that Dan needed defibrillation and cardiac drugs. When EAAA CCP Joe arrived just a few minutes later, he provided Dan with advanced pre-hospital critical care, including sedation to keep him comfortable.
"I was 'gone' for between 10-12 minutes." Dan continues, "The Ambulance paramedics shocked me three times with an AED and brought me back. Joe from EAAA arrived and gave me the care I needed before accompanying me to the hospital, where I spent two to three days in an induced coma."
Dan was brought out of the coma and put back in before being moved to a cardiac ward for a week. He was then transferred by ambulance to Papworth Hospital in Cambridge for further treatment, which included having an S-ICD fitted a week later.
"It was quite an invasive procedure as it was sewn into the side of me. I didn't need a pacemaker function, and this device monitors my heart and alerts the hospital of any concerns."
Three weeks after his cardiac arrest, Dan returned home to continue his recovery. He had broken ribs and, what he describes as some "interesting, coloured bruises" from the Lucas machine, which is a piece of equipment to give mechanical chest compressions and was used on Dan by the crews on the night.
Dan gradually started walking, and then slowly increased his activity. He ran again for the first time on November 1, 2021, completing a 'Together We' virtual run for EAAA.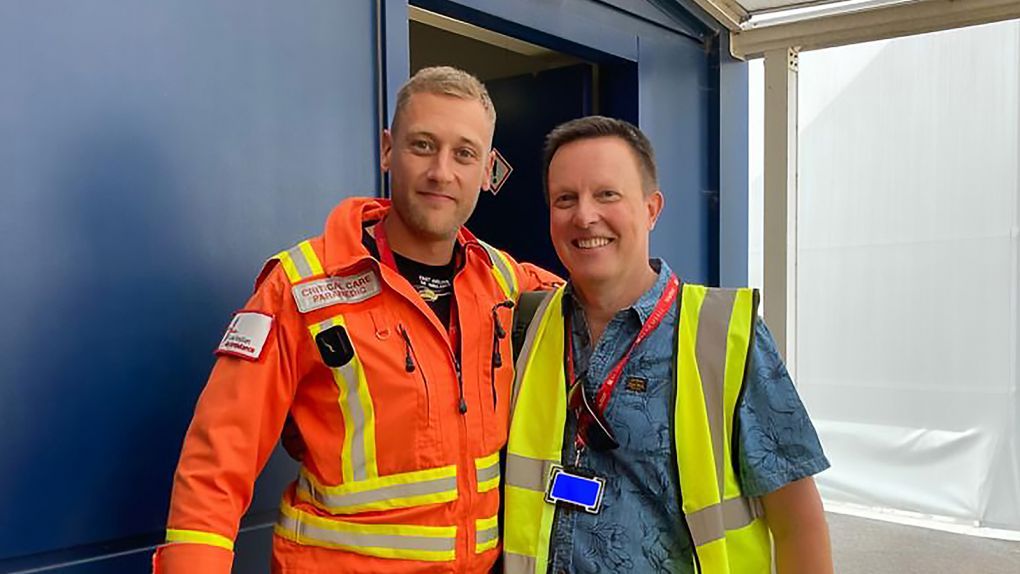 Dan and Mel also received support from the EAAA Aftercare service. Understanding what happened during their pre-hospital treatment (and why) can be a huge step towards a positive recovery for our patients. Our Aftercare team aims to help patients and their families that have been treated by EAAA do exactly that.
Lisa Boyle, Clinical Liaison Nurse with our Aftercare service arranged for the couple to visit our Cambridge base on the first anniversary of Dan's cardiac arrest.
"Dan's visit was quite a special day for everybody involved," Lisa says. "He met Joe and the paramedics from the Ambulance service. He was able to see the RRV which was tasked to him that night. This was of huge interest to Dan as he is a Motoring Journalist! EAAA's Aftercare support was also helpful for Dan's wife, Mel."
Lisa continues, "It can be incredibly difficult for patients' loved ones after an incident such as this; they witness the events and there can be a 'ripple' effect on them. That's why the EAAA Aftercare service not only supports our patients but their friends and family too. The base visit gave Mel the opportunity to talk to us while Dan was chatting with Joe and learning more about our RRVs."
Dan adds: "Often the emotional recovery is harder than the physical."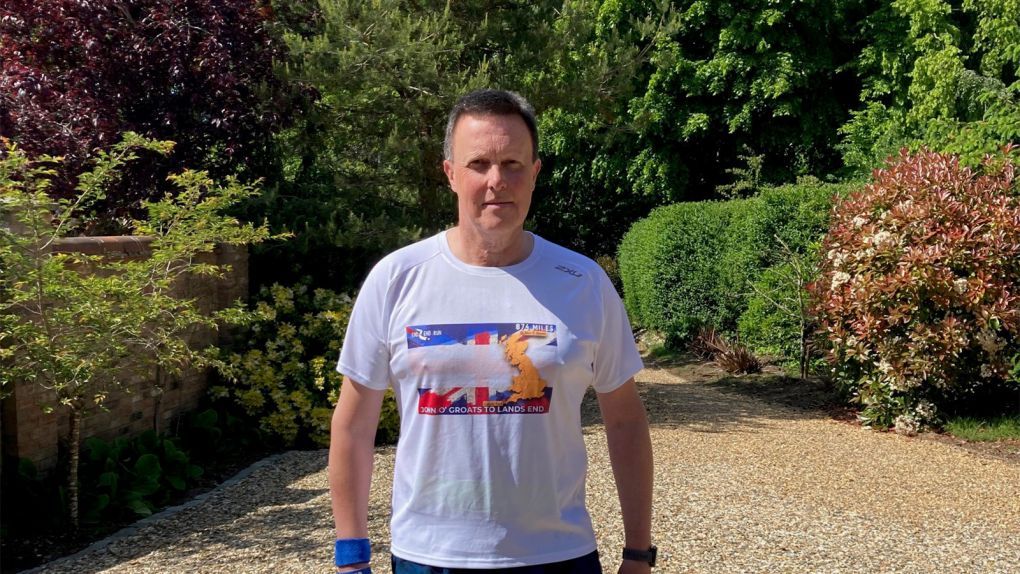 Simone, one of EAAA's CPR Trainers, also taught Dan CPR skills so that he might become a lifesaver for somebody else in the future, and he is now an advocate for others learning CPR and has pledged to offer talks to groups about the importance of learning potentially life-saving skills. He continues to champion and support the work of EAAA and is in the process of completing a virtual fundraising run throughout 2023, covering the distance from John O'Groats to Land's End.
"My cardiologist has limited me to running a maximum of six miles a day, so I decided to take on a virtual challenge. I'll travel down to Cornwall with family to complete the final miles to Land's End." He says.
Seeing Dan complete the 874 miles will be quite a moment for his family and one which has been possible thanks to supporters of EAAA.
Dan concludes: "EAAA provides an essential service. Public support and donations provide critical care at scenes of emergencies, ultimately saving lives."
---
Photography Credit: Chris Taylor Photo