Mark Youles, 46 from Garvestone in Norfolk, needed help from SARS and EAAA in July when he collapsed on Southwold beach, suffering from a brain haemorrhage.
On Saturday 24th July of this year, Mark Youles, 46 from Garvestone, Norfolk was enjoying a camping break in Suffolk with his wife, two children and some close friends.
Mark is a type one diabetic and had been taken ill first thing that morning with an unusually severe hypoglycaemic episode. Nicola, Mark's wife, was unable to wake him, needing to call an ambulance to the campsite where the family and friends were staying. Mark improved after a glucose drip was administered but continued to suffer with a severe headache.
The camping group decided to have a quiet day and went for a walk on Southwold beach. Unfortunately, a short time after reaching the beach, Mark collapsed and became seriously unwell, suffering a number of seizures. A RNLI lifeguard was first on scene and came over to help Mark, quickly providing him with oxygen. A 999 call was issued and a volunteer critical care team from Suffolk Accident Rescue Service (SARS) was mobilised to provide advanced support to the East of England Ambulance Service.
The SARS team, working alongside paramedics, assessed and treated Mark, stabilising his condition before requesting an air ambulance to provide further treatment and a rapid transfer to hospital. A team from the East Anglian Air Ambulance (EAAA) soon arrived and working with SARS undertook further specialist interventions to keep Mark stable, which included ventilating him and administering an emergency anaesthetic to take control of his breathing and to help protect his brain.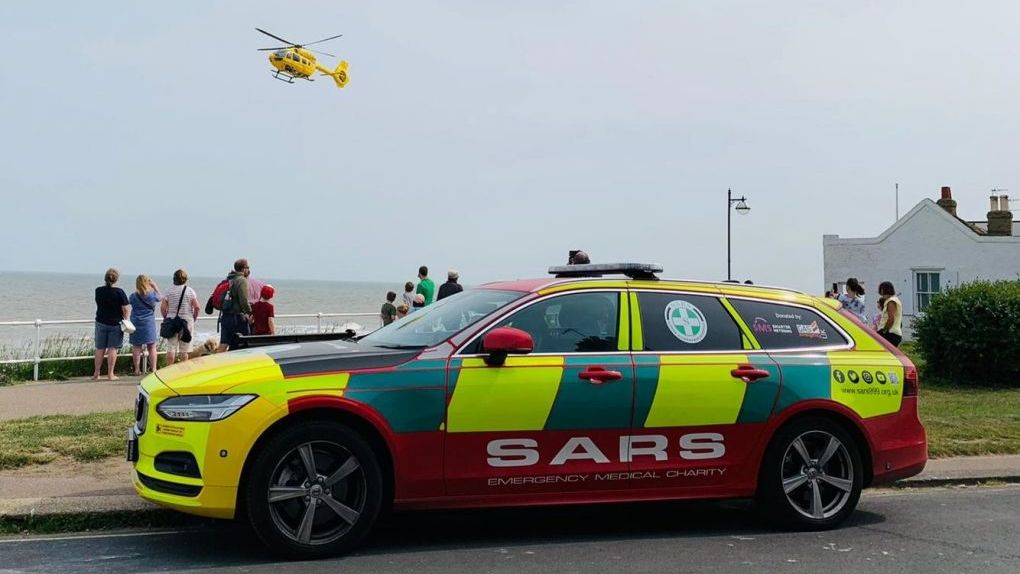 Mark was airlifted to James Paget Hospital to determine the cause of his illness where he was later diagnosed with a brain haemorrhage and was administered into intensive care and later transferred to Addenbrooke's Hospital for further diagnostic tests. The exact cause of the brain haemorrhage remains unknown, but is suspected to be linked to his diabetes, with fluctuations in his blood sugar levels inducing blood pressure spikes.
In total, four different emergency services were involved in his care. Their impressive teamwork meant that Mark received quick, expert care. Mark was in hospital for less than a single week (five days in intensive care), but has made a great recovery and begun a phased return back to work at The Sainsbury Laboratory (TSL), Norwich in mid September.
"Getting Mark the emergency care that he needed that day involved several teams all working together to provide Mark with the best possible chance of survival. To see him so fit and well just a few months later really goes to show what difference all those different teams made, to not just Mark's life, but that of his whole family."

EAAA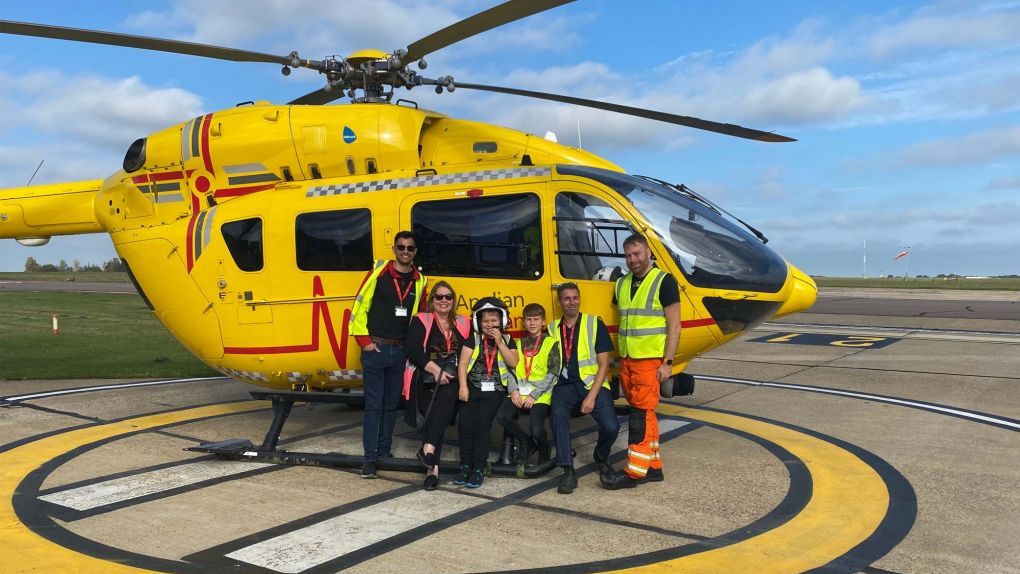 "The events of that day were the scariest in my life. The care and kindness Mark, myself and my family were shown at the time and all the aftercare since, has been truly amazing. I can't thank you all enough."

Mark's wife
In october Nicola and Mark and their boys, Oscar and Isaac, met up with the SARS and EAAA teams at the EAAA Norwich base to thank them in person for the care and actions of those involved in saving Mark's life.
Mark commented, "The visit, kindly arranged by EAAA and SARS has enabled my children to enjoy a fun filled afternoon and has resulted in helping to turn an otherwise very scary and unpleasant experience into one that is now filled with happy, positive memories. One of my main focal points now is to raise awareness that both EAAA and SARS are dependent upon donation-based funding. Prior to this incident I was myself naively unaware that such services weren't directly funded by the NHS, with none us knowing if, or when any of us may ever (but hopefully never) actually need them. I would therefore simply like to take this opportunity to please convey this point to the public as well using my experience to demonstrate the very positive and real effects that can be achieved through coordinated, team efforts."
Volunteer Doctor James Price was part of the Suffolk Accident Rescue Service (SARS) team, who were the first critical care resource to arrive at the scene, added: "Having the opportunity to meet Mark and his family and to see him doing so well was extremely rewarding. His case was particularly complex due to the extremely challenging environment on the beach. We were glad to be able to work together with our Coastguard, Ambulance and East Anglian Air Ambulance colleagues to give Mark the very best chance of survival. It's a great illustration of the teamwork involved in the prehospital care of these critically ill patients and I am absolutely thrilled that there has been such a positive outcome."
Dave Killingback, Critical Care Paramedic at EAAA who helped treat Mark, also said: "July was an incredibly busy period for EAAA but I remember Mark's case really well. I'm glad to have had the opportunity to meet Mark and learn about the cause of his illness and how he's recovering now. By sharing his story Mark is helping to raise awareness for both EAAA and SARS. Without the generosity of local people, we simply wouldn't be here to help in situations like this when we're needed to deliver critical care and help get people to hospital."
Donate today
A huge thank you to Mark, Nicola and their two boys, Oscar and Isaac, for visiting our base and letting us share their story. It's only thanks to your support that we were able to be there when we needed to fly Mark to hospital.