Written in the words of Simon Thomas's wife, Louise
Louise Thomas tells us what happened after the EAAA team were tasked to help her husband, Simon, after he suffered a cardiac arrest at work, aged 53.
I could write Simon's journey day by day, minute for minute as it's still as vivid to me as the first day it happened.
The first time I knew something serious was happening was when Dereham Police came to take me to the hospital; the officer told me that Simon had suffered a cardiac arrest and had been flown to the Norfolk and Norwich University Hospital by EAAA… My legs instantly turned to jelly. I was driven on 'blues and twos' the whole way. At that point, I knew it was a matter of life or death. On that first day we did not know if Simon would survive the night.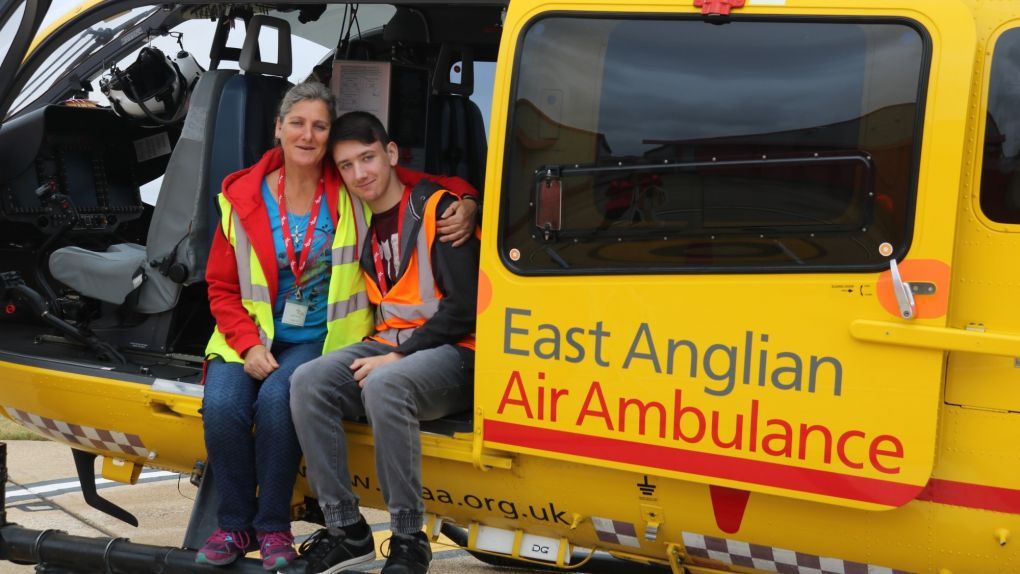 On the 2 October at 10.40am 53-year-old Simon was at work when he suffered a cardiac arrest. 999 was immediately called and a colleague began performing CPR. An East of England Ambulance Service rapid response paramedic arrived on scene first, shortly followed by the Anglia One crew of doctor Drew Welch, critical care paramedic Chris Neil and Pilots Steve Norris and Rob Gleave at 11.06am.
To protect Simons airway and support his breathing the HEMS crew intubated him at the scene and used the LUCAS chest compression device. The LUCAS device provides benefits to cardiac arrest patients by delivering consistent, high-quality chest compressions for extended periods of time. At 11.15am, Simon's heart started beating again. The HEMS crew continued to monitor Simon and recorded a 12 lead ECG which revealed he had had a myocardial infraction (heart attack) and needed specialist treatment. Simon was then flown to the Norfolk and Norwich University Hospital emergency department.
Louise continued:
It was a long wait at the hospital while Simon had a blockage cleared in his heart and was then transferred to the critical care unit. My friend bought William, our son, to the hospital that evening and I had to explain to him the seriousness of his dad's condition. Whilst at the bedside that evening William said to his dad "You will survive. You are a fighter".
It was a long journey from there. Doctors on critical care tried to wake Simon but every time he had to be re-sedated as there were complications. Simon developed pneumonia, septicaemia, sepsis and staphylococcus and had to have a tracheostomy to keep him on the ventilator. During the second week in hospital I was told Simon's infection was so severe that he may not survive the next 24 hours.
This was an incredibly difficult thing to tell our 14-year-old son, who was truly remarkable and amazing throughout the whole thing.
Every day I would arrive at the hospital at 12pm and leave at 8pm. I would sit by Simon's bedside talking to him, massaging his hands and feet. I would continuously talk to him about the last 30 years together, telling him all the well wishes I had been given. I would ring the hospital every day at 7am and then again at midnight to ask if there was any change. Every day I would arrive in anticipation thinking 'Is this the day he will wake up?', watching every breath, waiting for a movement in his hands or a flutter of his eyelids.
Then, on Monday 15 October I arrived like normal. When I went into the unit a nurse met me and as always I asked 'How is he? Any progress?'. Everything changed when she responded "He is awake and knows you are here". Every emotion ran through my body at that point, I was amazed and overwhelmed that he even knew who I was.
It was no walk in the park as Simon suffered severe delirium, which was hard; not just for him, but selfishly for me and then William in the coming weeks. We spoke to a doctor during those times who told us it could be brain damage, and if it continued then we would have to think about palliative care. Simon worked so hard from then during every step of his recovery both physically and mentally. He learnt to eat and walk again; he was so determined to walk without aid and did everything the doctors asked him to. On the 5 November we were finally discharged from the hospital, more than a month later.
Simon doesn't remember anything from a few weeks before the cardiac arrest, and his memories of being in hospital are just from waking up and accepting where he was unknowingly. He strongly remembers some confusing dreams which all link up to things I spoke to him about whilst he was in an induced coma. After three weeks of being at home Simon asked "Who told me I was a survivor and fighter?" It was only myself and William at his bedside, we had never told Simon or anyone else what William had said.
It has been a challenging but rewarding year with Simon achieving so much. Although he suffers short term memory loss and anxiety, we are learning to live with it. It is such a small price to pay to have him back. The determination from the staff at the Norfolk and Norwich University Hospital in the fight for his survival and recovery was truly above and beyond. We are incredibly thankful for EAAA who gave him the first chance.
"If I am still being honest, I feel like I am still on this emotional roller coaster, but it's slowing down gradually. Now to see Simon so happy and well, focusing on his archery again is heart-warming. I couldn't be more grateful to EAAA for their life-saving interventions and the continued support we have had from the aftercare team and fundraising team during this long road to recovery. Thank you for being there for Simon when he needed you.  "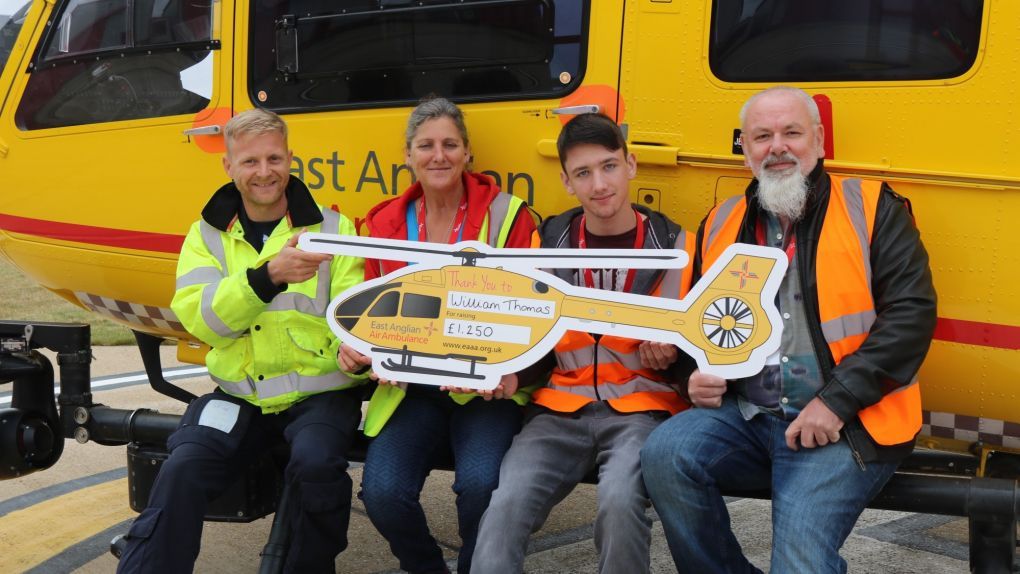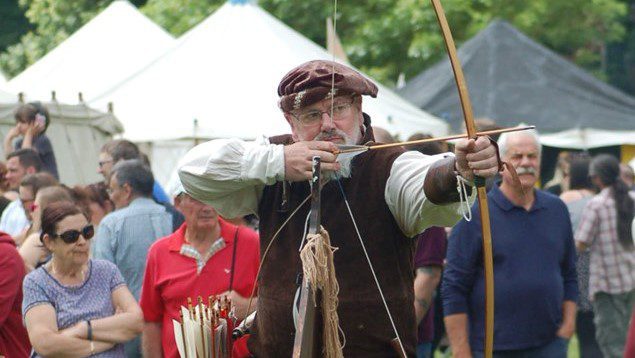 Since the incident in 2018, Simon has gone on to make incredible progress; he now has a part-time job, started archery again and also began competing in archery again. On the 22 July Simon and Louise were able to celebrate their 30th wedding anniversary together.
To mark this occasion their son William decided he wanted to take on a fundraising challenge for EAAA, the critical care unit and the Kilverstone Ward who all played a part in helping Simon to be where he is today. As a family the Thomases all share a passion for archery, so William set himself the challenge of shooting 1,000 arrows in one day. This event raised £2,400, with £1,250 donated to EAAA. The Thomas family have gone above and beyond to continue fundraising for our charity and we are so thankful for their support.
Below Simon and Louise are pictured helping EAAA at a turf cutting event to celebrate the start of the building works for its new 24/7 Norwich base.