London
Raise funds for EAAA by taking part in one of Europe's most popular cycling challenges.
04 Feb 20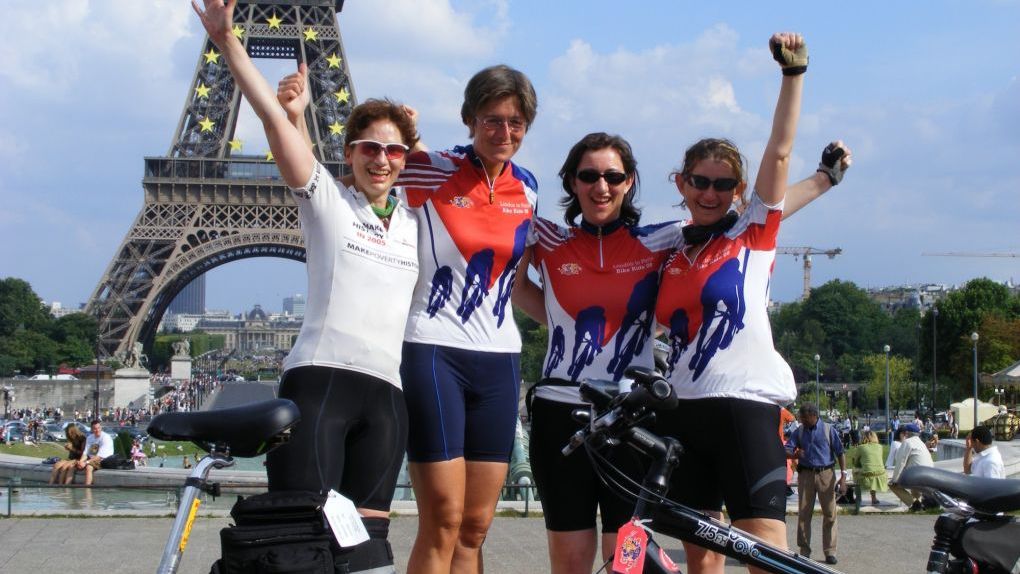 Dates
Costs
Option A: Minimum Sponsorship
Registration fee £125 plus minimum sponsorship to EAAA of £1610
Option B: Self-funding
Registration Fee £125 + Self Funding £805
What's included:
One way ferry crossing from Dover to Calais
One way Eurostar ticket from Paris to London
Lunch on day 1, breakfast, lunch and dinner on days 2, 3 and 4, and breakfast on day 5
All accommodation with the exception of the evening prior to the start of the challenge
Refreshment stops including water, fruit, and a variety of snacks/energy bars/cereal bars every 15-20 miles cycled approx.
Vehicles for back up and support
Route markers or cycle guides
English-speaking guides
Global Adventure Challenges Event Crew
Mechanic support. Basic spare bike parts will be taken but please note, we cannot cater for every eventuality, therefore it is vital that participants ensure that their bike is in full working order and in good condition. You will be billed for any spare parts used in repairing your bike
What's not included:
Breakfast and dinner on day 1, lunch and dinner on day 5
Alcoholic drinks
Bicycle hire – each participant must bring their own recently serviced bicycle
Bicycle insurance
Travel insurance
Tips and gratuities
Day 1: London to Calais. After registration you set off early to avoid the main hustle and bustle of the London traffic. It's a long cycling day today but upon reaching the port of Dover and seeing the famous white cliffs, there'll be a great sense of achievement. You then board the ferry to Calais and have dinner whilst onboard. Upon reaching Calais, it's just a very short cycle onto your hotel. Cycling distance –approx. 86 miles
Day 2: Calais to Arras. Following breakfast, you begin cycling on smooth, flat roads for approximately 10 miles, before the first water stop. The route then becomes more undulating as you cycle through the French countryside up to your lunch stop. Some small climbs after lunch bring you to a gentle descent into the beautiful medieval town of Arras, one of the prettiest towns in northern France, where you check into your hotel. Cycling distance –approx. 82 miles
Day 3: Arras to Compiègne. After breakfast, you continue cycling and head south through the Region of the Somme and its WWI battlefields - rolling, green meadows studded with the many war memorials and cemeteries of the First World War. Following traditionally French, tree-lined avenues, you approach your next overnight stop in Compiègne. Cycling distance –approx. 76 miles
Day 4: Compiègne to Paris. The final day of your European cycling adventure! You leave Compiègne riding through the beautiful forest surrounding the town. The route then continues through pretty towns and villages towards the outskirts of Paris until you reach the Louvre where you stop to re-assemble. You then ride as a group up the majestic Champs Elysées to the finish line at the Champ de Mars, looking back at the Eiffel Tower! This evening you toast your achievements at a celebratory dinner. Cycling distance –approx. 67 miles
Day 5: Paris to UK. After breakfast at your hotel, you are free to enjoy the sights and sounds of Paris. In the early afternoon, each participant will be responsible for getting themselves to Gare du Nord in order to catch the Eurostar back to England. Bicycles will be transported back to London in the support vehicles and will be waiting for you on arrival at the starting point, ready for you to continue your homeward journey.
*Itineraries are subject to change