Award given for bystander CPR which saved life
17 June 2019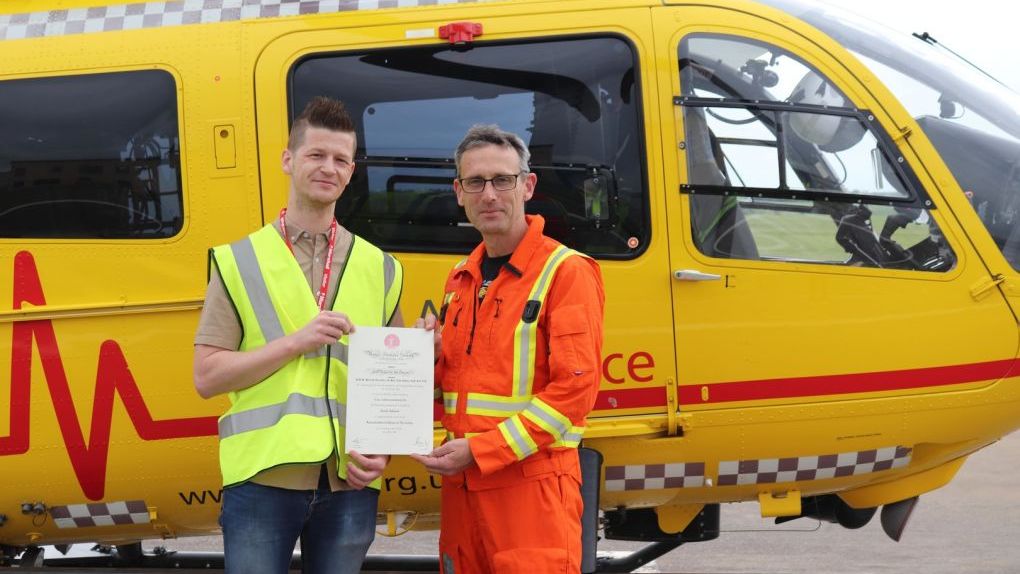 Daniel Challenor, 36, front of house manager at Wagamama's Bury St Edmunds, has been given a Royal Humane Society Award for his acts of bravery.
Last July – on his first day working at Wagamama's – Daniel helped to save the life of Trevor Boughton, aged 68, who suffered a cardiac arrest at the restaurant. Trevor had been having lunch with his daughter and grandchildren when he slumped on to the floor and was unresponsive.
As emergency services were called, Daniel went over to reassure the family when Trevor's daughter noticed Trevor was not breathing and starting to turn blue. Daniel, who is first aid trained, knew he had to start CPR immediately.
A defibrillator was quickly sourced from the Apex by Arc security as Daniel started mouth-to-mouth and CPR. With help from a colleague, Daniel continued the CPR and used the defibrillator for 15 mins whilst the East Anglian Air Ambulance (EAAA) were tasked from Cambridge and arrived on scene.
The EAAA team then took over and Trevor was flown to the Norfolk and Norwich University Hospital for treatment and went on to make a full recovery. He is currently enjoying life with his family, who are all very grateful to everyone who stepped in to help him.
The Royal Humane Society Award reads: 'Daniel Challenor is recognised by the award of the Resuscitation Certificate of the Society for restoring a man to life on 11 July 2018'.
Critical Care Paramedic Gary Spitzer was part of the Helicopter Emergency Medical Service (HEMS) team that assisted that day. He said: "Without a doubt, if it wasn't for Daniel's quick thinking and perseverance – as it's not easy to do CPR for that amount of time – we wouldn't have been able to help.
"Daniel and Trevor are proof of how important bystander CPR is in a situation like this. We call it the chain of survival, and I'm really pleased to be able to present Daniel with this award in recognition of his life-saving actions.
"Unfortunately, with a lot of cardiac arrests that we see, if there isn't someone at the scene who can do CPR, we're just too late to have an effect on that patient's outcome. Currently we estimate 1 in 10 people in the East of England know how to perform CPR. We want to increase this by offering training across the region from our paramedics, to help save more lives."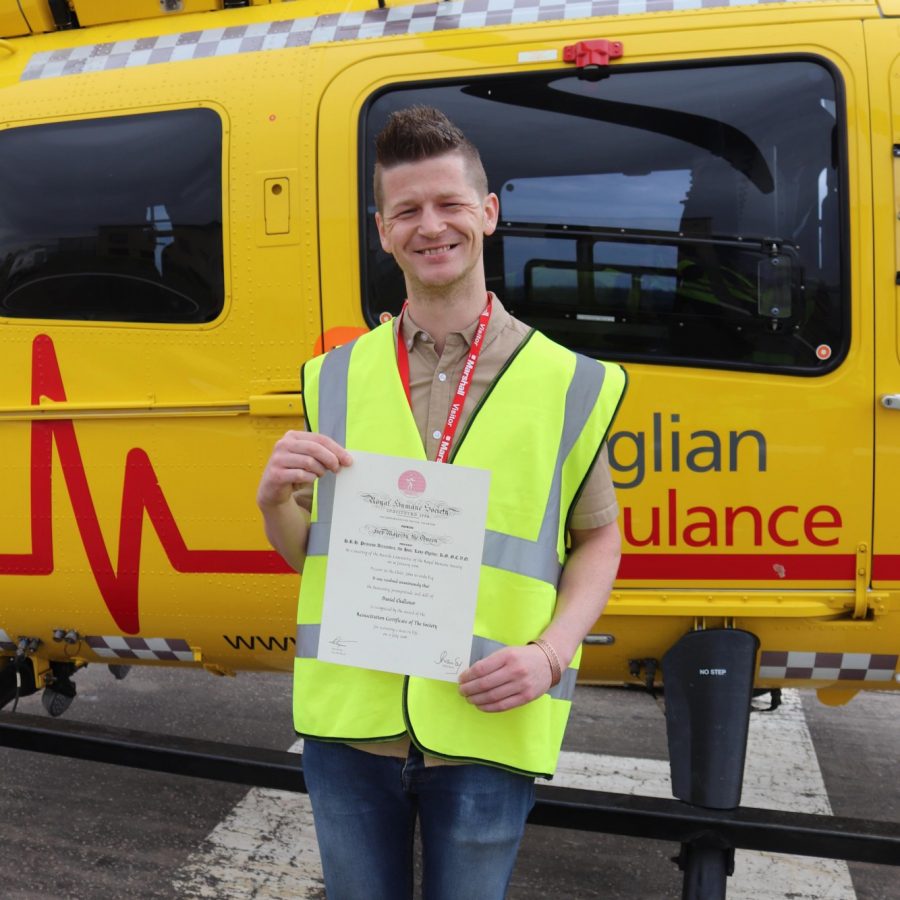 On being presented with the Royal Humane Society Award, Daniel Challenor commented: "I'm really overwhelmed to receive this award and to be able to come down and meet Gary today. I just did what anyone who knew how to do CPR would do in that situation and I'm just so glad for Trevor and his family that it worked. I was surprised how physically challenging it was to perform CPR for that long, but I didn't want to stop until help arrived.
""I'd always pushed to be first aid trained in the workplace and would encourage everyone to take up the opportunity if they can. You never know when you might need it and it's great to hear that the East Anglian Air Ambulance charity are doing so much to help train more people in CPR – on top of all of the amazing work that they already do.""
East Anglian Air Ambulance offer first aid training all over the region. So far this year they have trained more than 700 adults and almost 3,000 school children have attended an EAAA Crucial Crew workshop to learn basic CPR and defibrillator skills.
For more information our first aid training opportunities, go to www.eaaa.org.uk/firstaid