Diss motorcyclist saved by EAAA and Norfolk Blood Bikes
05 March 2020
Andrew Walker, 56, from Diss, was travelling home from Diss train station in August after a night shift when he collided with a stationary vehicle. He went into the handlebars of his scooter and suffered life-threatening injuries.
The East of England Ambulance Service team who were first on scene radioed for the air ambulance as they could see Andrew was in a bad way. They suspected he had major internal injuries and might need a blood transfusion.The East Anglian Air Ambulance (EAAA) Anglia One team from Norwich, of pilots Steve Norris and Rob Gleave and Doctor Nicola Ebbs and Critical Care Paramedic (CCP) Rod Wells, was on scene 17 minutes after being tasked to help Andrew.

EAAA is currently part of a clinical trial run by the University of Birmingham called RePHILL*, which is studying the administration of blood to trauma patients prehospital and the associated benefits. The blood is delivered to EAAA every day by volunteers from the Norfolk Blood Bikes (NBB) charity, a Re-PHILL trial partner.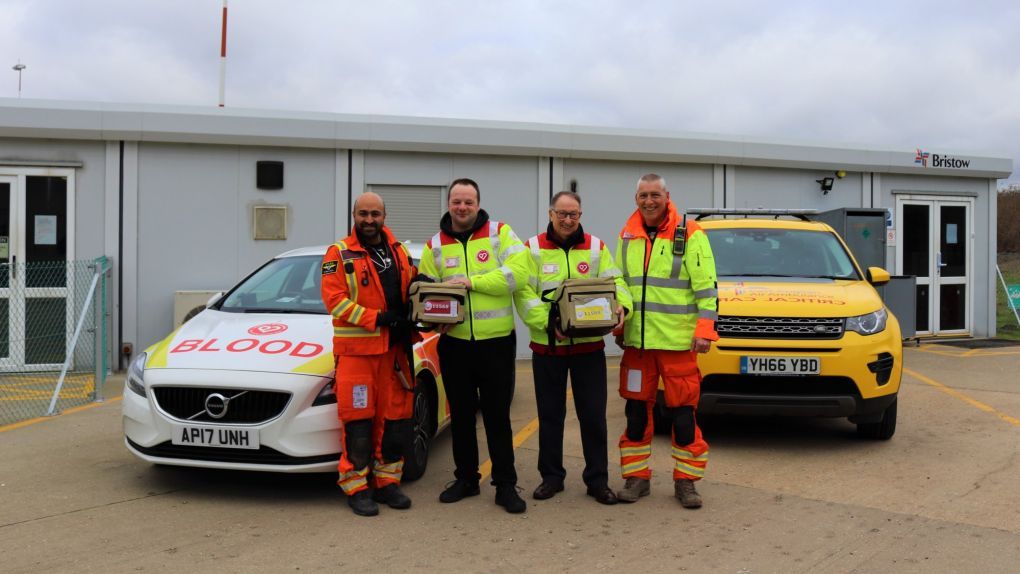 Thanks to this life-saving partnership between the two charities, Andrew was able to receive blood before being airlifted to the Norfolk and Norwich University Hospital. Andrew had ruptured his spleen and liver and had major internal bleeding and needed emergency surgery. He was in intensive care for several days and in hospital for two weeks in total before he was well enough to continue his recovery at home.
Another key part of this story is that Andrew has been donating blood for almost twenty years and has donated more than 34 times, making him a silver blood donor card holder. Now having been the recipient of blood, he is even more aware of its importance.
"I'm so grateful to the ambulance and air ambulance teams who treated me and made sure that I received the very best care and to the blood bikers who make sure the air ambulance is able to carry blood."

EAAA patient
Andrew continued: "I feel very lucky that my injuries weren't worse, and I have been able to recover relatively quickly with the help of my family. Being a regular blood donor, you go and give blood with never a thought that one day you may need it yourself. I would always encourage anyone that can give blood to do so, or to support one of these incredible charities."
Keith Grisedale from Norfolk Blood Bikes said: "Under normal circumstances, we never know who the patient is, so to know we played an integral part in Andrew's recovery is immensely satisfying for us".
Richard Hindson, Head of Operations at EAAA, said: "We're really proud to be working together with the Norfolk Blood Bike charity in order to take part in the RePHILL clinical research trial. This means we're not only able to help our patients, but by contributing to this national trial we're helping future trauma patients to get the very best care based on the results of this blood trial."
Every life-saving helicopter mission costs EAAA in the region of £3,500. Norfolk Blood Bikes need £4,000 a month to run their vital service. For more information, go to www.eaaa.org.uk or www.norfolkbloodbikes.org.uk
*About the RePHILL trial

- does providing blood prehospital make a difference?

Patients like Andrew are going to help researchers find the answer, as it's more complicated than you might think. EAAA is proud to be part of the RePHILL Trial, the first clinical trial of its kind in the UK to study the pros and cons of giving blood to trauma patients prehospital. RePHILL stands for Resuscitation with Pre-Hospital Blood Products.

As blood is a valuable and limited resource, the trial is needed to understand more about how it is used and provide evidence-based data about the types of patients who benefit most. The trial will also look at how much blood is required in total, if blood is to be given at scene versus in hospital.

To prevent biased results, the blood boxes are randomly packed so that some contain blood and some contain saline, salty water used to rehydrate patients. The team do not know which product they have before they decide to give blood. Since starting the trial in January 2018 EAAA have recruited 81 patients to the trial. The trial runs until December 2020.
How we work
to make a difference
Effective Response
With the combination of a quick response time, advanced critical care on scene and quick transfer to the appropriate hospital, our mission is to save more lives across East Anglia.
Aftercare
The missions we attend are often life-changing for our patients. By offering dedicated aftercare support, we're helping more of our patients and their families with their recovery journeys.
Partnerships
By developing partnerships and collaborations with local organisations who have aligned ambitions to ours, we can continue to do the very best for each and every patient we treat.
First AId
We're aiming to minimise the impact of trauma in the community by providing vital first aid training, so more people can take action if someone nearby suffers a medical emergency.