EAAA adapt operation to transfer Covid-19 patients
15 April 2020
As hospitals in the region reach capacity treating Covid-19 patients, East Anglian Air Ambulance (EAAA) will be doing more to support the NHS by providing critical care transfer teams to assist the East of England Ambulance Service Trust (EEAST) in moving Covid-19 patients between hospitals.
The air ambulance doctor and critical care paramedic teams have the specialist skills, equipment and extensive experience to look after ventilated Covid-19 patients outside hospital. The charity will utilise its Cambridge-based helicopter to fly their medical teams around the region to man dedicated transfer ambulances, to take critically ill Covid-19 patients to hospitals with more intensive care capacity.
EAAA has assisted with the transfer of three Covid-19 patients so far, but is gearing up for many more with the expected peak in hospitalised patients, and the consequential need for more transfers in the region, expected in the coming weeks. To meet the likely need for transfers during daylight hours, the shift patterns for clinical teams at EAAA's Cambridge base have been optimised to best meet demand and match the availability of the helicopter and pilots.
Matthew Jones, Director of Operations at EAAA, said: "We are doing everything we can to support the NHS during the Coronavirus pandemic and the best way our critical care teams can help is to directly support hospitals when they reach capacity. By transferring critically ill patients to hospitals with spare capacity, we can use our specialist skills to make sure that those patients can continue to get the expert care they need while our hospitals manage unprecedented numbers of critical care patients.
""Like all medical professionals at the moment, our teams are working very hard in challenging conditions but we're doing everything we can to back up the NHS and quickly react to its needs. We expect the regional need to transfer patients to be as high as 50 a day, which is why we're working in partnership with the NHS and other critical care organisations to set up this additional transfer team capacity."

Director of Operations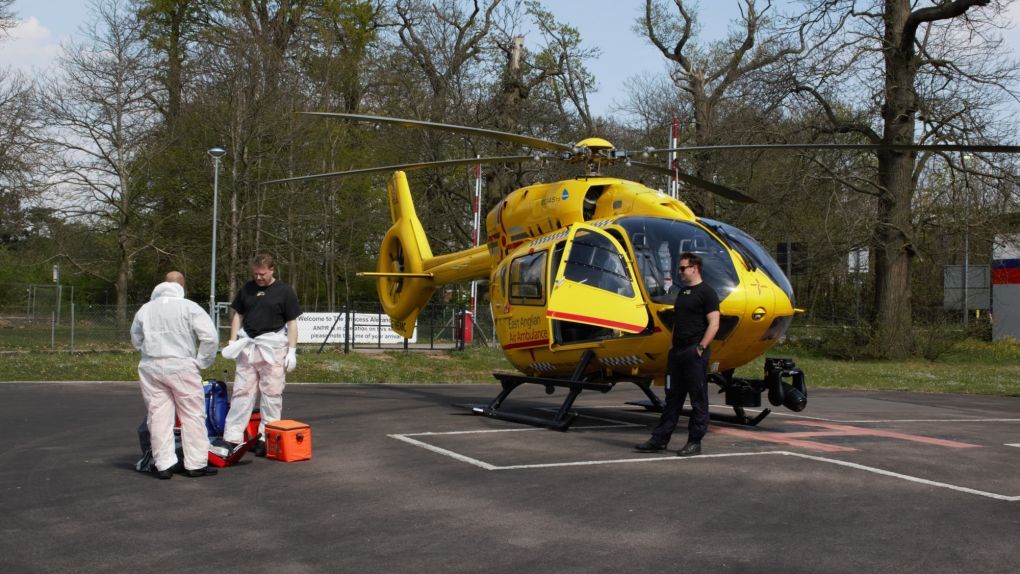 On Easter Sunday an EAAA team transferred a critically ill Covid-19 patient from the Princess Alexandra Hospital in Harlow to the Norfolk and Norwich University Hospital. Doctor Rishi Rallan and Critical Care Paramedic Tim Daniels arrived at the Princess Alexandra Hospital, by helicopter from Cambridge, at 1:47pm. The patient was carefully assessed and monitored throughout the hour and a half road journey, arriving at the Norfolk and Norwich University Hospital at 4:27pm.
Matthew Jones added: "The EAAA critical care teams are still flying every day to respond to 999 calls and provide a helicopter emergency medical service for the region, as well as supporting with the care of Covid-19 patients. EAAA is also helping to fight the pandemic by seconding some of its staff to the NHS to share their specialist skills."
Doctor Pam Chrispin, Deputy Medical Director at EAAA, has been seconded to NHS England to set up the specialist Covid-19 transfer programme and to co-ordinate specialist care resources across the region. Another member of EAAA staff, Head of Community Operations Alison Brett, has been seconded to the Nightingale Hospital in East London to work directly with relatives of critically ill patients.
"Last week we launched an appeal to help us fund the personal protective equipment (PPE) we need to protect our crews when they're working on the frontline and have been amazed at the response we've had already. We are aiming to raise £100,000 to help cover the unbudgeted PPE costs our operation is facing to fight Covid-19 and would like to thank everyone who has supported our appeal so far. Without the right PPE, we can't assist with these transfers, so it's vital that our staff are properly protected to carry out this vital role and as a charity, we rely on support from the community to carry out our work."

Director of Operations