EAAA crew move into new Norwich headquarters as they prepare to fly 24/7
30 April 2021
Life-saving crews from East Anglian Air Ambulance (EAAA) have moved into their new Norwich headquarters, Helimed House, ahead of planned 24/7 operations later this summer.
The charity, which has been operating from temporary accommodation for over a year, launched its mission to deliver a 24/7 air ambulance service in the East of England back in 2019. This week, despite delays due to the pandemic, that goal is one step closer as its life-saving crews have moved into the charity's newly built 24/7 operating base at Norwich Airport.
The Anglia One helicopter team will start flying 24/7 from the base in late June, after a short settling-in period.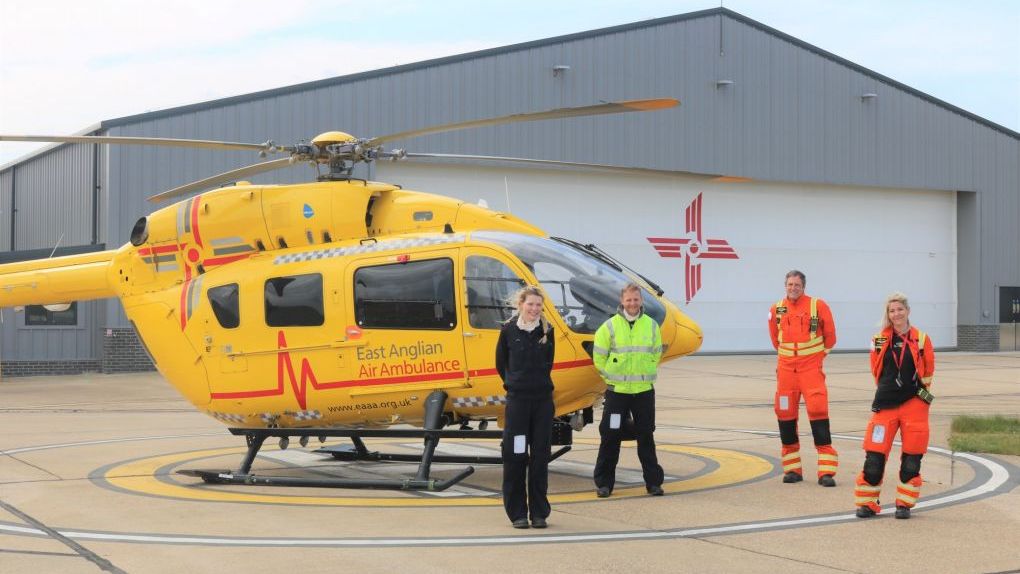 Funded through generous gifts in Wills, the £7 million development will enable the charity to finally have the training, rest and welfare facilities required for a fully 24/7 helicopter operation and will make EAAA the first air ambulance in the East of England to fly round the clock.
By flying 24/7 the charity estimates it could be tasked by helicopter up to 600 more times a year, delivering critical care to those in need faster at night and closing the five-and-a-half-hour gap (between 1:30am and 7am) where there is currently no helicopter coverage in the region.
The charity's doctor and critical care paramedic teams are currently available 24/7 from both its Norwich and Cambridge bases, with the night shifts predominantly facilitated by rapid response vehicle (RRV). From July 2019 to June 2020 the EAAA night teams were tasked more than 500 times by RRV between the hours of 7pm and 7am.
EAAA has been flying until at least midnight from Cambridge since 2013, (flying hours were extended to 1:30am in 2019) providing some night helicopter coverage for the region. With a 24/7 helicopter service EAAA could help even more patients and reach them faster.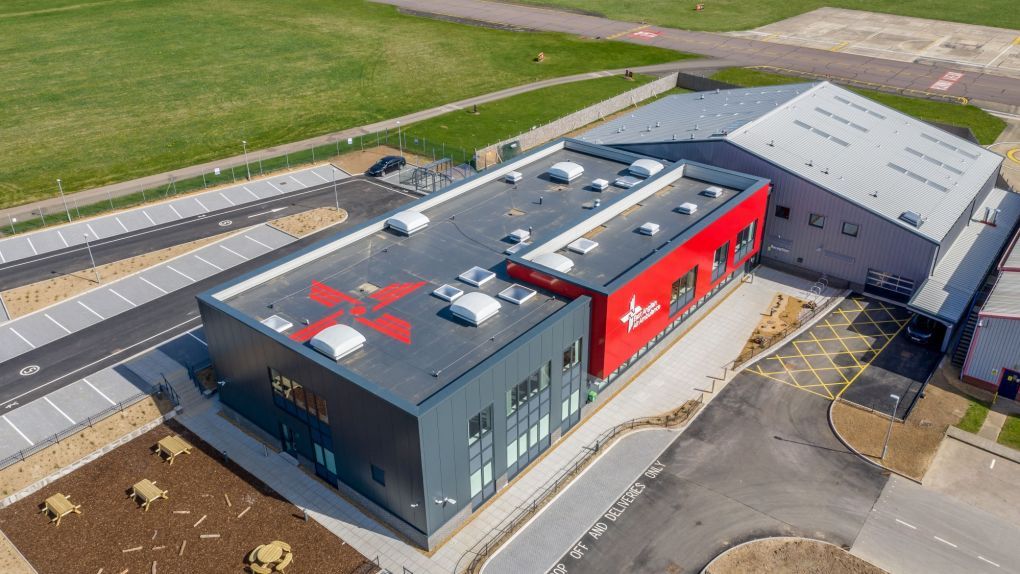 Image credit above: BlueSky UAV

Planning was officially granted for the base in November 2019 with ground works starting in January 2020. Construction was halted by the coronavirus pandemic but is only six months behind the original schedule.
The new purpose-built base provides a world-class facility which will help the charity reach this long-term goal to be there for people when needed, as well as future proof the organisation and bring all of its Norwich-based teams under one roof for the first time. The base also includes a community hub and training and conference facilities, as well as an immersive training suite for its clinical teams.
Patrick Peal, CEO of EAAA, said: "This week has truly been a huge milestone for EAAA and for the whole community, who have helped to fund this enormous project through several years of generous donations, largely through gifts left to the charity in supporter's wills. Our previous headquarters were incredibly cramped, in need of several improvements and we were renting additional office space elsewhere in Norwich. The new base solves these problems and gives us extra facilities as well as room to grow in the future.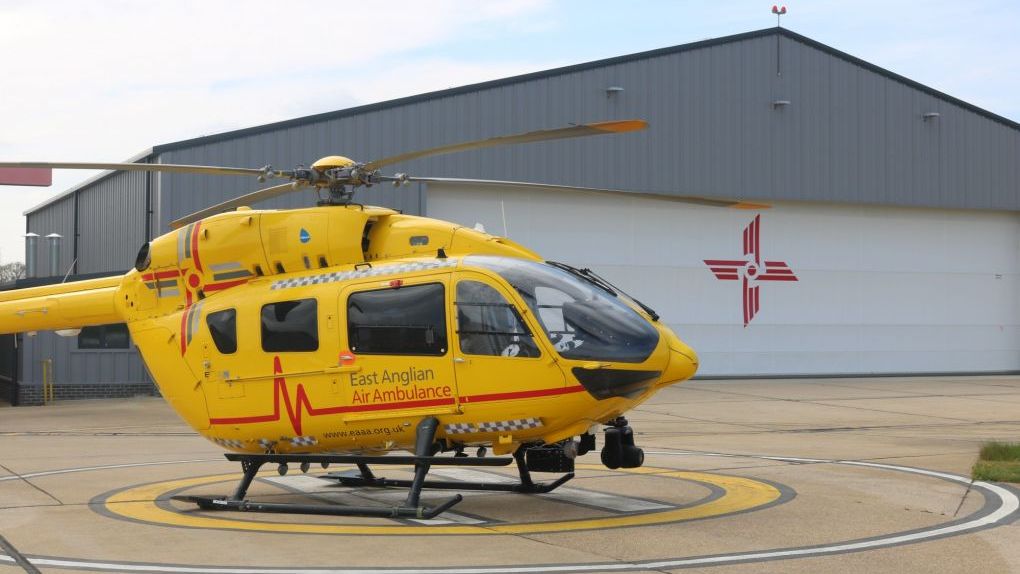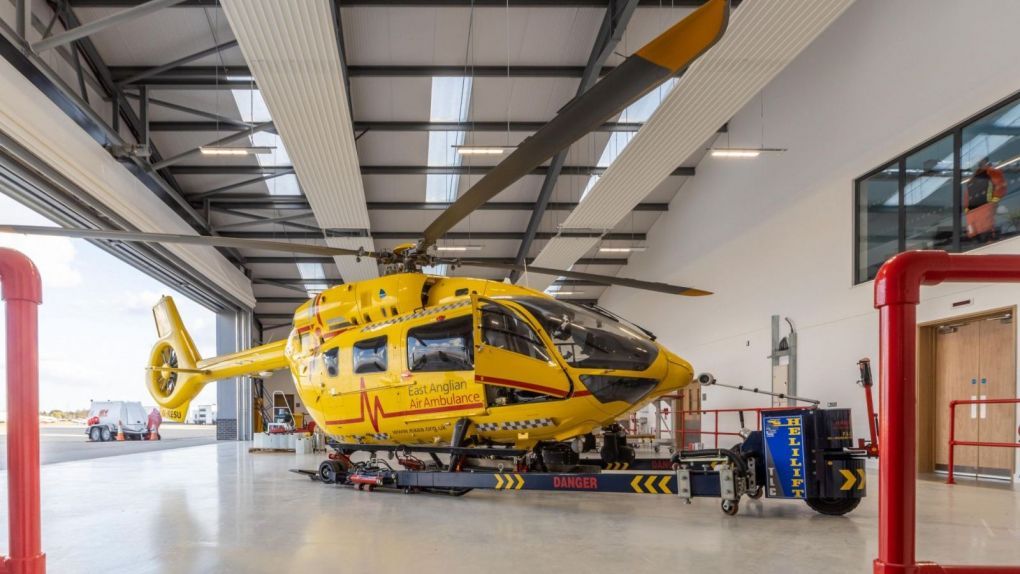 "We've dreamt of being able to fly 24/7 for years as we're fiercely passionate about making sure the same standard of critical care is available, by helicopter, right across East Anglia no matter what time of day or night it is. We know people don't stop having cardiac arrests, strokes or road traffic collisions when the helicopter goes offline, and we have been working towards this goal for several years. Now, that goal is just a couple of months away."

CEO, EAAA
"The base itself is just one part of that; we've also been concentrating on increasing our yearly fundraising target to make sure we can finance the extra flying hours alongside planning for the base. The support for our Mission 24/7 campaign over the last two years has been tremendous and even though our finances have been affected over the past 12 months, and we're expecting a deficit this financial year, we're confident we have the reserves and the fundraising plans in place to still make this happen.
"Although I will soon be retiring from my role as CEO of this incredible charity, I'm immensely proud to have seen this ambition of ours come together over the last few years and that we will be able to start flying 24/7 in late June, thanks to the amazing support of the people of Norfolk, Suffolk, Cambridgeshire and Bedfordshire."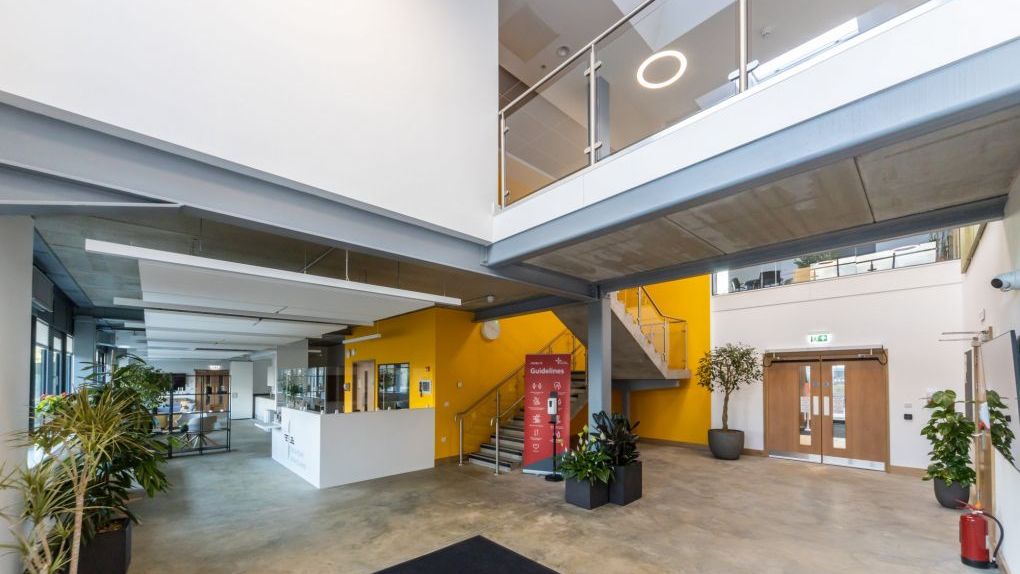 Image credit above: BlueSky UAV

Developing the new 24/7 base has included purchasing the land for the base, making EAAA a property owner for the first time which will save costs in the future. Not only has this enabled the charity to create a truly bespoke facility to best suit its unique needs, it has also meant that the building could be designed with long term durability in mind and to minimise future running costs.
EAAA aims to raise £15 million a year to deliver and develop its service. This summer the charity is holding three Trek 24 events across the region to help raise funds for its Mission 24/7 campaign. Supporters can take on either a 24 kilometre or 24 mile route in Norfolk, Suffolk or Bedfordshire later this summer to help raise vital funds.
The base has been built with vital input from the following companies:
Architects: Feilden & Mawson
Interior Designers: Feilden & Mawson
Project Managers and Cost Consultants: REAL Consulting
Main contractors: P J Spillings
Consulting Engineers: Canham Consulting
Mechanical and Electrical Consultants: Johns Slater Haward