EAAA Norfolk Day Inspiration Awards 2019
24 July 2019
To celebrate Norfolk Day, this year we have brought back our Norfolk Day Inspiration awards to celebrate our incredible supporters who have inspired us across this year in Norfolk. A huge thank you to all of our fantastic supporters across East Anglia who help to keep our charity operational 365 days of the year; we simply couldn't do it without you!
And the winners are...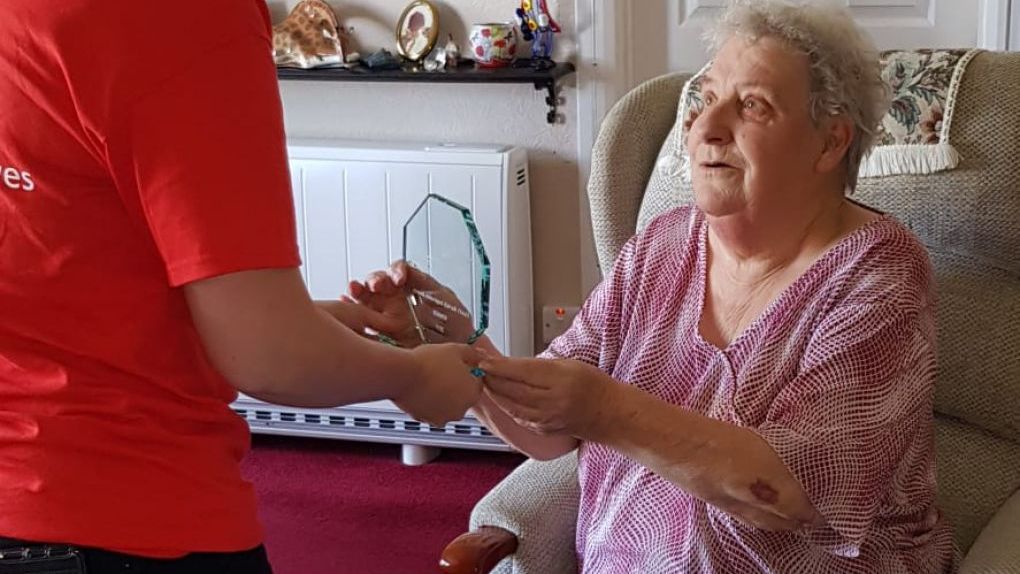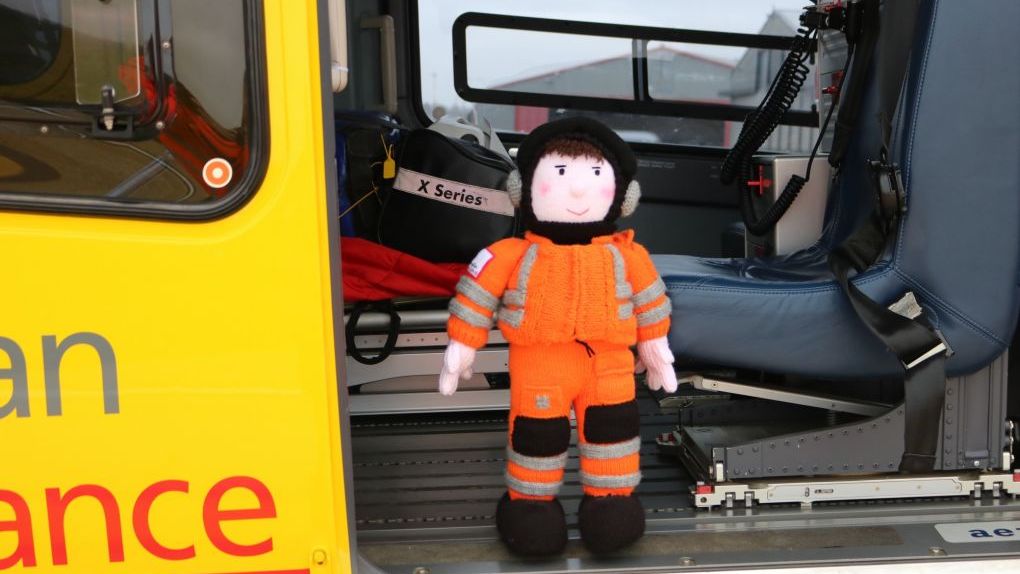 Norfolk Inspirational Donor Award Winner -
Joyce Mickleburgh
Joyce lives just outside of Norwich in Eccles-on-Sea with her husband Cyril. Kayleigh Taylor, from our Finance team, has been in contact with Joyce since her first letter in December, becoming pen pals over the months. Joyce contacted the charity last year to ask if we would like a knitted crew member to auction off and use to raise funds (pictured above). She had successfully made one for her local RNLI and wanted to do the same for other local charities.
We were thrilled when our new knitted crew member, Wooley, arrived at the Norwich base and he soon became a hit with our supporters, too. Joyce has since created more knitted items for our charity to auction and continues to write to the team. She always puts a smile on our face with her kind words and support. We wanted to say an huge thank you for her support to us and other local charities, so what better way than awarding her with the Norfolk Inspirational Donor award!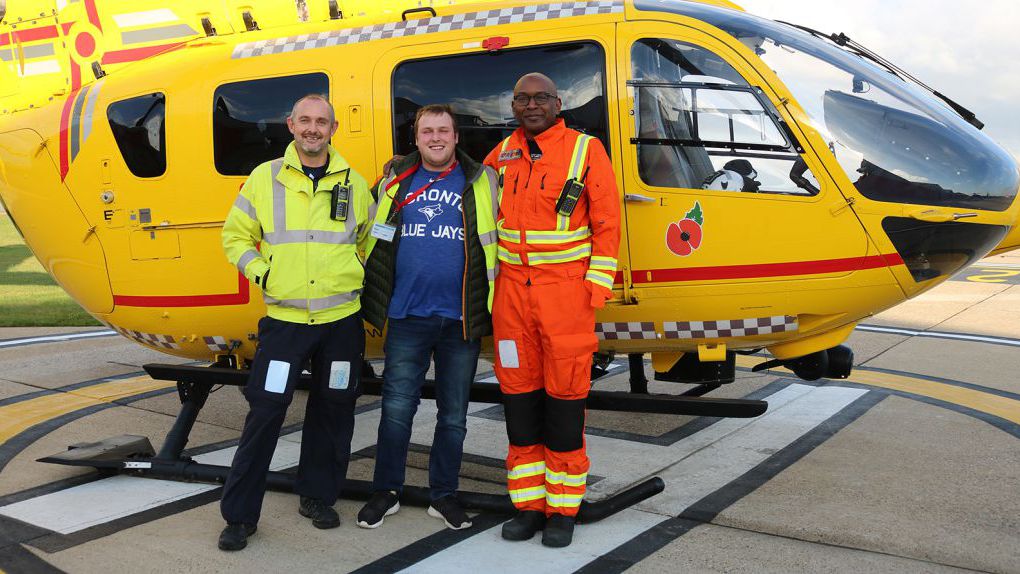 Norfolk Inspirational Patient Award Winner -
Jordan Greenwood!
On 18th May 2017 Jordan Greenwood was travelling along the road on his motorcycle when a car turned right across his path and into him, throwing him from his motorcycle, causing a serious crushing injury to his right foot and ankle. It quickly became obvious to our Anglia One team who attended that Jordan had suffered horrific injuries and was in a lot of pain. They administered sedation and pain relief and placed his injured leg in a splint. Jordan was then airlifted to the Norfolk and Norwich University Hospital.Despite the care that Jordan received, the hospital team was unable to save his injured leg and he had the lower half of his leg from the knee amputated.
To suffer such an injury like that would be devastating for so many people, particularly someone so young, but Jordan has gone on to show that he can do everything he did before and so much more. When Jordan came in to meet the crew who treated him, his positivity shone through and we were all in awe of determination and ambition. Jordan has recently received a new prosthetic limb that fits better and will soon be undertaking training to become a personal trainer for others who have suffered similar injuries.
Jordan also took part in our Only The Brave 6 mile mud obstacle race early this year! Jordan once said to us "Nothing is impossible if you put your mind to it". We think he is incredibly inspiring every day and very deserving of this award. Congratulations Jordan!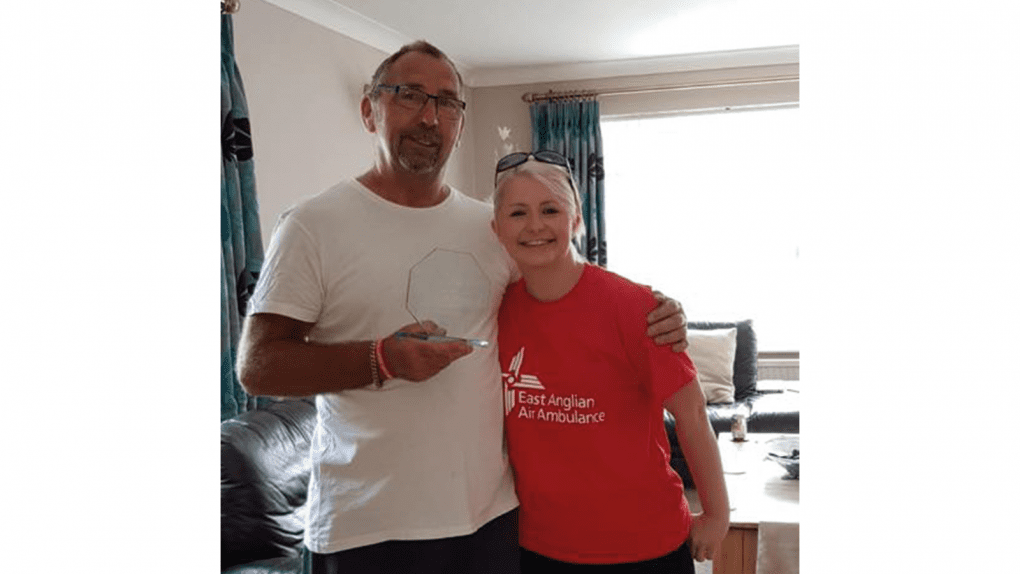 Norfolk Inspirational Event Fundraiser Award Winner -
Keith Piggott
Keith is one of our unsung heroes! Not only does he raise money every month through a quiz night and raffle, but supports us through his burger van with collection boxes and spreading the word to his customers about the work we do. He even has our logo printed on his van! Each month without question we see Keith handing us a donation, asking what's new with the charity and how he can support us further. We think his dedication to support us is inspriational and have considered him part of the team for many years now!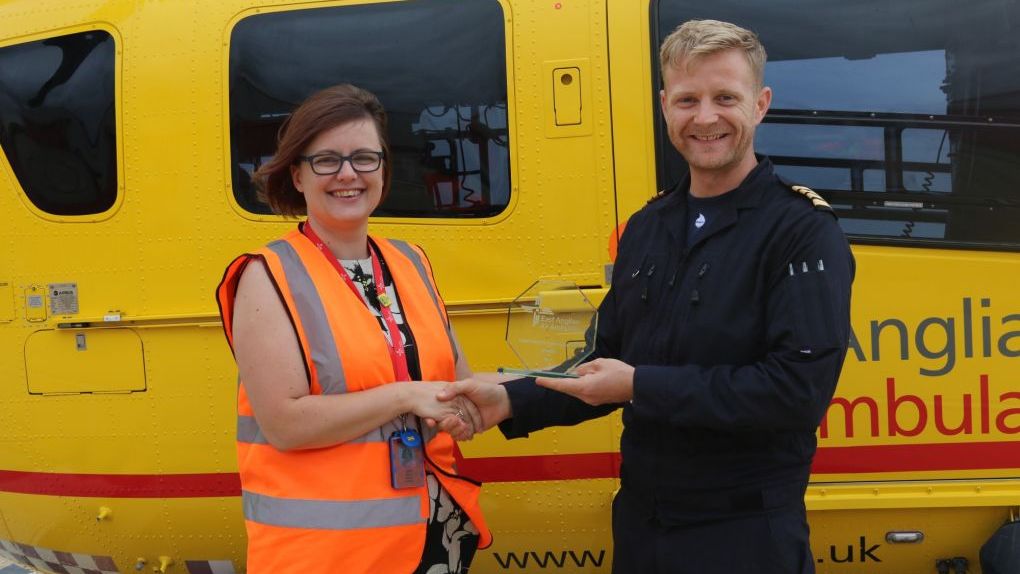 Norfolk Inspirational Crew Member Award Winner -
Captain Richard Anderson
Put simply, Rich is a vital member of our day to day duty crew and always puts a smile on our faces. He is always so enthusiastic about the charity taking part in events and is a fantastic host on patient visits and at public events. Rich, you are a HEMS hero and we think you are amazing!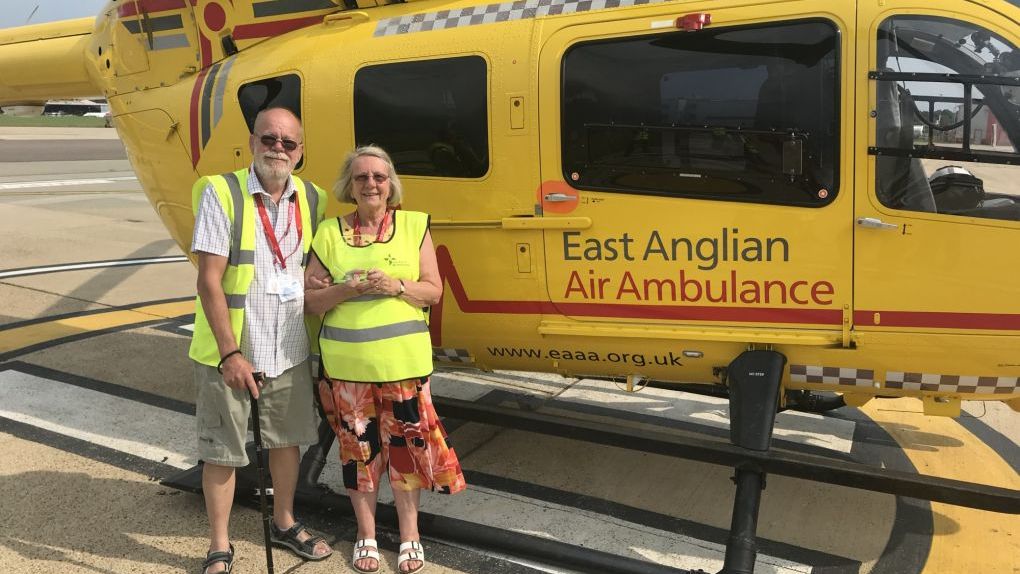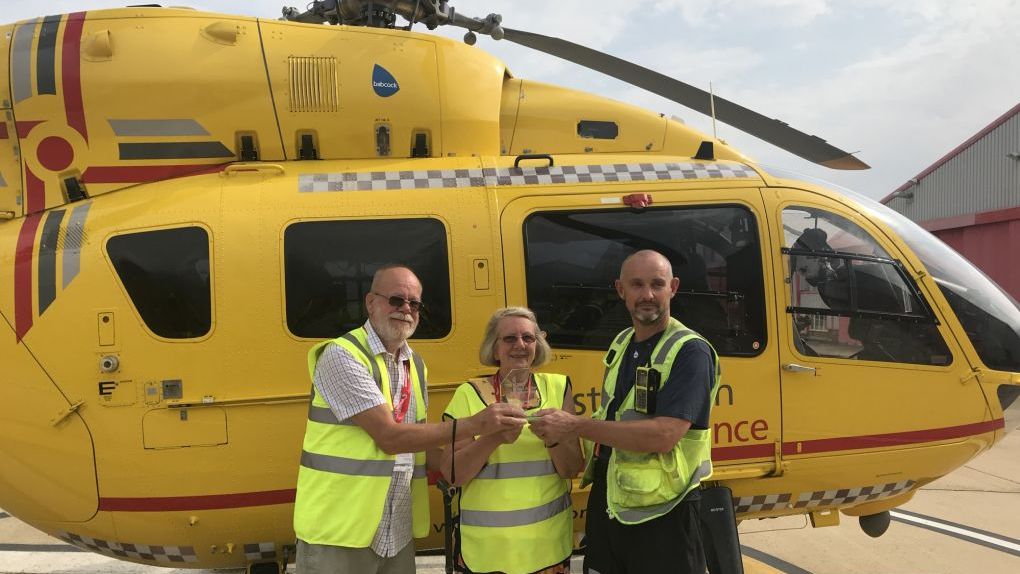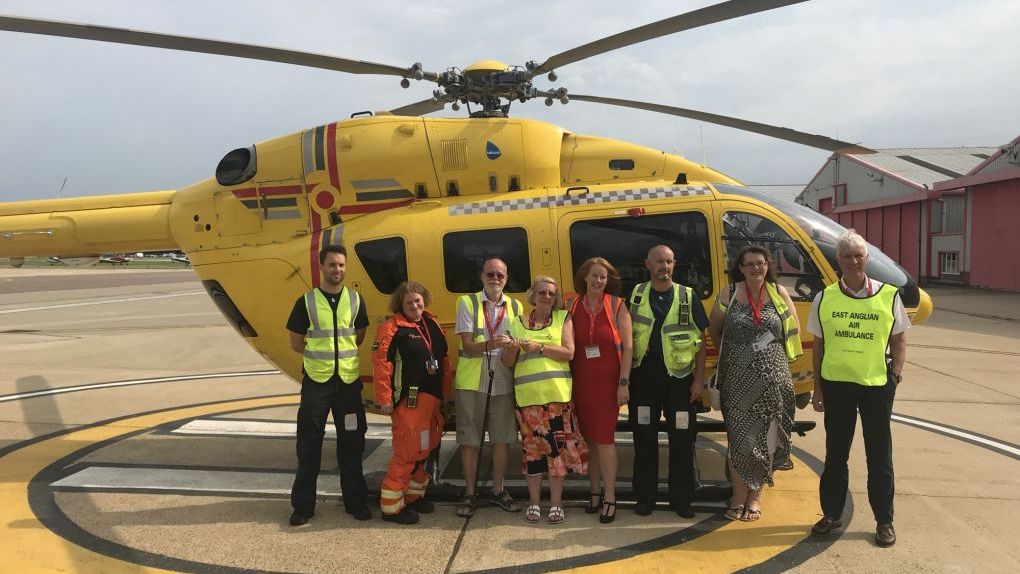 Norfolk Inspirational Volunteer Award Winner -
Lesley and Trevor Armstrong
They come as a double act! Lesley and Trevor regularly help out with various events (leaflet distributions at park runs, fundraising events etc) and also manage collection boxes in Downham Market. The EAAA crew attended an incident which involved Trevor falling through a garden shed a few years ago, so the charity connection is one close to their hearts. We love spending time with Lesley and Trevor and believe they are very deserving of this award!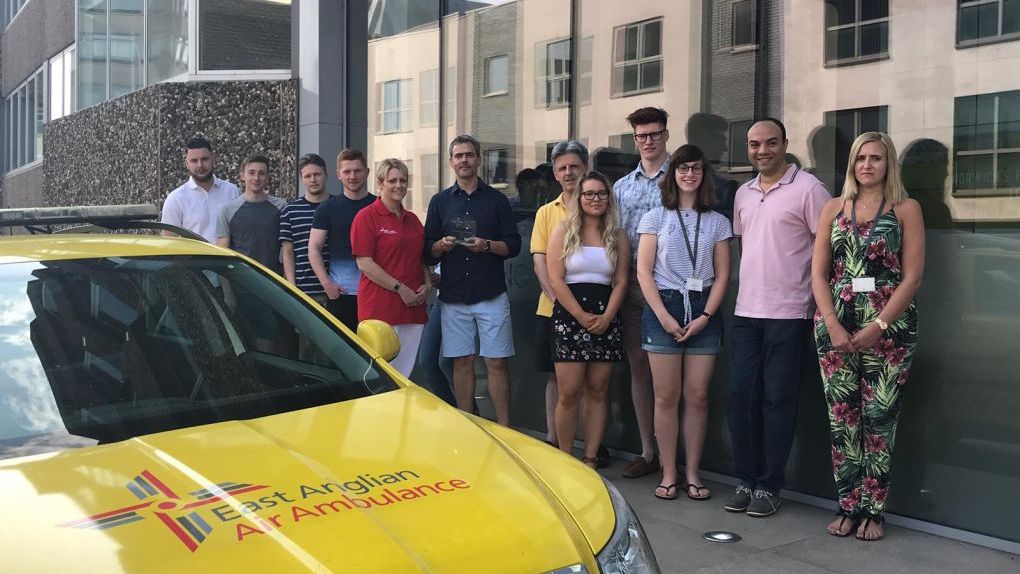 Norfolk Inspirational Business Award Winner -
Aston Shaw
Since being chosen as their charity of the year, Aston Shaw really have hit the ground running! From taking part in our flagship event, Only The Brave, to one employee planning a 'locked in a box' fundraising challenge - they are always looking for new and unique fundraising ideas and we really appriciate their support.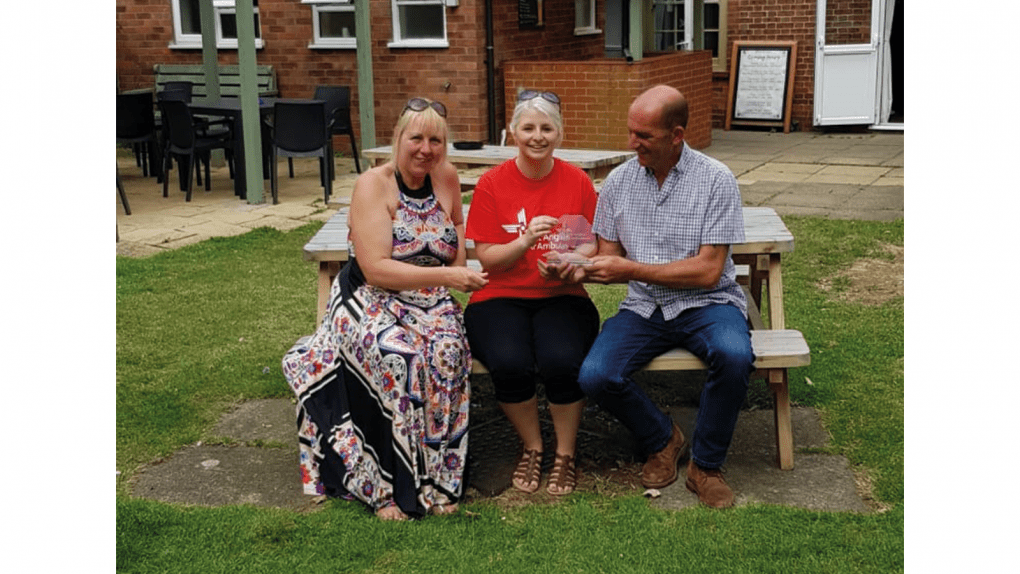 Norfolk Inspirational Team Award Winner -
Martin and Dawn from the Bushel & Strike Pub in Heacham
Martin, Dawn and their four friends are running a series of events on our behalf throughout 2019, using the Bushel & Strike pub as a location to host them. The events they have done so far have included a Cartoon Character walk to Hunstanton and a May Ball with live music in the pub garden - very creative ideas. Not only are they a delight to work with but their enthusiasm is inspiring!