Meet the team: We sit down with volunteer Wendy Wootton
31 May 2023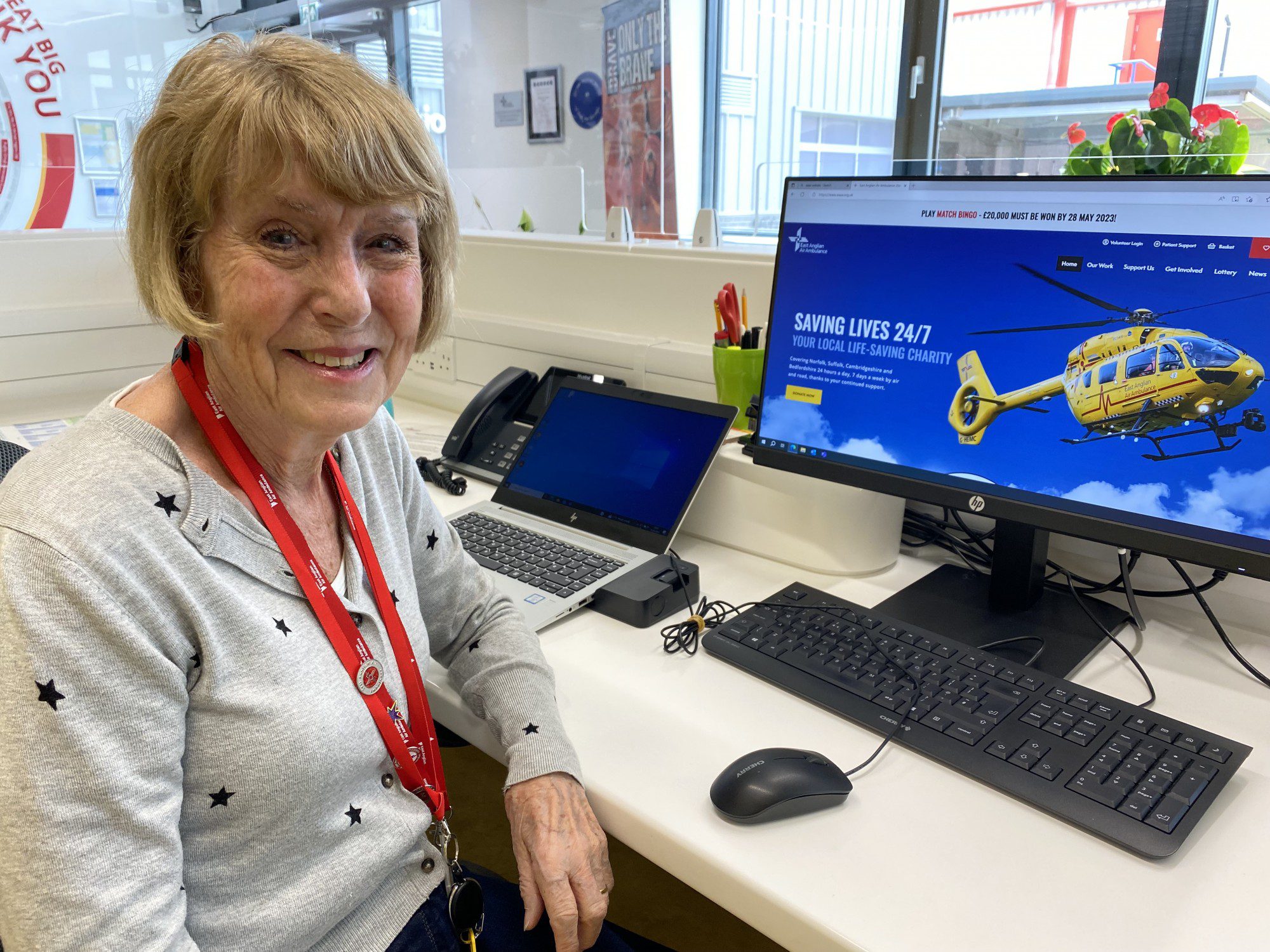 Travelling each week from Ipswich to Norwich to support our work, Wendy is one of 233 fantastic volunteers who regularly support EAAA, as well as those who support us on an ad-hoc basis.
"I have been a volunteer with EAAA for seven years and was inspired to join after attending an evening at Glemhall Hall seven years ago when the Aftercare Service was launched." Wendy says.
"I couldn't believe that an incredible charity like EAAA not only went out to save lives, but also supported patients and families to overcome their traumas and concerns with an Aftercare service."

Volunteer, EAAA
Taking on a variety of tasks and roles, is something that gives Wendy variety and enjoyment. She delivers talks, and supports bucket collections and events, such as Trek 24. Wendy is also one of the friendly faces visitors to Helimed House, our Norwich HQ, may meet as one of our team of Welcome Desk volunteers.
"I enjoy all the tasks I am given, particularly working on the Welcome Desk because I am always so impressed with the professionalism and enthusiasm of the staff. "The support I receive from Becca [Visitor and Estates Coordinator at Helimed House] is amazing. I always come away feeling energised." Wendy comments.
"I help to input data about donations and volunteer hours onto the computer system, which has helped to hone my computer skills. Delivering talks has helped me to develop my presentation skills. People respond so well to EAAA. It is incredibly rewarding to meet and talk to people who the charity has helped - I love having the opportunity to fly the flag for EAAA!
"There have been so many highlights, but I was overjoyed and extremely surprised to be awarded EAAA's Jamie Edghill Eward for Exceptional Volunteering in 2021.
"We receive training, and volunteers are extremely well supported by Adam and Debbie, EAAA's Volunteer Development Officers. I am always thanked for what I have done regardless of the task, everyone is always extremely supportive and grateful. What more can you ask! I would always encourage people to consider volunteering for the EAAA as it is such a worthwhile charity and plays such a vital role in our community."
We completely depend on a dedicated, diverse and flexible group of individuals who volunteer to support us in delivering our life-saving service. Thank you to all of our wonderful volunteers!