Lottery canvassing - Keeping safe on your doorstep
02 July 2019
Doorstep and public canvassing
Many charities and businesses often use canvassers to help build support or to sell products, and certainly for East Anglian Air Ambulance this is a really effective way to recruit lottery players. Sadly, there are criminals out there who try to impersonate legitimate fundraisers and traders, so here are a few handy hints to help you recognise our canvassers and keep you safe on the doorstep.
East Anglian Air Ambulance
Canvassers
Our canvassers are distinctive in their red fleeces, yellow hi-viz jackets or red polo-shirts displaying our logo, and will ask if you would like to sign up to play our lottery or give a regular gift. If you choose to play the lottery and help EAAA they will take a few details from you and ask for your bank details using a secure tablet device. They are not permitted to take cash on the doorstep – if you would like to make a donation you can always visit our website or phone us.
Our canvassers, who will have an identity badge with their name, photo and our logo, work on behalf of Tower Lotteries, a partner company that help us recruit new supporters. If in doubt, call us to confirm that the canvasser is working for us. If it's outside office hours, you can check on our website – where we have a regular updated list of canvassers including their pictures and ID numbers.
Our canvassers will also be carrying appropriate PPE with them, if you would prefer they wear a mask whilst talking to you, just ask them to put one on.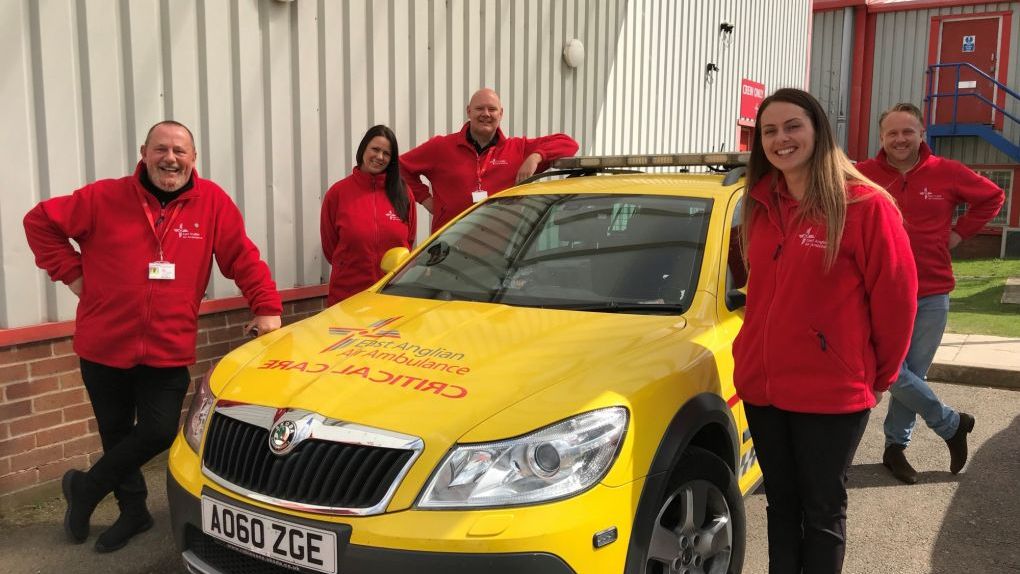 Why we use canvassers
Our canvassers do a fantastic job – the lottery alone raises around 45% of our income and is vital to help keep our helicopter emergency medical service operational. They are our public ambassadors and speak to more people than any other charity team – it is a fantastic way to reach more people in our region every day. Our canvassers offer a safe and easy way to sign up to the lottery and offer you the chance to win fantastic prizes, or to sign up with a regular gift. They are always happy to chat with you and tell you about our work, even if you don't want to sign up.
When answering the door
Here are some handy hints to help keep you safe on the doorstep and identify our genuine canvassers:
Our canvassers will not ask to come into your home. If anyone on the door does ask to come in, make sure you verify their identity first by calling the charity or company they represent.
Canvassers and fundraisers from any charity should have clearly readable ID badges, obviously branded clothing and be happy to leave you information if you do not want to speak to them.
To avoid being tricked by impersonators, if you want to call the charity or company, do not ring a number they give you; close the door and call the legitimate company or charity number (you can find this online or asking directory enquiries)
There is nothing wrong with keeping the chain on your door – they wont be offended
Don't be shy about saying no and asking them to leave if you are uncomfortable. You can always ask callers to leave a leaflet or come back later when you have someone else with you
Beware of 'distraction' crime – ensure all other doors are locked when answering your door, so no one can enter whilst you are busy on the doorstep.
If you have any disabilities or concerns about your vulnerability, do not open the door. You can always ask them to come back later when you are not alone.
What to do if you are suspicious:
If they are canvassing for EAAA but you are not confident they are genuine, call us on 03450 669 999 or check our website list of canvassers
If you suspect the caller is fraudulent, you can call the police on their non-emergency number, 101 – and report the incident. If you think they are impersonating us, please also let us know.
Close the door immediately and call the police if you feel you may be in danger.
For more information about staying safe on the doorstep, contact your local council, Age UK or the Police. If you have any comments on our canvassers or this article, please contact us.