Were you the first EAAA patient?
09 February 2021
20 years ago on 9 February 2001 East Anglian Air Ambulance flew its very first official mission, to help someone in Norfolk in a serious condition. Do you know who it was?
At this point, the charity, which was set up a few months earlier in September 2000, only had enough funds to fly once a week, and did so on a Friday.
The helicopter was a black Bolkow 105, built in 1977, and was also used as a police helicopter. The crew was a single pilot and two paramedics, different to the double pilot and doctor and critical care paramedic teams who operate today.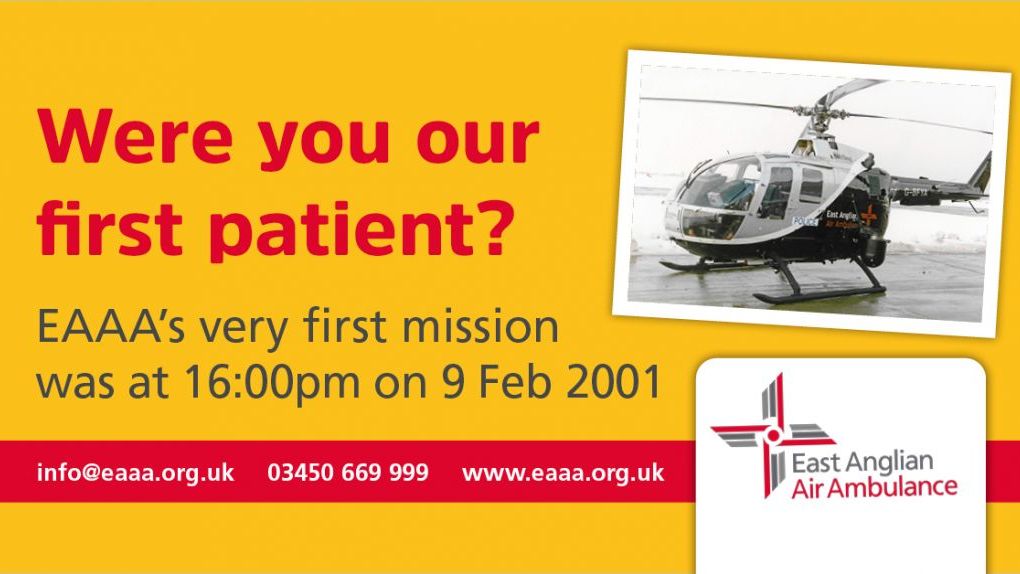 Records show the first flight was at 16:00pm on Friday 9 February, with a total flight time of 25 mins, covering the flight to the incident scene and back again. The crew were back on base by 16:55pm, which indicates that on the very first mission the patient was not transferred to hospital in the air ambulance, but help was provided on-scene.
Unfortunately, being the very early days of the organisation, the exact location and details of the first patient have been lost over time. That's why EAAA is calling on Norfolk to help fill in the gaps.
Were you that very first patient? Or perhaps a friend or a neighbour? If so, EAAA would like to hear from you.
Please contact us on: 03450 669 999 or email info@eaaa.org.uk
"Looking back on the achievement of our very first flight, we'd really like to know more about who it was that we helped that day. In the very beginning, it was a tiny organisation and we don't have many records from that exciting time. However, we do know that the first patient was definitely in Norfolk."

CEO of EAAA said
Patrick continued: "Based on the speed of the first helicopter (about 80mph – much slower than the current H145 that EAAA fly, which has a speed of 120 mph) and the flight time that we have record of, they put the location of the first mission firmly within a 15 mile radius of Norwich airport, which covers a good portion of the county, including The Broads, then almost as far out to the Cromer coast, as far West as Dereham and South as Attleborough.
"We've really enjoyed being able to look back at where the service started, and where it is now. And knowing more about that very first flight and patient would be a great thing for us to learn, but we need some help from the community and would like to hear from anyone who may know more."
EAAA records show the first time a patient was flown to hospital was a month later, on Friday 2 March 2001. This was a snowy day and the patient was a teenager who was involved in a collision with a car in Stalham.
Within just six months, by July 2001, EAAA was flying seven days a week. Since then, the charity has gone from strength to strength and has been committed to always providing the very best service for its patients. This includes the ambition of flying 24/7, to provide critical care by helicopter no matter the time of day or night.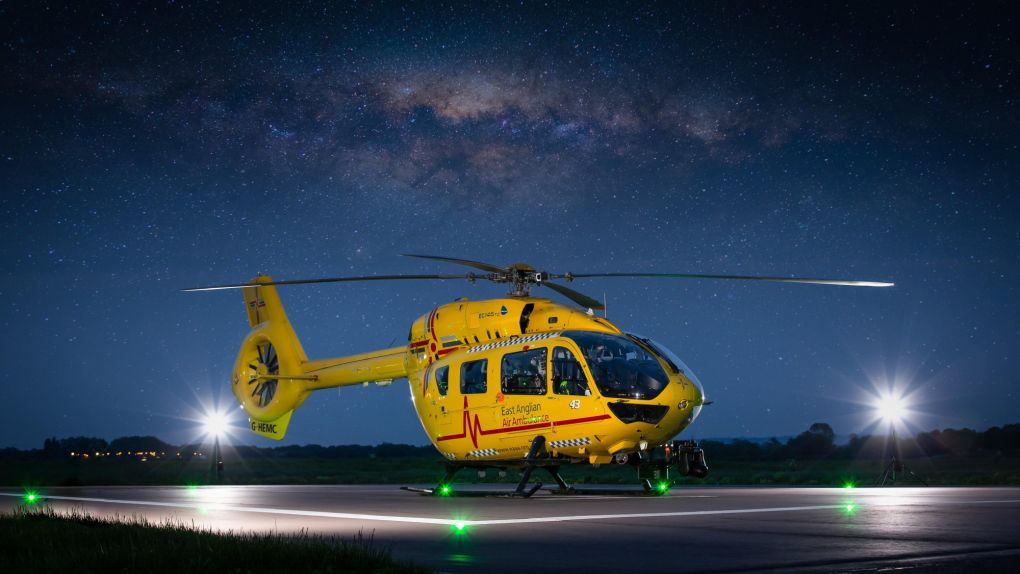 Patrick added: "This year, in just a few months' time, EAAA will realise its long-term ambition and start flying 24/7 from Norwich Airport, from the new fully-operational 24/7 base. Flying 24/7 will make the helicopter emergency medical service (HEMS) available to even more people each year and will be a great step forward. This goal has been slightly delayed by the pandemic, but we're really close now and that's really exciting for our teams. But without the people that support us, none of this would have been possible. We need to raise £15 million a year to deliver and develop the charity."
Donate today
EAAA's doctor and critical care paramedic teams are currently available 24/7 by rapid response vehicle (RRV) but being able to offer a fully 24/7 HEMS operation will make the teams available to many more people, across the entire region, filling the five and a half hour gap where there is currently no helicopter coverage in East Anglia.