Mark needed our help when he suffered a cardiac arrest in the middle of the night. Mark Drury, from Suffolk, was just 50 years old when he suffered a cardiac arrest while he slept. It was September 2020 and about 1:30am in the morning. 80% of cardiac arrests happen in the home and in these situations every second counts.
Fortunately, Mark's wife, Melanie, was just settling for the night when she heard Mark let out a large and unusual snore which grabbed her attention. "I'm a night owl and often don't get to bed till really late", Melanie recalls. "I had just turned off the light to go to sleep when I heard Mark let out a few really loud snores, which struck me as unusual as he doesn't snore. I touched his arm to see if he was ok and could feel him clenching, sensing something was wrong I turned the light back on."
"That's when I saw that his lips and ears were turning blue, and he was unresponsive to my voice. I was overwhelmed with panic at first but quickly knew if I didn't do something he was going to die. I hadn't done first aid training for over 20 years but when I needed to act it all came back to me."
Melanie dialled 999 at 01:39am. Before she could start CPR she had to pull Mark from the bed and on to the floor, finding strength she didn't know she had. The call handler then counted with her as she started chest compressions until the ambulance arrived 13 minutes later. The ambulance paramedics were able to quickly restart Mark's heart with a shock from a defibrillator, but he became extremely agitated and couldn't be moved safely.
At 2:09 am the ambulance team requested support from the EAAA critical care team, which was tasked from the Cambridge base by rapid response vehicle, reaching Mark and Melanie's home in West Suffolk in 32 minutes. Doctor Lyle Moncur and Critical Care Paramedic Andy Bates gave Mark a full assessment and could see that he was in a difficult and combative state following the cardiac arrest and needed enhanced care in order to transport him safely to hospital.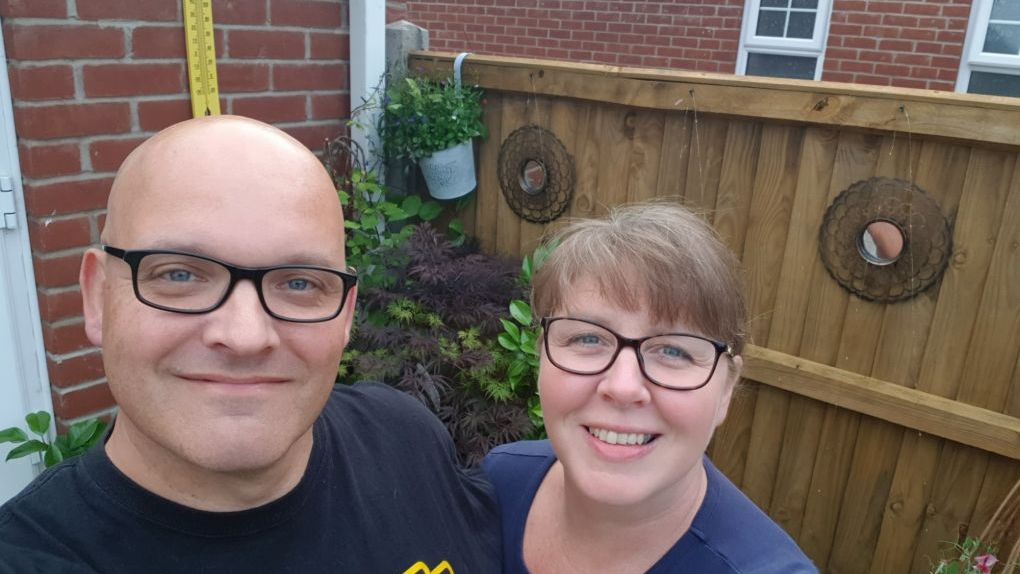 Mark was sedated and intubated, enabling the EAAA team to put him into a safe state. This helped to reduce the stress on his body, preventing a further cardiac arrest, and enabled the team to take control of his breathing and ensure that his brain was getting enough oxygen. Lyle and Andy then accompanied Mark in the ambulance to the Royal Papworth Hospital in Cambridge where he received further tests and specialist treatment.
Although no concrete cause of the cardiac arrest could be found, it was determined to be an electrical problem rather than linked to a blockage within the heart. Mark was fitted with an internal defibrillator, known as an ICD, to shock his heart should another problem occur and has so far had no further issues.
During the Covid-19 lockdowns Mark got into cycling and cycled 500 km in August to raise funds for EAAA, including cycling 100 km from his home to meet the EAAA at the Cambridge base who treated him.
Talking about the cardiac arrest, Mark said: "It's important for anyone going through this to know that life doesn't have to stop. It might pause for a while, but you can carry on and have a new lease of life.
"I had no warning signs at all and have felt fine since my cardiac arrest. I know how lucky I am that Melanie was with me when it happened and was able to start chest compressions and get help straight away."
Looking ahead to their future together as a family, Mark added: "We have so much to look forward to in life and are incredibly grateful that we were able to get such fantastic emergency care when we needed it.
"If you don't know how to do CPR, we would encourage you to learn as your New Year's resolution as this really can happen to anyone, but you can survive and you can help to save a life."
Mark and Melanie have been lucky enough to receive Aftercare support from EAAA and to meet the EAAA team who treated Mark, providing support and closure for the family as they move on from Mark's cardiac arrest.