20 September 2021
Yesterday over a thousand runners representing 200 teams took part in the Cambridge Chariots of Fire relay race in aid of East Anglian Air Ambulance (EAAA).
Running on behalf of the charity was CEO Matthew Jones, Doctor Joanna Stevens, Doctor Natalie Lonsdale, Doctor Drew Welch, former patient Laura Bird and Doctor Neil Berry. The team ran in uniform (with Matthew and Laura representing pilots) and carrying a 3kg defibrillator instead of the usual relay baton to raise further awareness for how the event will help the charity; by funding more CPR and defibrillator training across Cambridgeshire. The EAAA team completed the race in one hour, 16 mins and 20 seconds in 44th place.
The race was started by Ipswich Town Youth Football Coach and former EAAA patient Shaun Whiter and most teams completed six laps of the 1.7-mile route within two hours of the race starting at 9:30am.
Watch this video of the event made by SkyTech Cambridge.
Matthew Jones said: "It was fantastic for EAAA to be the charity partner of Chariots of Fire this year and to have the opportunity to represent EAAA myself alongside four members of our clinical team and a former patient, Laura Bird, in the race.
"Running with a defibrillator definitely added to the challenge but hopefully reinforced how the event will help us to save lives, by funding more CPR and defibrillator training for community groups, schools and workplaces, and will encourage the teams to raise as much as they can in sponsorship money. EAAA is tasked to more cardiac arrests than any other type of emergency, so this was a great way to raise awareness for this area of our work and how important the actions of a bystander performing CPR and using a defibrillator are in increasing the chances of survival."
So far, Chariots of Fire teams fundrasing via Just Giving have raised over £35,000, with more fundrasing income set to come in: https://www.justgiving.com/campaign/CoF2021 .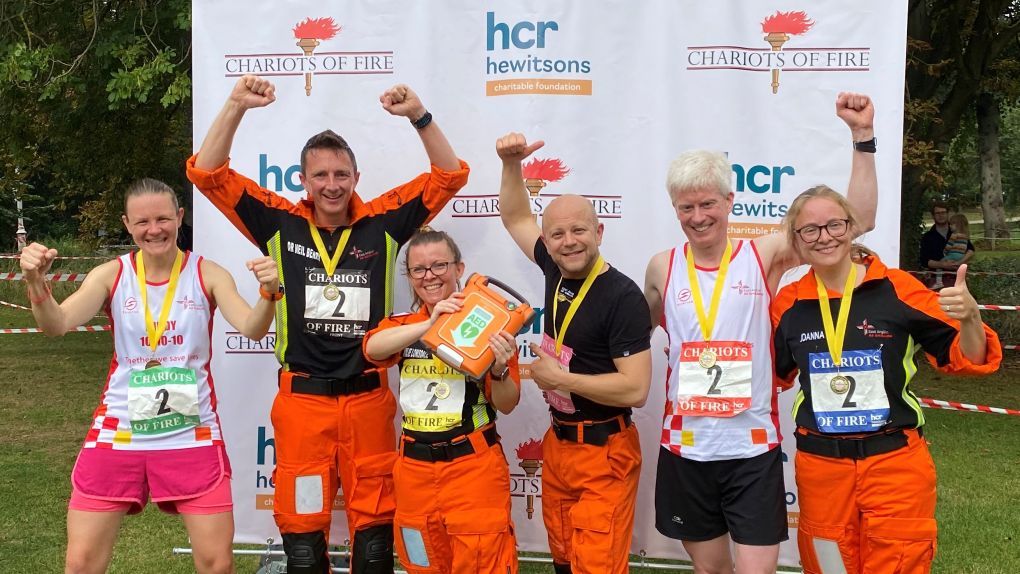 All funds raised through the race will go towards a £97,500 project to help EAAA provide more life-saving training. Currently, survival rates from an out of hospital cardiac arrest are just one in ten, but more awareness and confidence in delivering bystander CPR and using a defibrillator can help to improve these odds.
Charles Hewitson, Race Director, said: "Chariots of Fire was absolutely fantastic and really felt like things are getting a bit more normal again, especially when for a long time we weren't sure if we would be able to hold this event safely. I was delighted to see so many teams taking part, having fun, getting involved and most importantly raising funds for the East Anglian Air Ambulance."
Chariots of Fire is organised by Hewitsons Charitable Trust, the charity established and supported by HCR Hewitsons, and is the region's longest running charitable relay race. Launched in 1992, Chariots of Fire has raised in excess of £1.48 million for local causes.
Click here to see more images from the event via The Cambridge Independent.