EAAA recognised as Employer of the Year at National SME Business Awards
30 July 2021
On Wednesday 28 July EAAA was honoured to win the SME National Business Gold Award for Employer of the Year.
EAAA got through to the final in Wembley after success in both the Cambridgeshire and Bedfordshire regional SME Business Awards. To win this award, after being up against so many incredible businesses, is an enormous privilege. This award is not just for EAAA, but for every fundraiser, volunteer, supporter and patient who are part of this incredible charity.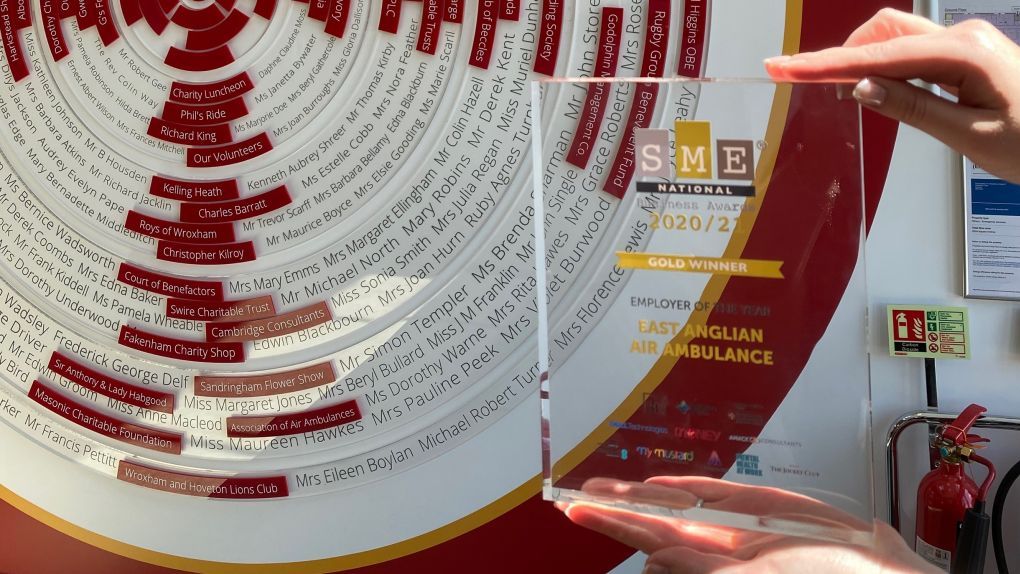 Sarah Atkins, Director of People and Culture at EAAA, said: "Usually it is only our helicopters which need to venture into London but EAAA had cause to deploy two volunteers to attend the SME Business Awards national final at Wembley Stadium this week. Patrick Peal, former CEO, and Laura Bird, former patient, did a fantastic job in representing the charity at the awards and I am delighted they were lucky enough to collect the Gold Award for Employer of the Year.
"This is the second national award for being an employer of choice that EAAA has won within three months, and I am elated for the whole team, as we believe looking after our people ultimately results in the very best care for our patients. Winning such an award helps us to attract the very best people, retain the outstanding talent we have and keeps us thinking about how we can keep improving."
"It was a a genuine honour to be a representative for EAAA at the SME awards. What a night it was! This award is testament to the incredible care EAAA show their employees which is then inevitably reflected in the life saving care they give their patients."

Former EAAA patient
Laura Bird continued: "EAAA saved my life 10 years ago and their unrivalled ability to care, to show compassion and professionalism and to ultimately change people's lives for the better has gone from strength to strength over the last 10 years. I am incredibly proud of the EAAA family and can't wait to do more fundraising work for them."

Achieving both local and national recognition for EAAA's commitment to its staff and mission, in several different award categories, provides all staff with an immense sense of pride to represent EAAA. In May 2021, EAAA took the top spot as the Number One charity to work for in the UK in the Best Companies list for the Charity Sector, as well as placing highly both regionally and nationally for mid-sized companies.

In addition to these awards, EAAA is extremely humbled to have been named Employer of the Year in the Norfolk Business Awards (November 2020) and the SME Cambridge Business Awards (April 2021). In June 2021 EAAA was recognised in the SME Luton and Bedfordshire Awards with a Gold Award for Business Chameleon, for how the charity adapted during the pandemic, as well as a Silver Award for Community Business of the Year, which led to the entry into the National SME Business Awards in July 2021.

Commenting on the SME Employer of The Year Award, Patrick Peal said:
"Laura and I were very proud and delighted to represent EAAA at these national awards. The Employer of the Year category was hotly contested with a large number of finalists. So we were blown away to hear the compère announce that the judges had decided to award only the gold - to EAAA! "

Former CEO
Patrick Peal continued: "I have no doubt the award will ensure EAAA can continue to attract great people for future roles, so that the charity can continue to deliver the highest levels of care."