EAAA win Norfolk Employer of the Year Award
24 November 2020
On 24 November East Anglian Air Ambulance was awarded Employer of the Year in the Norfolk Business Awards.
Sarah Atkins, Head of HR, said: "After a truly challenging year for everyone, EAAA was truly delighted to be recognised by this award for the way we reacted to the pandemic and focused on the wellbeing of our staff, ensuring everyone felt involved and connected during a challenging time. A massive thank you goes out to each and every one of our incredible supporters, without whom none of our work would be possible. And for continuing to help protect our crew as they work on the frontline during the pandemic."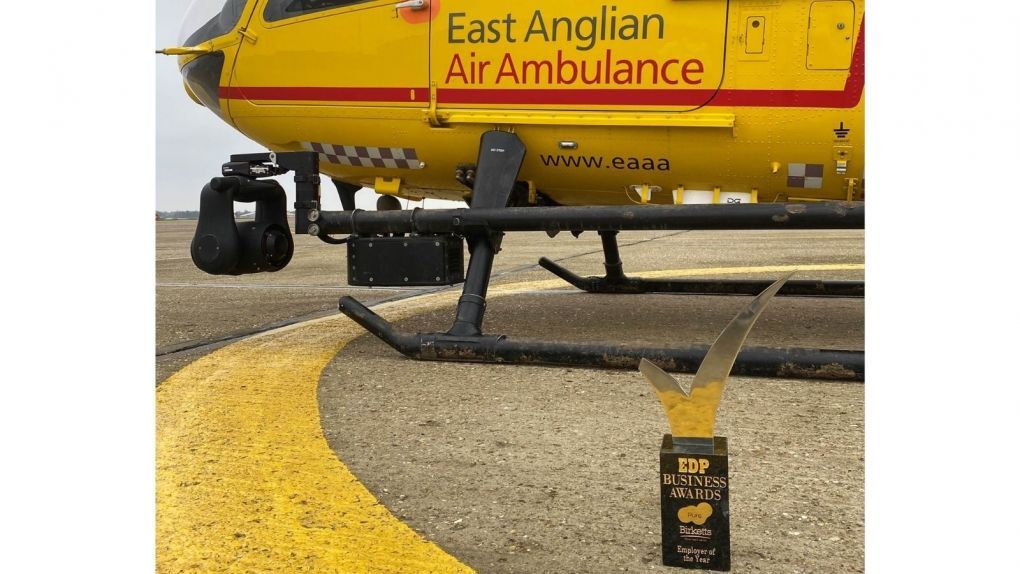 Sponsored by Pure and Birketts, the judges commented:
EAAA is an exceptionally worthy winner. This year is its 20th anniversary and it has grown from very small beginnings operating one flight per week to a 24/7 operation, and as it has grown, its staff have shared the journey.
The extent of EAAA's innovation is phenomenal and runs through the DNA of the organisation. Not only did it adapt all its normal operational procedures, but it delivered extraordinary innovation and care when it came to looking after its people during the pandemic.
Making the time to communicate each day, recording podcasts from staff, creating 'furlough families' and involving everyone in fundraising from cleaners to pilots – which enabled it to beat its fundraising target three fold – are just some of the achievements.
EAAA paid attention to the small, everyday things that affected individuals as much as the big operational challenges and the energy, compassion and belief is testimony to the incredible leadership.