Former Air Ambulance patient to host life-saving defibrillator training event in Sudbury
28 March 2023
A former East Anglian Air Ambulance (EAAA) patient is hosting a mass defibrillator training event in Sudbury on Friday 14 April.
Alongside air ambulance Critical Care Paramedic and CPR Training Manager Page Chamberlain, former EAAA patient Andy Read is aiming to train 650 people in how to confidently use a defibrillator.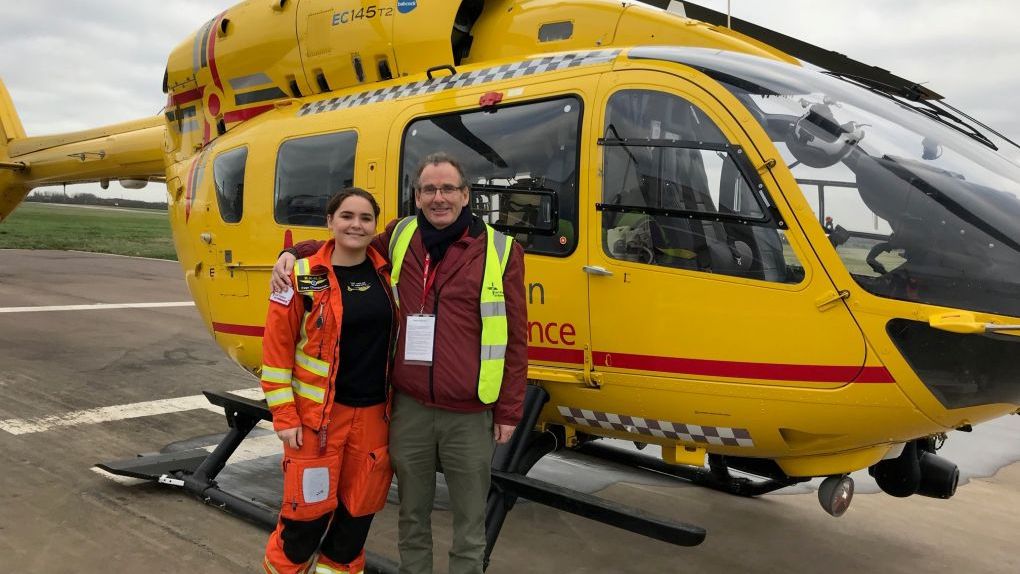 Andy suffered a cardiac arrest in 2018 and was saved thanks to bystander CPR, the use of a defibrillator and the efforts of the emergency services and air ambulance that day.
"Having confidence to use a defibrillator to shock a patient's heart is critical when seconds count. Defibrillators are extremely easy and straight-forward to use and, simply put, save lives, but many people are scared to use them. We want to debunk any myths and train as many people as possible to confidently use them in case of an emergency. We are therefore hosting a day of defibrillator training on Friday 14 April at various venues, promoting "everyone is responsible." Sudbury has 23 publicly accessible defibrillators and working with East Anglian Air Ambulance, this event will kick-start our ambition to train 5% of the town's population. "

Former Patient
The training events are taking place at:
10.15am - AFC Sudbury, Brundon Ln, CO10 7H - hosted by The Bridge Project
11.00am - The Boathouse, Ballingdon Bridge, CO10 2DL
11.45am - The Jetty, Quay Lane, CO10 2AN
1.00pm -3.00pm - Kingfisher Leisure Centre Station Rd, CO10 2SU - 4 sessions of 40 starting at 1.00pm; 1.30pm; 2.00pm & 2.30pm. This session will need to be booked online.
Each session will be 20 minutes long with a maximum of 40 at each session. People who wish to attend do not need to book, other than the Kingfisher Leisure Centre.
For more information contact Andy Read.