Team from James Paget University Hospital to tackle Only The Brave
23 September 2023
"To do this all together is amazing!"
Our flagship mass participation fundraising event, 'Only The Brave' takes place on Sunday 24 September, and we are thrilled that (at the time of writing) over 1,100 amazing people have signed up to tackle the six or ten mile obstacle course race at the Euston Estate in Suffolk.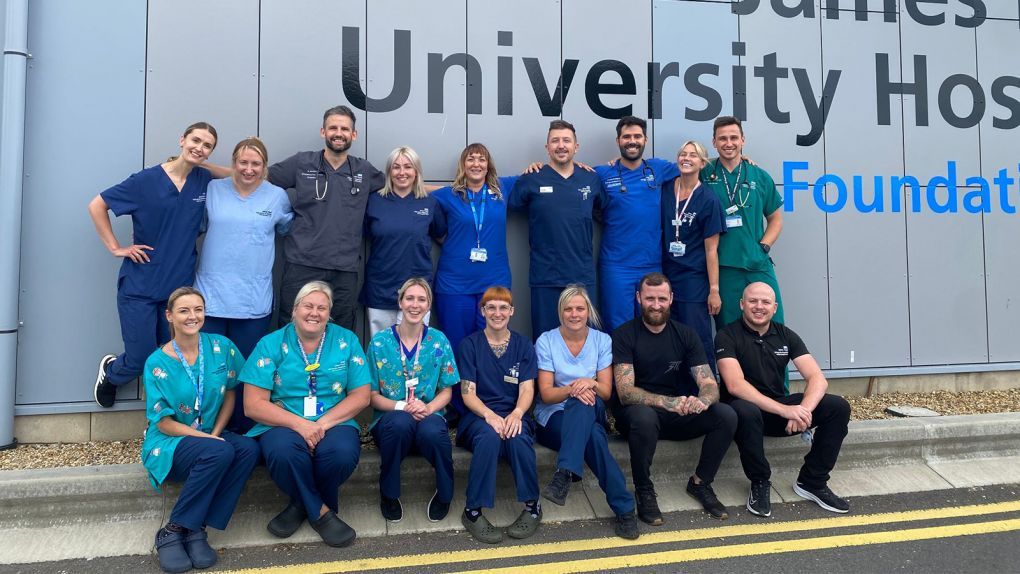 When we heard a team of 30 people had registered from James Paget University Hospital in Gorleston, we were keen to hear more and spoke to the JPUH Only The Brave team organiser, Emergency Medicine Registrar Jack Webb about what inspired them to take part in this year's event. Here's Jack to explain more:
"There are 30 of us, split into two teams. The JPUH A&Ethletes (15 of us wanting to push it a bit quicker) and The JPUH A&Erobic Amblers (those wanting a gentler plod around the course). We all work or have recently worked at the JPUH A&E department. It's a mixture of doctors (varying degrees of seniority from registrar to consultant), nurses (from staff nurses to senior sisters/charge nurses), paramedics, porters, security team, advanced care practitioners and advanced nurse practitioners, paediatric nurses and healthcare assistants/nursery nurses. I actually recently rotated from JPUH to Addenbrooke's hospital as part of our usual rotation as part of training, at the beginning of August. But prior to that I'd worked three years at JPUH.
Personally, I love a challenge, love the camaraderie and the atmosphere that comes with an event like this and have absolutely no qualms with getting sweaty, muddy and wet! I think much of the team feels the same way, and mny are using it as an opportunity to get training, get fit and get back into sports/fitness. 
Aerial view of James Paget University Hospital, taken by Critical Care Paramedic Rob
Specifically, we chose Only The Brave because of our close work with the EAAA through A&E. Being able to raise money and support them with this event feels like a golden opportunity to give back. I remember speaking to one of our paramedic colleagues about it a year or so ago, and thinking it sounded like such a fun, challenging and exciting event - I knew from there I was going to do it - it was just a case of how many people I could drag along with me!
Recruitment wasn't really a challenge - I basically spoke glowingly about it to lots of people who all expressed interest, then formally sent out emails and messages to get people to officially sign up! Within the emergency department we, almost by nature, all love a challenge and like to be active - so it wasn't hard to sell to my colleagues, they jumped at the chance. Everyone within our A&E has a huge amount of respect and admiration for EAAA, so the chance to raise money for them whilst taking on such a fun event made it an easy decision. Those who didn't feel they could complete the course from a physical perspective were incredibly enthusiastic about donating to the cause and coming to support.
We are all doing the six-mile course. With such a mixture of abilities, it seemed like the better option across the board. Plus, for those of us that want to, it gives us a target for next year to take on the ten-miler.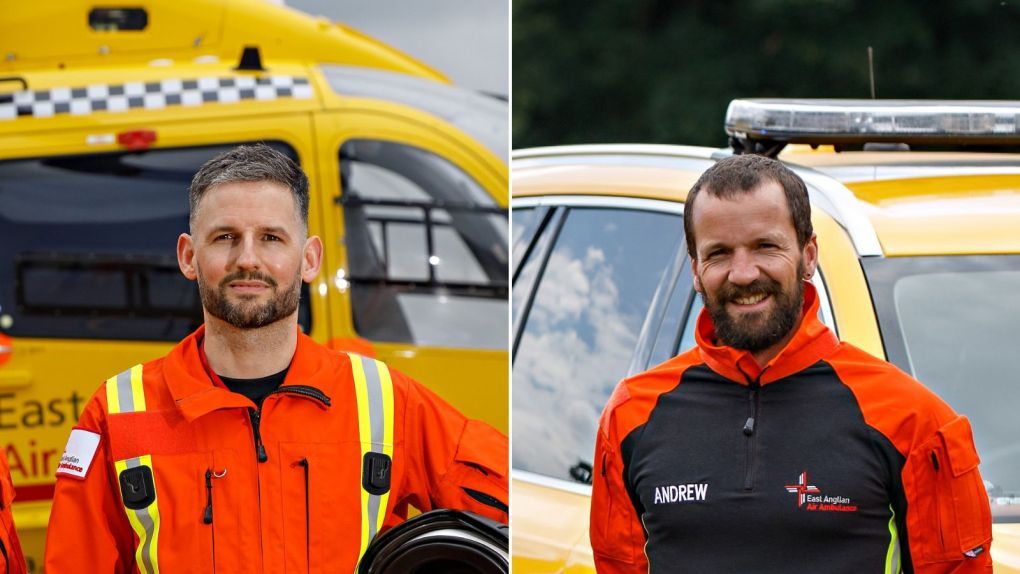 Doctor Jim Flatt (left) and Doctor Andrew Lindner (right)
Within the emergency department, we work closely with the EAAA team. We often receive patients they've cared for during their pre-hospital journey, be it at the roadside or within their homes, take handover and then commence the patient's in-hospital journey. Because of our close work with the pre-hospital teams, many of our departments know several of the EAAA team personally (two of our consultants who are taking part - Dr Jim Flatt and Dr Andrew Lindner - actually work for EAAA alongside their JPUH role). Through this, we know of the hard work they put in each and every day and the difficulties they encounter through the pure nature of their working environments. On a personal level, I have a very significant interest in pre-hospital emergency medicine and hope one day to work within EAAA as a doctor. 
I think everyone's preparation has varied within our team! From simply accepting and readying themselves for a bath of mud, to going out running and getting to the gym more often. It certainly seems to have inspired many of those taking part to get back into running, get back into fitness and get outside more.
There is a mixture of trepidation and excitement about the obstacles within our team. When the map/course got released recently there was a lot of chat within our group about how many obstacles there were, and which ones were going to be most challenging. I have a sneaking suspicion that even the members of the team that are intending to dodge an obstacle or two, will be buoyed by the atmosphere on the day and find themselves taking on and achieving more than they expected…and getting muddier and wetter than they intended too!
Everyone is just looking forward to taking on the course as a team, doing an activity together and the feeling of achievement on finishing it.  The JPUH A&E team is like a little family, we work so closely together in such challenging circumstances that you form incredible bonds with your colleagues - so to do this all together is amazing. Personally, having recently left the department, I'm extremely excited to get to see and catch up with everyone!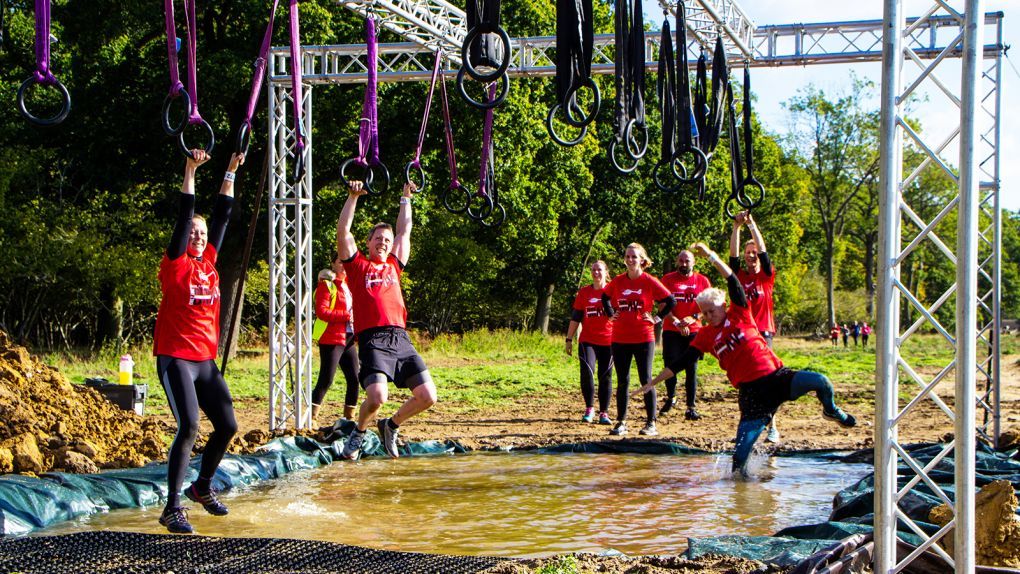 There's nothing about the course I'm feeling particularly apprehensive about, although I think some of my teammates are a tad worried about how soaked they're going to get falling off the gladiator rings and monkey bars! For me, as team organiser, my only area of trepidation is making sure everyone gets there safely and ready for the start!
Our team spirit is incredible, as mentioned above - we work so closely as a team already that we're all just really excited to apply our teamwork to something outside of the hospital! We run the occasional sports day social (dodgeball/beach rounders etc) so this is a much bigger and intense extension of that! I have no doubt that the two teams will do an incredible job helping each other through the course and making sure everyone is having the best time doing it!
Between us we set a target of £1500 - so £50 each - but I think we're all hoping we can smash that target and get closer to £2000 +, we're already well on the way having only started formally fundraising recently! We're thrilled that we've got the opportunity to be raising money for EAAA. We see the incredible work they do and, knowing some of the team personally, know of the literal blood, sweat and tears that go into the work. We're also acutely aware of the behind-the-scenes work EAAA do - from research, teaching, community events and all the efforts that go into aftercare of patients. To be able to contribute and help these efforts with our fundraising feels amazing and we want to raise as much as we can to assist!"
Thank you to Jack and the entire Only The Brave team from James Paget University Hospital.