I thought I was going to die. I just lay there thinking I'm going to die; I'm going to die. Then I heard my daughter, Charley, shouting 'Mummy! Mummy!'
Hello, I'm Hayley and this is my story.
It was a Friday morning in January, and I was on my way to take my daughter to see a new pony when a freak accident occurred. My 14-year-old daughter, Charley, is autistic and suffers from severe anxiety, we were looking for a therapy pony to help with her wellbeing and mental health.
I've been around horses all my life and after riding around the ring several times I was asked if I could take the pony into a canter.
This was when things started to go wrong and the pony got out of control, bucking and running around the ring.
I was thrown over the front of the horse, bashing my right side on the fence before landing heavily on the ground on my left hand side, I lay there motionless.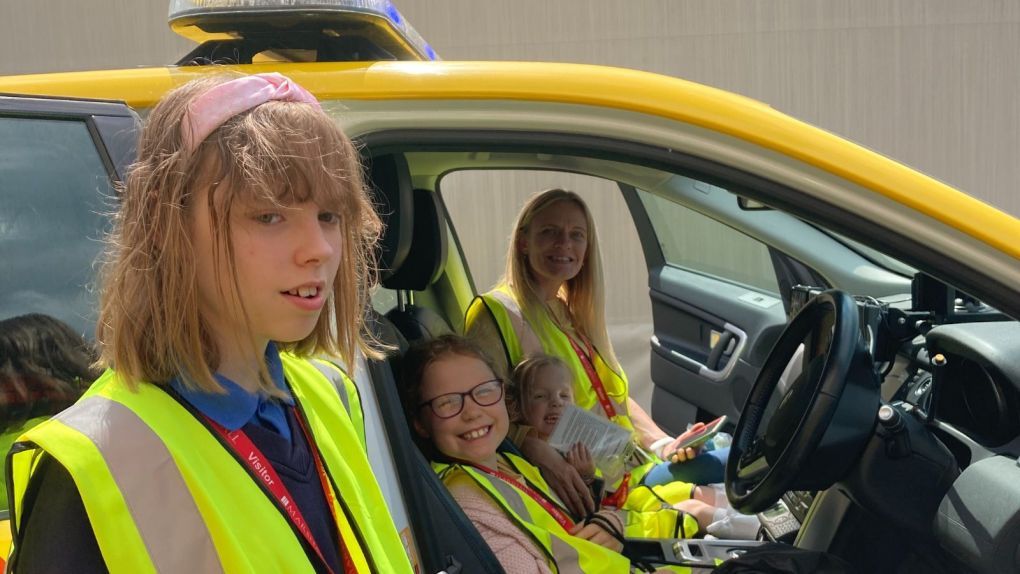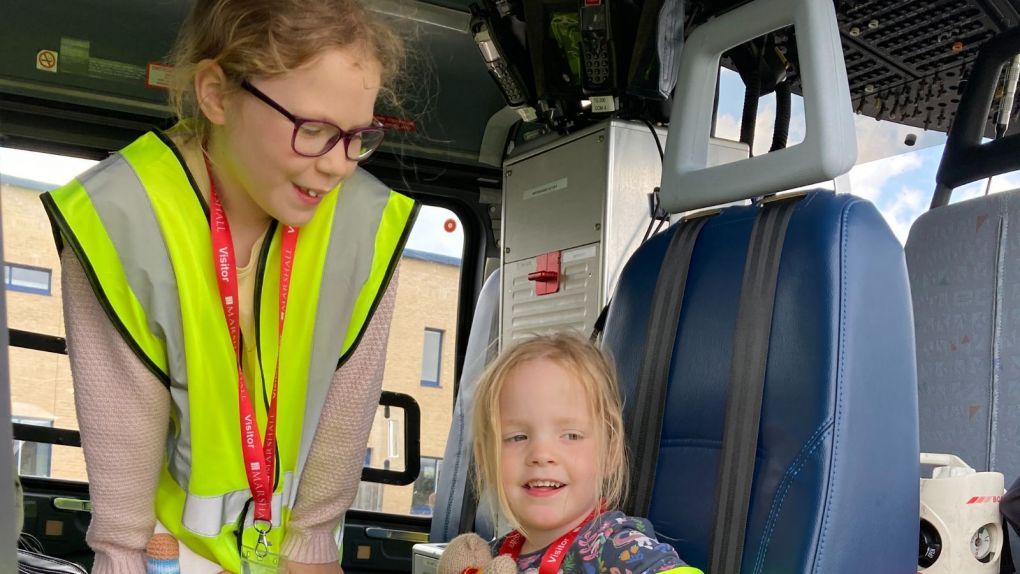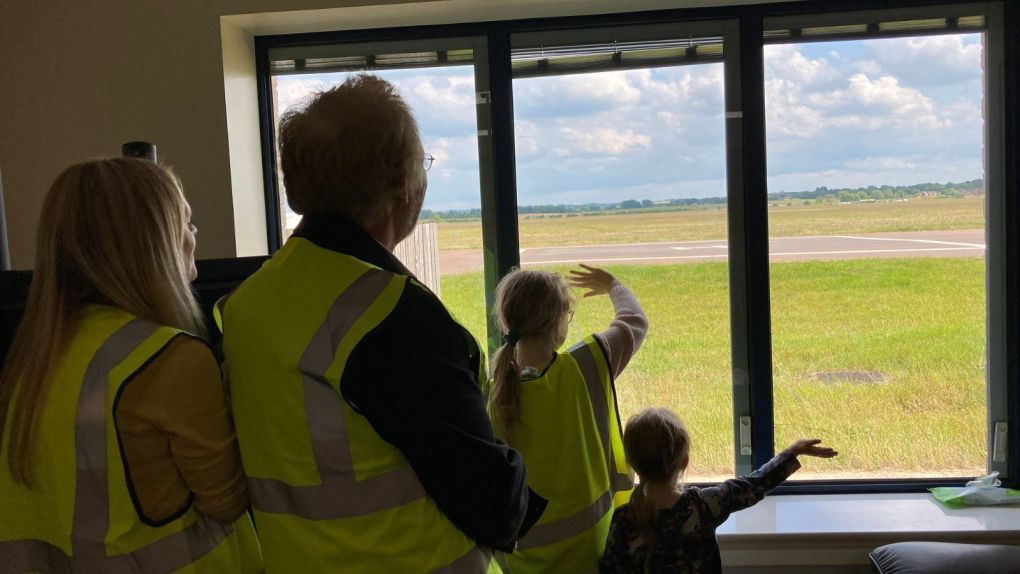 Hayley and her children visiting our Cambridge base.
The crew were tasked at 11:09, an 18 minute flight away.
It was Anglia Two crew Doctor Rishi, Critical Care Paramedic (CCP) Joe and Pilots Matt and Andy who were on shift that day and came to my rescue.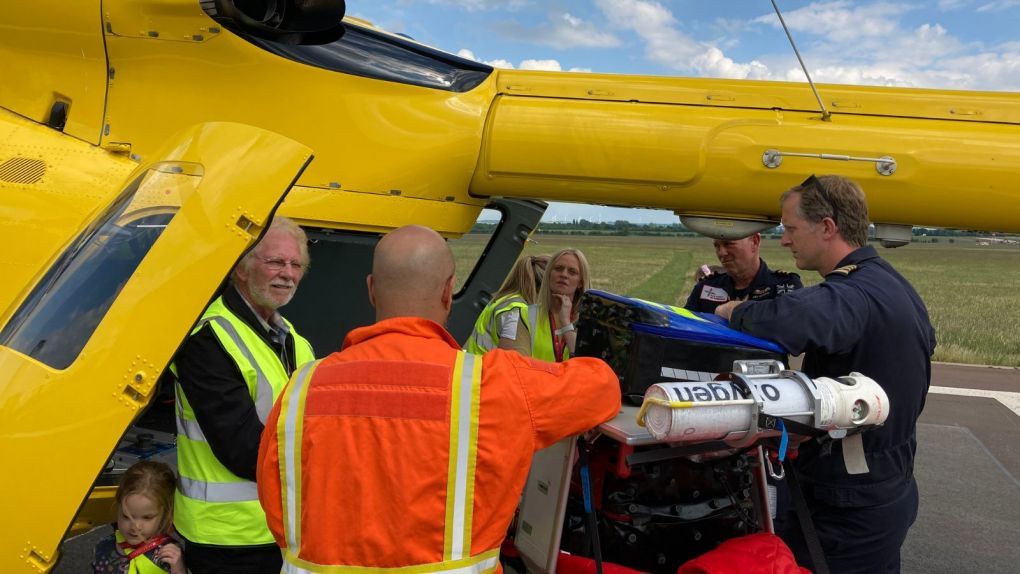 The crew showing Hayley and her family around Anglia two.
"When we arrived on scene it was clear that Hayley had suffered a bad injury to her right eye from striking the fence, broken ribs and internal bleeding, which meant it was increasingly difficult for her to breathe. From our initial assessment, we believed she also had severe damage to her liver and kidneys. CCP Joe and I administered advanced pain relief and splinted Hayley's injuries. She also required an immediate blood and plasma transfusion, which was essential for her surviving the journey to the hospital."

EAAA
After being flown to Addenbrooke's Hospital I spent two nights in intensive care followed by five days in high dependency and seven days on a ward. Some of it is a blur and I struggle to piece things together, but I do remember just missing my children.
I didn't see them for 9 days! Before the accident I had never spent a night away from my children so that was really challenging.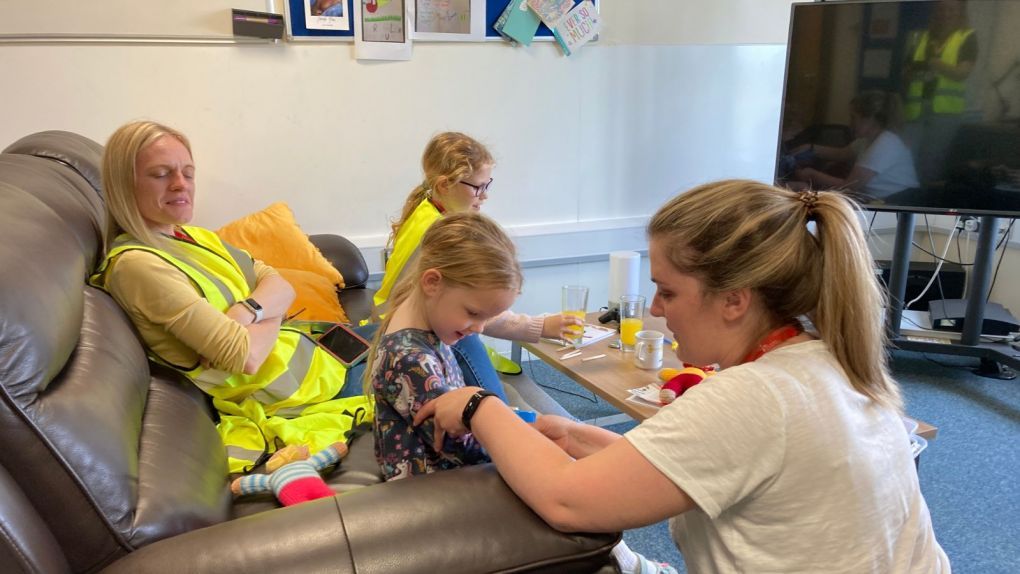 Hayley and her children with one of our Aftercare Nurses.
My recovery has gone well but I did struggle with my mental health in those early days, but therapy really helped. The EAAA Aftercare Team arranged a visit for me and the children to meet the crew who saved my life. We visited the Cambridge base in November last year and it has been amazing for both me and Charley, as she witnessed the whole incident. Having autism means Charley struggles to show her emotions and process how she feels, but I think this experience has been good for her and it feels like a bit of closure.
I'm incredibly grateful for the care EAAA gave me, I don't think I would be here without them. I cannot thank Rishi, Joe, Matt and Andy enough for saving my life.
I would be extremely grateful if you would consider donating to EAAA today so they can save many more lives like mine!
Thank you so much for taking the time to read my story.