Breaking Barriers success for EAAA RAID conference
23 November 2021
Last week East Anglian Air Ambulance (EAAA) held its first dedicated pre-hospital emergency medicine (PHEM) research and development conference, Breaking Barriers: national data sets improving collaboration and outcomes in PHEM.
A hybrid event, sponsored by Zoll, this was the first conference held by the charity's research, audit, innovation and development group (RAID) and focused on how collaborative working and data sharing across the sector could improve research and development opportunities and patient outcomes.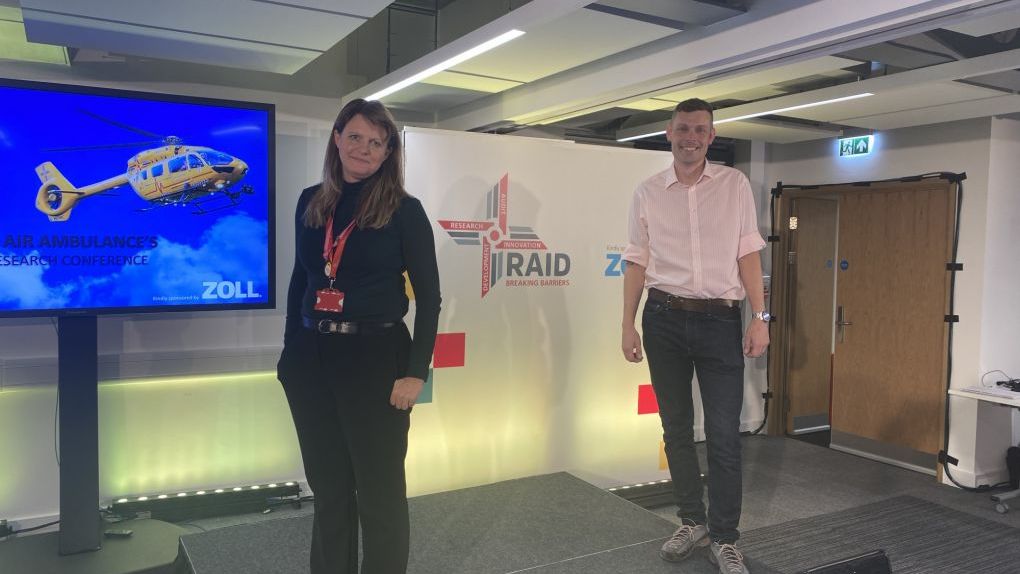 The RAID conference was put together by EAAA's Research and Development Lead Dr Kate Lachowycz and RAID Chair, Dr Rob Major. The conference was broadcast live from EAAA's headquarters, Helimed House in Norwich, and was well-attended online with over 200 delegates joining live on the day, with over 450 people signed up to attend in total.
"The RAID conference was a huge success, with engagement from a national PHEM interested audience around the issues, challenges and benefits of better PHEM data sets. "

EAAA, RAID Chair
Dr Rob Major continued: "Highlights were the talks by Prof Tim Cotes on the changing nature of national trauma patients, Dr Phil Hyde on the exciting new project to provide a national audit of UK Pre-hospital services and Dr Nick Crombie on the highly anticipated Rephill trial results. EAAA are hugely thankful for the engagement of all our partners and stakeholder in making this happen and we look forward to seeing everyone again next year."
To find out more about RAID go to: www.eaaa.org.uk/RAID
Key headlines from the conference discussions included:

Wider data collaboration within all the air ambulances in the East of England has demonstrated methods of improving patient care in relation to pre-hospital emergency anaesthetics.
National TARN data shows that the elderly are an increasing large patient group in national trauma registries and pre-hospital work, often suffering severe injury with less traumatic mechanisms of injury.
Discussions around centralised national registries of pre-hospital patient data would be hugely beneficial in developing quality data for audit and research, such as the proposed PHEMNet trauma data registry.
An overview of the speakers and breakout sessions:
EAAA Dr Rob Major and Dr Kate Lachowycz –Introduction 'Contemporary challenges of evidence based PHEM'
EAAA and Magpas Dr James Price - East of England regional PHEM RSI data set
Professor Tim Coats - TARN data sets and PHEM Refreshment break
EAAA Dr Nikki Wallace-King – Breaking fences, data delivering safety
Gordon Ingram from ZOLL UK discussing the dogma of language in PHEM
Dr Phil Hyde – Developing a national clinical audit of pre-hospital critical care
Dr Nicolas Crombie – Pre-hospital blood products – the past, present and future
Breakout session 1: Ultrasound use and governance in PHEM. Leads: Dr Toby Edmonds and Dr Jon Barratt
Breakout session 2: Submitted abstract/poster presentation competition. Leads: Mr Alastair Wilson, Dr Rob Major and Dr Kate Lachowycz
Breakout session 3: Pre-hospital patient aftercare. Leads: Alison Brett, Sue Gee, Adam Crosby, and Adam Carr