Charity runners from East Anglian Air Ambulance meet Jake Wightman to launch Great East Run
07 March 2019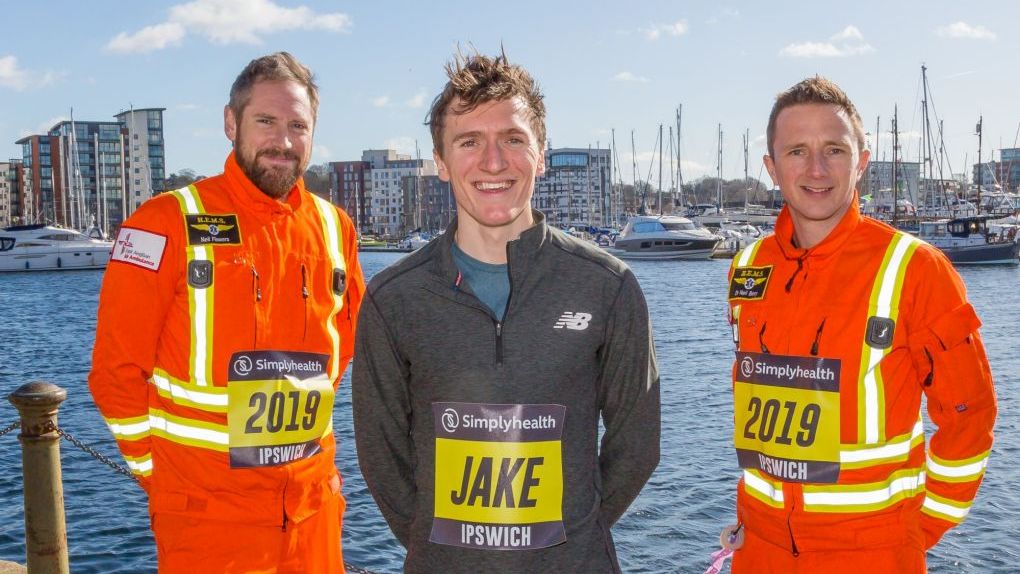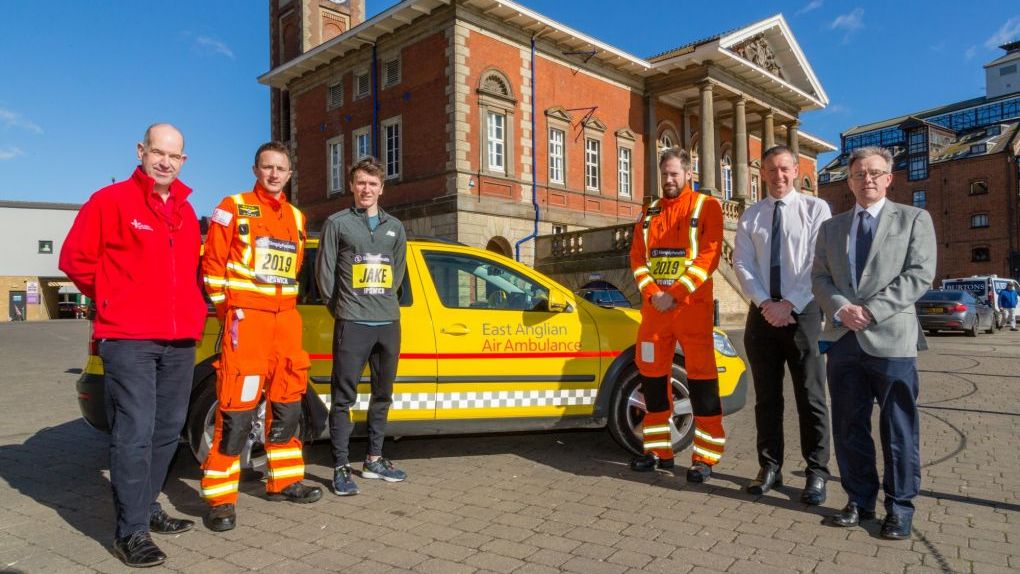 Runners from East Anglian Air Ambulance charity met Commonwealth bronze medallist Jake Wightman as they launched the 2019 Simplyhealth Great East Run at Ipswich Waterfront on March 5.
The charity runners joined Jake for a training and motivation session after committing to run the half marathon event, which returns to Ipswich for the third year on Sunday 22 September.
The East Anglian Air Ambulance has been selected by Suffolk County Council as the half marathon's local nominated charity.
Team GB's Jake snatched bronze in the 1500m European and Commonwealth championships last year and the middle-distance runner is no stranger to road running events, being coached by his parents who are both former marathon runners.
He joined a host of inspiring participants who are taking part in the half marathon event to support the East Anglian Air Ambulance charity. The charity, whose headquarters are based in Norwich and Cambridge, rely on donations from the public to often undertake up to eight rescue missions a day.
Among those who have signed up to take on the half marathon for the charity is Dr Neil Berry, who is a consultant anaesthetist at Ipswich Hospital.
Dr Berry, who is from Ipswich, has also served with the East Anglian Air Ambulance for four years and often takes part in various fundraising events for the charity.
"We are delighted to be this year's nominated charity. We rely almost entirely on public donations to keep our life-saving charity airborne and just last week launched our ambitious campaign to become a 24/7 service by 2020, at an extra cost of £1m a year. Every penny we raise goes towards saving lives across East Anglia, so we are hugely grateful to the Simplyhealth Great East Run for their support."

Suffolk Community Fundraiser
Demand for entries for the Simplyhealth Great East Run has been unprecedented over the last three years, with the event selling out within a matter of months.
This year, the event will have an increased entry limit of 4,000 participants, with over half of these places having already sold.
The half marathon event starts and finishes in Ipswich town centre and follows the same popular route as previous years, with runners experiencing the satisfaction of completing a 13.1 mile challenge with thousands of others.
The runners will line up on the start line on Russel Road, before passing the prestigious Willis building and heading towards the town's vibrant waterfront.
The route then goes past Felaw Maltings on the way out and back along Wherstead Road, where participants will pass twice under the Orwell Bridge.
On returning to Ipswich town centre, runners head towards Portman Road before crossing the finish line in Ipswich Town FC's practice pitch complex, where they are able to reunite with supporters and enjoy the event village, packed with sponsors, retailers and a farmer's market.
Runners will experience a running event like no other in East Anglia, with unrivalled local support as they take in the sights and celebrate everything that's great about Suffolk.
The event is staged in partnership with Suffolk County Council, Ipswich Borough Council and Ipswich Jaffa Running Club.
Cllr James Reeder, cabinet member for health at Suffolk County Council, said: "Running is one of the most accessible forms of physical activity and we know that mass participation events such as the Simplyhealth Great East Run can inspire people to get active and help us to achieve our ambition to make Suffolk the most active county in England.
"The event also makes a very positive contribution to the local economy and tourism sector, attracting participants from across the UK to visit and stay in the county, whilst raising thousands of pounds for charitable good causes.
"This is the third year we have hosted the race in Suffolk and each year the event receives a high demand for entries, selling out within a matter of months.
"Once the event is full, no more places will be made available so I would encourage anyone who wishes to sign up to do so as soon as they can to avoid disappointment."
Bambos Neophytou, Brand Director at Simplyhealth, said: "The Simplyhealth Great East Run is a fantastic opportunity for families to get active together.
"Whether running, jogging or walking, Simplyhealth will be supporting runners and their families every step of the way with our Active Plan, post event massage, gait analysis and stretch zone.
"The Simplyhealth Great Run Series is also a fantastic opportunity to runners to raise money for charities that are close to their hearts and within their communities.
This year, we're proud to have Diabetes UK as our official charity partner of the Simplyhealth Great Run Series 2019. Our partnership enables us to continue our great work in supporting people with their health; encouraging as many people as possible to become more active to reduce the risks of developing conditions such as diabetes.
"Good luck to everyone taking part and we look forward to seeing you at the finish line to celebrate your achievement."
Alison Beech, chair of Ipswich Jaffa Running Club, said: "Ipswich Jaffa is delighted to again be part of the Simplyhealth Great East Run team and we look forward to supporting the event and all the participants.
"It's wonderful to have such an important sporting opportunity in the town, giving all levels of runners a chance to see the town from a different perspective."
Entries for the Simplyhealth Great East Run are now open at: Greatrun.org/East