EAAA Chariots of Fire team to pass defibrillator instead of baton in city's charity relay
24 August 2021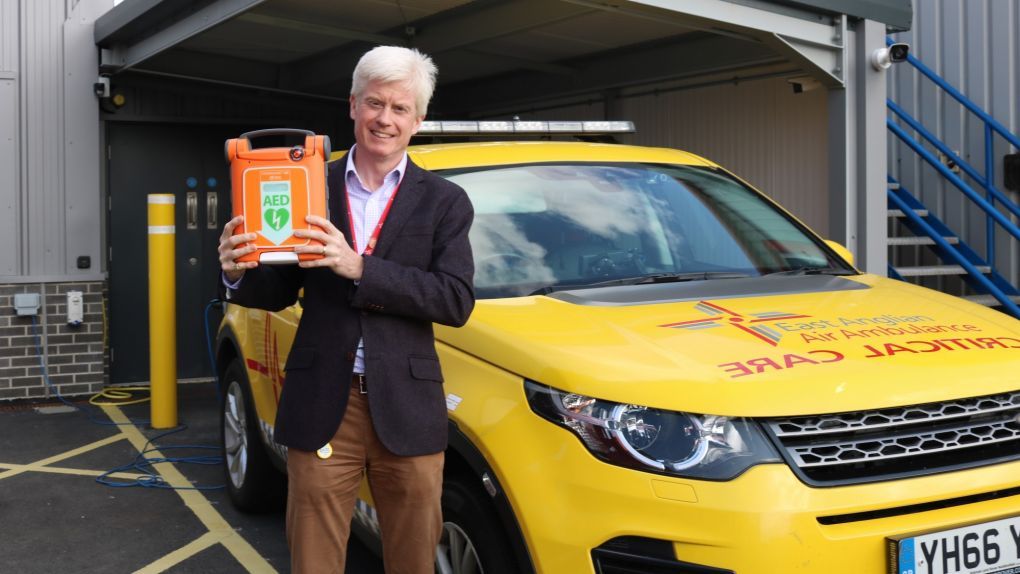 The East Anglian Air Ambulance (EAAA) Chariots of Fire team will be running the relay race around Cambridge next month with a defibrillator instead of the normal baton, to raise awareness for CPR and defibrillator training which the race will be helping to fund.
Representing the charity in the race will be four of the charity's frontline doctors, EAAA's CEO, Matthew Jones, and a former patient, Laura Bird, a seasoned ultra-marathon runner. The team will stand out on the day as they will be running in EAAA uniform; orange flight suits for the clinicians and navy pilot flight suits for Matthew and Laura, to represent a full EAAA crew. In addition, the team will be proudly running with a defibrillator instead of the usual baton, to remind race participants of the cause they are supporting by taking part in the event and raising sponsorship money.
Matthew Jones, CEO of EAAA, commented: "Some people might be surprised to learn that our clinical teams actually attend more cardiac arrests than any other type of emergency, and sadly the average survival rates for these emergencies in the UK are very low at just one in ten. In these situations, immediate CPR and early defibrillation can treble the chance of someone surviving. We're committed to improving awareness and confidence in delivering CPR and using a defibrillator so that when our crews are tasked to someone in cardiac arrest, they will have the best chance of receiving this help from a bystander first. We can really only make a difference if the patient has received this help before we arrive; the bystanders are the real life savers!
"Not only are we entering a team into the race to take part, but we will be passing a defibrillator instead of a baton to remind everyone there on the day what it is that they are helping to support through the race. We will also have a team on hand throughout the event to provide CPR and defibrillator demonstrations, so anyone taking part in the event or watching the race will have the opportunity to learn these skills for themselves and get involved."

CEO, East Anglian Air Ambulance
The funds raised through this year's Chariots of Fire on Sunday 19 September will help to fund a £97,500 project for EAAA to provide more CPR and defibrillator training. Sponsorship of just £50 could help train up to 20 people in these life-saving skills at a community CPR training session. All race participants are encouraged to raise £50 in sponsorship to help support this lifesaving cause.
The charity relay race takes on a unique and picturesque route, starting and finishing at Queen's Green, passing through Trinity College and King's College. Team entries are still open - go to: www.chariots-of-fire.co.uk/enter-a-team.
Enter a team and support EAAA today
Chariots of Fire is organised by HCR Hewitsons Charitable Trust, the charity established and supported by HCR Hewitsons, and is the region's longest running charitable relay race.
Trustee of HCR Hewitsons Charitable Trust, Wendy von Niebel, said: "Chariots of Fire is one of the most popular events in Cambridge, bringing together individuals, businesses and Colleges. We are delighted to bring the event back this year after missing 2020 due to the pandemic. The team spirit is amazing and if you haven't entered yet, you have less than four weeks to get your entry in. We are raising money this year for the official charity EAAA, so please sign up quickly, come along on the day, have fun and raise money for this worthy cause."