East Anglian Air Ambulance lift off Aqua Park Suffolk
24 June 2019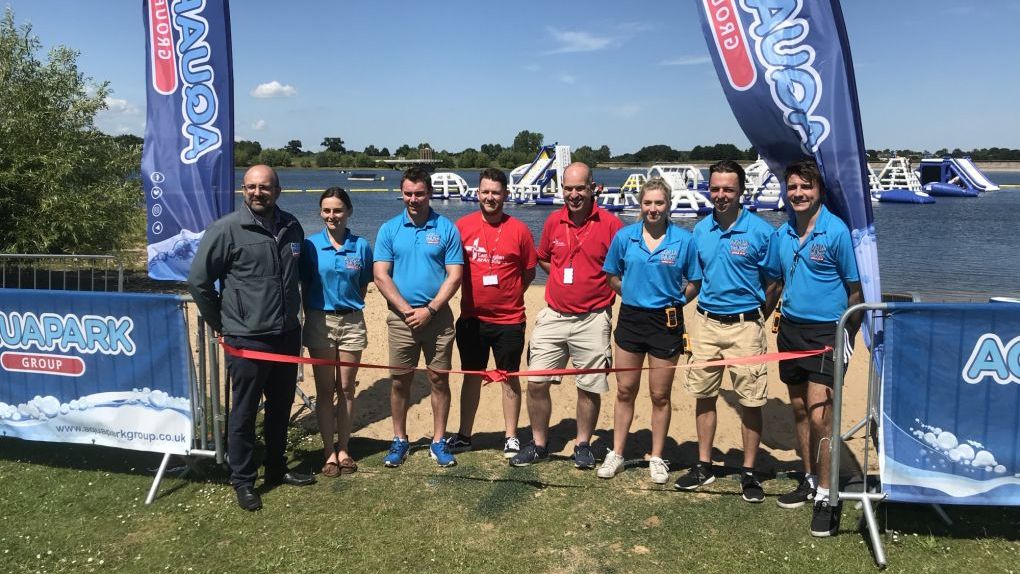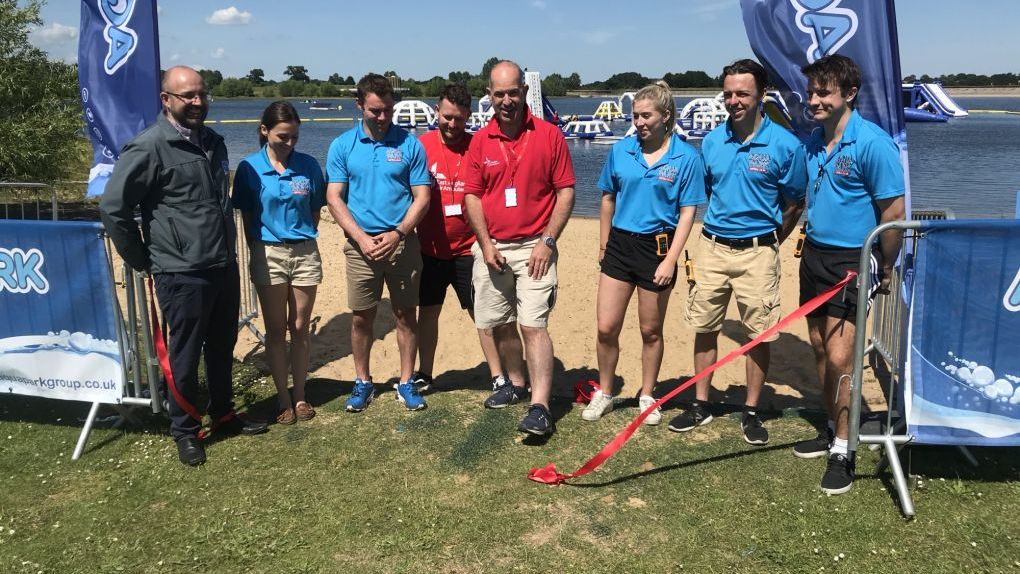 Mark Wilson, Community Fundraiser at East Anglian Air Ambulance has opened the park for its second season.
The park is now open and for the first time is open to children aged six and seven to join their families for a splash-tastic summer of fun.
Aqua Park Suffolk welcomed Mark Wilson, Community Fundraiser at East Anglian Air Ambulance to officially open the park on 22nd June for its second season.
The East Anglian Air Ambulance, Aqua Park Suffolk's chosen charity, officially cut the ribbon at the park. The aqua park, located at Alton Water near Ipswich, is the perfect destination for families looking for a summer adventure, students celebrating the end of University exams, businesses looking for team building days out and much more!
Simon James, founder of Aqua Park Suffolk, said: "It's a pleasure to be supporting the East Anglian Ambulance and we will be encouraging our visitors to join us in raising money for the charity.
"I'm really excited that the park is now open ready for its second season. This year six and seven year olds can join their families on the aqua park for a super soaking adventure."
"We're thrilled that East Anglian Air Ambulance is Aqua Park Suffolk's chosen charity partner at Alton Water this year. We're hoping in 2020 to be able to provide a 24/7 air ambulance service but to achieve this we need to raise £13 million every year. We receive no regular government funding and so rely on the good will of local businesses and communities, like Aqua Park Suffolk, to keep our two helicopters in the air. We are really grateful for Aqua Park Suffolk's support and we look forward to working with them in the future."

Community Fundraiser at EAAA
Aqua Park Suffolk opened for its second season on Sunday 23rd June and due to the high interest already received, visitors are encouraged to pre-book to avoid disappointment. Tickets for the park are priced at £20 for a 50-minute session.
As an active attraction, visitors to Aqua Park Suffolk need to be ready for the physical challenge and must be aged six and over, 1.2m tall and able to swim 25 metres take part. Buoyancy aids are provided, and wetsuits are included in the ticket price.