Fakenham Racecourse to support life-saving charity after racegoer almost died
02 September 2019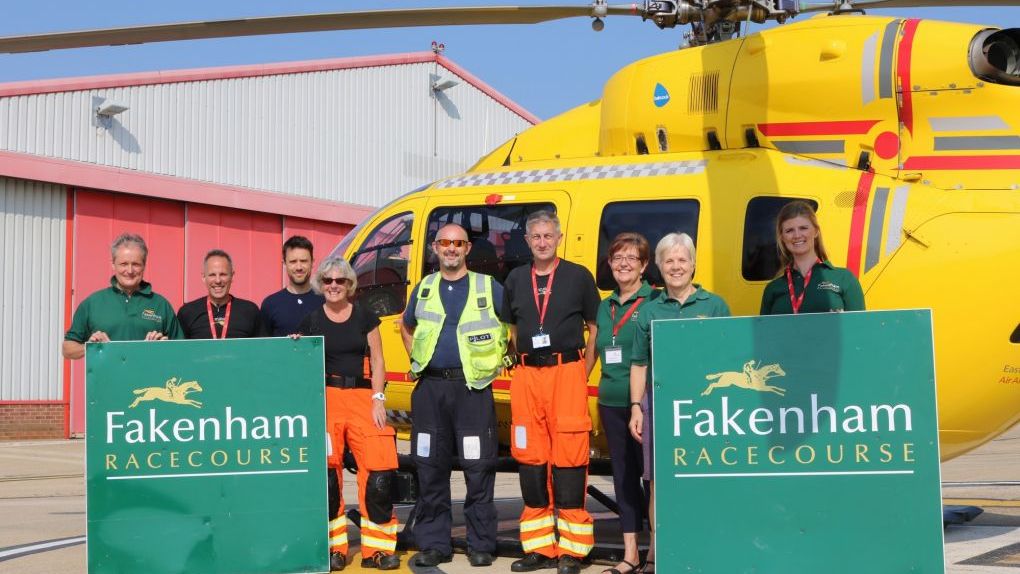 On Friday 18th October Fakenham Racecourse will start its season of National Hunt racing with the Sky Sports Racing raceday which is supporting the East Anglian Air Ambulance (EAAA).
The EAAA provide life-saving emergency medical support by helicopter all over the region, with 40% of its missions taking place in Norfolk.
Earlier this year, at the 4th March race meeting, the EAAA Anglia One crew from Norwich were called out to Fakenham Racecourse when a racegoer collapsed, suffering a cardiac arrest just before the first race.
A paramedic performed CPR within seconds and the man received immediate expert medical care from the Racecourse medical team before being attended to and flown to the Norfolk and Norwich University Hospital by the EAAA team. Happily, the racegoer went on to make a full recovery.
£5 will be donated to the EAAA by Fakenham Racecourse, at no expense to the racegoers, from every advance ticket bought online from the Racecourse website before midday Thursday 17th October ahead of the Sky Sports Racing Raceday on Friday 18th October.
To activate the discount the code EAAA5 must be entered at the Racecourse's website at the checkout. Ticket prices are: Course Enclosure (£10), Grandstand & Paddock (£15) and Day Member (£20). All children aged 17 and under, accompanied by an adult, go racing free of charge. Tickets can be bought on the day for £10, £18 and £23 but donations to EAAA will only be made for advanced bookings. Gates open from 11am with first race starting at 1.55pm and last of six races taking place at 4.35pm.
There will also be a special reception in aid of EAAA for up to 100 guests in the Lancaster Room which overlooks the racecourse, where for £50 per ticket racegoers can enjoy the day's racing whilst socialising and supporting the life-saving charity over a two-course lunch. The cost will include entry to the Grandstand & Paddock enclosure, car parking and a racecard.
"We're delighted to have the support of Fakenham Racecourse and to have been invited to host our first ever charity raceday at Fakenham. We need the support of the Norfolk community now more than ever as we need to raise an additional £1 million each year, bringing our total income needed to £13 million a year, in order to deliver our life-saving care 24 hours a day by helicopter. We currently fly until midnight, with support available 24/7 by rapid response vehicle, but know there is a great need for 24/7 helicopter coverage, especially in rural Norfolk."

Head of Development at EAAA
David Hunter, CEO of Fakenham Racecourse, said: "Fakenham Racecourse is delighted and very proud to be supporting the East Anglian Air Ambulance, along with our media partner Sky Sports Racing. The work of the air ambulance is vital to the region and anyone of us could need their life saving help at any time of day, and as will soon be the case, or night.
"Norfolk has many people working and pursuing leisure activities in isolated places, often on their own or in small groups, and if something goes wrong it is the intervention of the air ambulance that makes all the difference. Fakenham Racecourse has sponsored a mission for the air ambulance at a cost of £3,500 and I implore all Norfolk businesses and companies to get behind this charity and do the same. If 286 businesses committed to sponsoring a mission each year that would cover the extra funding needed to provide the night time cover."
The East Anglian Air Ambulance can fly to anywhere in East Anglia within 25 minutes, taking the emergency department to the patient. The charity receive no regular government funding and rely on the generosity of the community to raise the £13 million a year needed to deliver and develop the service to fly 24 hours day.
Currently the air ambulance can only fly until midnight, with a seven hour gap in coverage which is covered by rapid response vehicle. EAAA are aiming to fly 24/7 by end of 2020, becoming the first air ambulance in the East of England to do so, but need to raise an extra million a year to do this.
To book ticket go to: www.fakenhamracecourse.co.uk and to book a reception ticket call 01328 862388 Ext 3.