Behind the scenes of Emergency Helicopter Medics
10 December 2019
If you're an avid watcher of EAAA in Emergency Helicopter Medics, then we hope you have been following the brand new series which has been on More4 since 10 November. If you've missed it, you can quickly get up to date online.
Over the ten episodes, you will be able to get to know our crew better and see the types of emergencies they – and our counterparts at Great North Air Ambulance and Thames Valley Air Ambulance – are faced with on a daily basis. And, most importantly, how your donations are helping to save lives.
For EAAA's part in the show, two camera men filmed from both the Norwich and Cambridge base in the summer to capture the real-life footage. All the hot weather we had made for some beautiful flying conditions, so hopefully you will spot a few local landmarks from Anglia One or Two!
A fun fact - for the series as a whole, between the three air ambulance charities the camera crew took off on 233 missions and filmed over 1,600 hours of footage in total. On average, each episode pulls in over 500,000 viewers(!) and we hope you will be watching to learn a bit more about what it's like for our pilots, doctors and critical care paramedics when the red phone rings…
As for a sneak peak behind the scenes, here is Critical Care Paramedic Chris Neil being prepped for his follow up interview for the show. Don't forget to tune in on Sunday evenings at 9pm or catch up on All 4. Enjoy the show!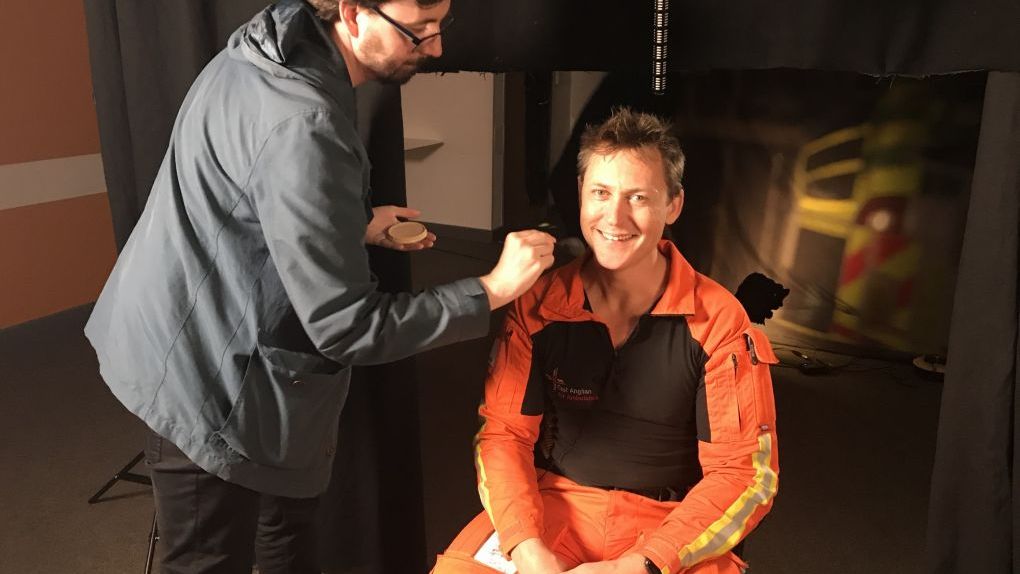 A few words from Adam Webster, Emergency Helicopter Medics, Tern TV for More 4, about what it's like to film the show:
Filming an emergency helicopter medical show isn't easy. There are a host of challenges, from the technicalities of shooting to dealing with traumatic scenes. The helicopter itself is permanently rigged with three mini cameras - two focusing on the pilots and one to capture the medics and patient in the back. The main action is filmed on a small, lightweight handheld camera which is ideal for filming these types of fast moving and unpredictable observational programmes. And either the doctor or paramedic also wears a mini camera to capture their point of view which can be a real help when working in tight spaces and gives an intimate perspective on what's going on.
Very often we are only on scene for a very short time and it's my job to film the work of the medics without hindering any part of the operation. Previous experience working on other emergency 'blue light' type shows is really helpful when time is critical and decisions have to be made quickly. Very often you find yourself in a situation where people are going through one of the most stressful and potentially life changing moments of their lives. It's important to be constantly aware of the impact of the camera being there and how it will affect their memory of the event.
"As a camera person and part of the team that bring the amazing work of the pilots, doctors and paramedics to broadcast, this is one of the most rewarding jobs I've done."

Emergency Helicopter Medics, Tern TV for More4