How the Aftercare team helped Jack
25 November 2019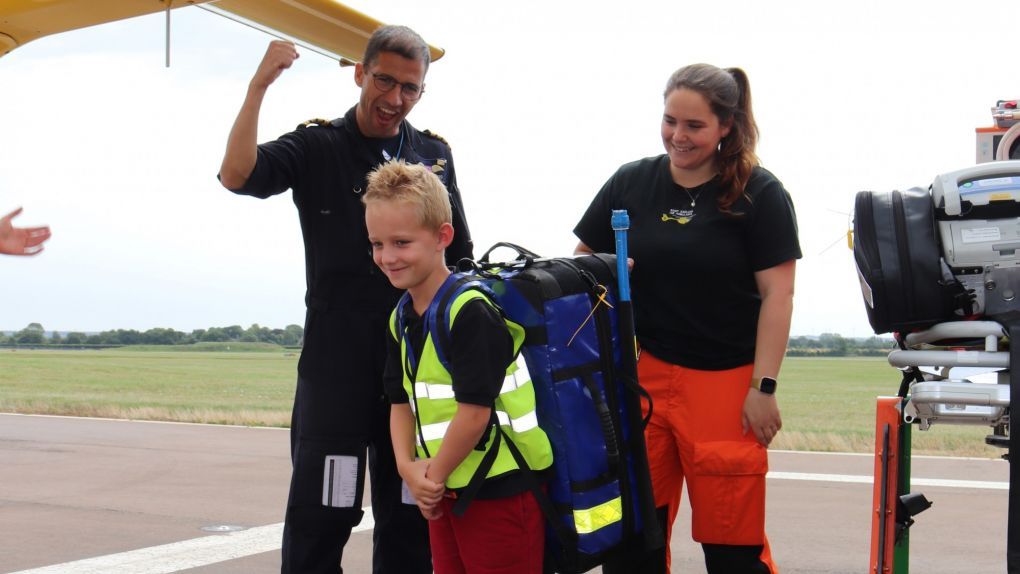 Meet the amazing Jack
Jack is eight years old and we first heard about Jack when his mum, Wendy, got in touch to tell us that Jack wanted to do a sponsored memory walk to mark his dad's birthday. The Anglia Two crew attended Jack's dad, Stefan, aged 58 in April. He'd had a cardiac arrest at home in the evening and sadly passed away.
Lisa from our Aftercare team offered Wendy support and visited her at home to talk about what happened, answer her questions and to find out all about Jack's plans for the walk. With support from his family, school (Grove Primary School in Lowestoft) and Lisa and Ben Walker from our Fundraising team, Jack organised a wonderful event on 9th July where he raised £3720.
Over 300 children, family and teachers walked 10 laps of the school field for an hour, covering four miles. Wendy even got 320 doughnuts donated from their local Asda for the children to eat after the walk, and the school organised a special t-shirt for Jack to wear. It was a fantastic day and a wonderful way to mark Jack's dad's birthday, which was just three months after his sudden passing.
Lisa kept in touch with Wendy and Jack and arranged for them to come to the Cambridge base to meet the crew who attended Stefan. The family, including Wendy's parents, all came in to meet Doctor Natalie Lonsdale and one of the pilots, Dan Mansell, who was on shift that night.
It was an emotional visit, but one that helped to answer many questions the family had about what treatment Stefan had received. Jack was able to see the helicopter (and see how heavy some of the EAAA medical equipment is). Doctor Natalie also showed Jack how to use the ultrasound equipment!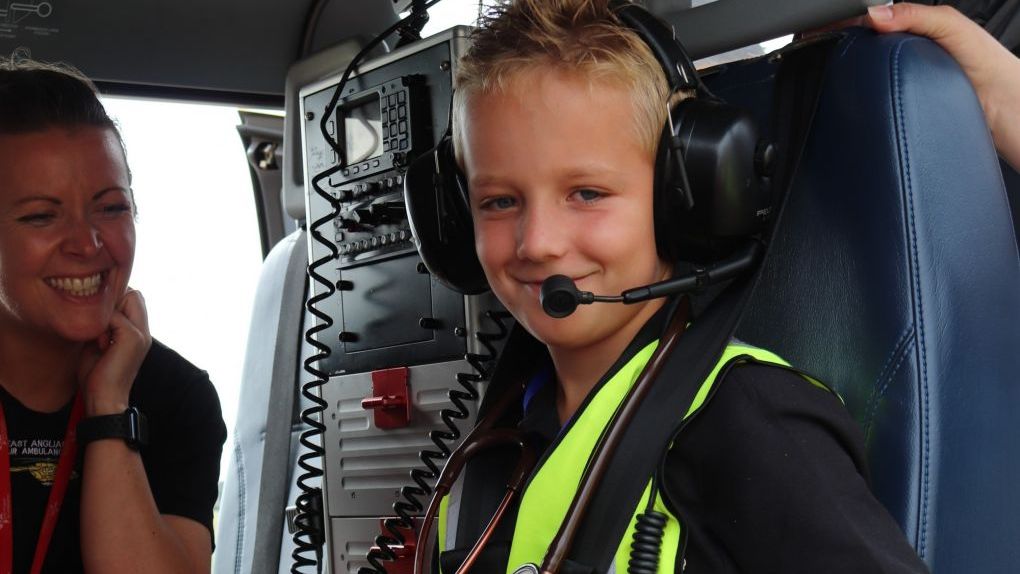 "Meeting Lisa has really helped both Jack and I so much. When Lisa visited our house I was able to talk about the evening I lost Stefan, how I felt that I hadn't been able to save him. It was the most horrific situation I have ever been in and I am still dealing with flashbacks. Lisa was so supportive and ale to explain to me everything the medical team did for Stefan."

Jack's mum
Wendy Said; "I was also able to talk to Lisa about Jack's sponsored walk idea, as he wanted how to say thank you to EAAA and also remember Daddy on his birthday. Having Lisa and Ben there on the day was amazing. It meant so much to me that they wanted to be there for us. It was a very emotional day. It was also so important for me to be able to meet the crew to say thank you to Dr. Natalie for all they did that evening. They tried everything they could. Jack enjoyed the trip, sitting in the helicopter and hearing how everything works. Lisa has helped us both so much, it is so hard to put into words."
Although most of our Aftercare visits are for the patients we help, we know how important having the opportunity to talk through the incident can be for the family members of the patient's we attend who sadly don't survive. Meeting the family members often means a lot to our team too – who can be left wondering about the people they meet under such traumatic circumstances. Visits can be really helpful in the healing process and give everyone involved a sense of closure.
We're pleased to report that Jack has since received a community award, nominated by his school, for his awesomeness, resilience and planning the walk for his daddy. Jack has also been nominated for "Young Person of the Year" at the Stars of Norfolk & Waveney Awards 2019. Fingers crossed for him.
Lisa will be keeping in touch with Wendy and Jack to continue to support them for as long as needed. Our Aftercare team are not counsellors, but specialise in supporting patients and family members after an incident our crew have attended and concentrate on signposting them to get further support when needed.
Our Aftercare Team
Meet Alison Brett, our Head of Aftercare, who has been doing an amazing job reaching out to our patients, increasing the amount of patient feedback and outcome information we have to update our crew. Alison has now grown her team and we're very pleased to have three nurses seconded to us as Clinical Liaison Officers for different parts of the region.
Meet Sue Gee (furthest left) who is a Coronary Care Nurse at the Norfolk and Norwich University Hospital and working with our patients who are based in Norfolk. From left to right, next to Sue is Alison and then Lisa Boyle, a Clinical Nurse Specialist in the community who used to work at West Suffolk Hospital and is now also working with our Suffolk-based patients. And then there's Georgie Sellick, who is a Sister at the Neuro Critical Care Unit at Addenbrooke's and is working with our patients who are based in Cambridgeshire and Bedfordshire.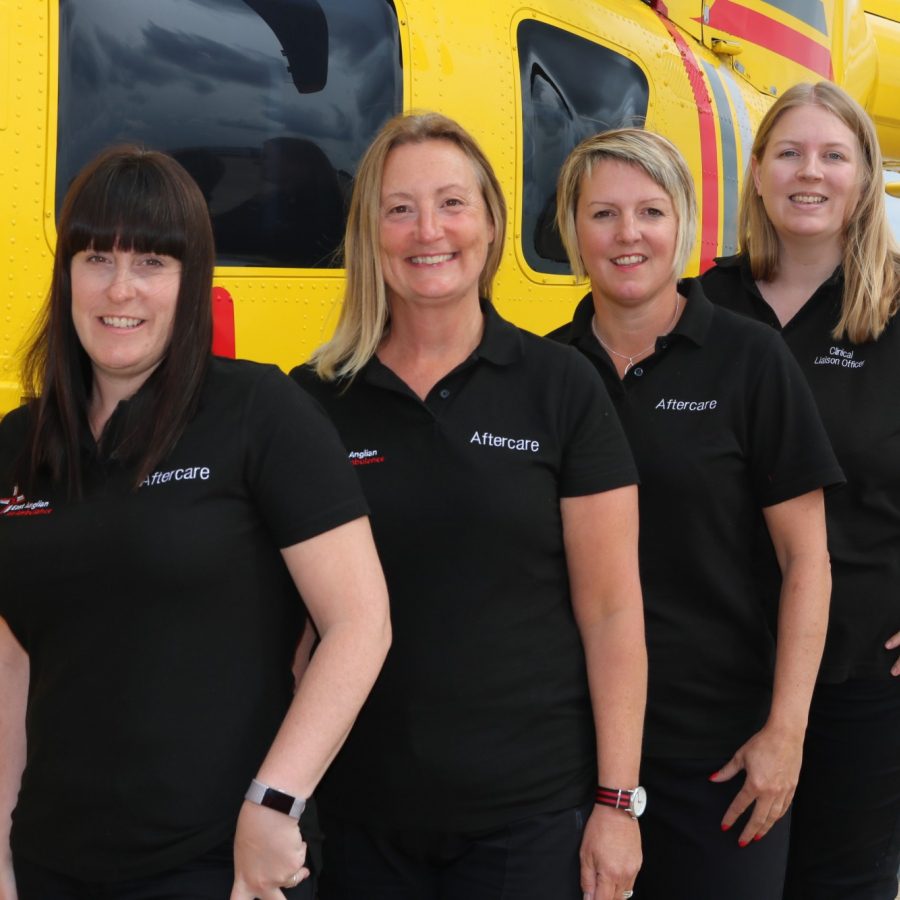 Our Aftercare service aims to:
Support patients and their families in understanding their treatment during the incident and providing and explaining complex clinical information to help aid their recovery
Improve the quality of the aftercare we deliver, including more visits in hospital and the patient's home
To organise and host patient base visits to meet the crew who treated them
Signpost patients and families to local support networks
Provide patient outcome feedback to EAAA clinicians
Due to Alison's growing team, we've seen a 25% increase in the number of patients who have reached out to us or received aftercare support.
How we work
to make a difference
Effective Response
With the combination of a quick response time, advanced critical care on scene and quick transfer to the appropriate hospital, our mission is to save more lives across East Anglia.
First Aid
We're aiming to minimise the impact of trauma in the community by providing vital first aid training, so more people can take action if someone nearby suffers a medical emergency.
Aftercare
The missions we attend are often life-changing for our patients. By offering dedicated aftercare support, we're helping more of our patients and their families with their recovery journeys.
Partnerships
By developing partnerships and collaborations with local organisations who have aligned ambitions to ours, we can continue to do the very best for each and every patient we treat.