Norfolk Nurses to take on Trek 24
13 August 2019
There's less than one month to go until the East Anglian Air Ambulance's flagship Trek 24 event to help the charity fly 24/7
On Sunday 8 September hundreds of hardy walkers will take on either a 24 mile or 24 kilometre coastal walk along the North Norfolk Coast in aid of the East Anglian Air Ambulance (EAAA), with both routes finishing at Holkham Hall.
The 'Four for 24' group is made up of four Norfolk nurses who have all had experience working at the Norfolk and Norwich University Hospital: Natasha Pickett, Clare Johnson, Louise Langham-Hill and Bev Macfarlane.
This team know first-hand how important the air ambulance is in getting seriously ill or injured patients to them as quickly as possible and are taking on the 24 kilometre walking challenge to support the charity's mission to expand their service to fly 24 hours a day.
"Supporting EAAA is very close to our hearts. All of us are ED nurses or ex-ED nurses so we have seen first-hand the benefit EAAA gives to patients who have suffered a life-threatening incident or medical emergency. Personally, my husband was knocked off his bicycle in an accident and taken to Addenbrooke's by EAAA, so I am proud to take part in Trek 24 and do my part to raise funds for this vital charity."

Ex ED nurse at the Norfolk and Norwich University Hospital and current nurse at Cromer Hospital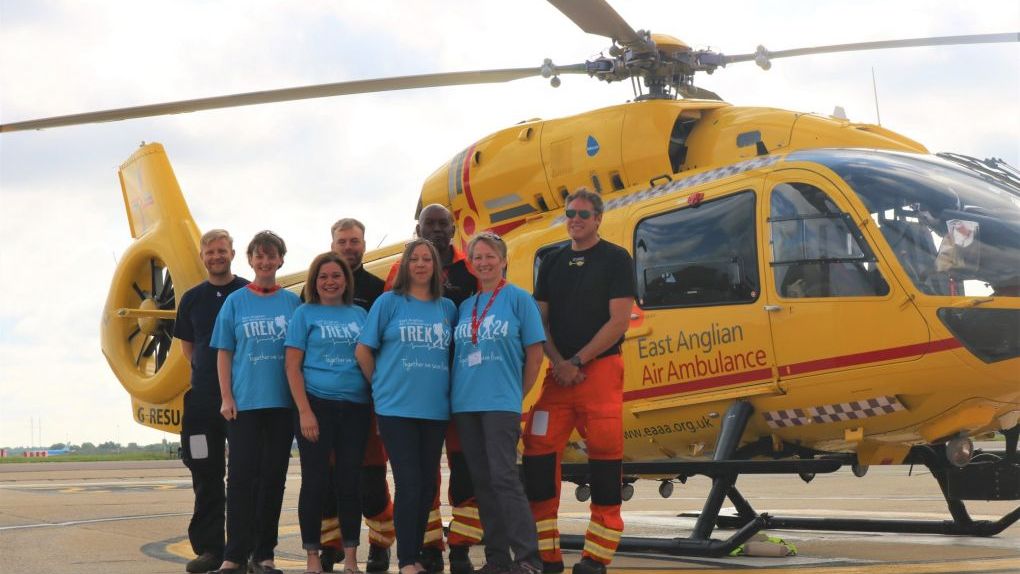 Four 4 24 - Louise Langham–Hill, Natasha Pickett, Clare Johnson and Bev Macfarlane are walking 24K as part of Trek 24 in September. The team are pictured here meeting the Anglia One Crew: Pilot Rich Anderson, Critical Care Paramedic David Killingback, Doctor Victor Inyang and Critical Care Paramedic Neil Flowers.

Sponsor the team to help EAAA fly 24/7.
Trek 24 is a brand new fundraising event which has been created as part of the charity's fundraising drive for EAAA's Mission 24/7 – to fly their Anglia One helicopter from Norwich 24 hours a day. So far over 200 people are signed up to take part, and tickets for the event can still be purchased until 31 August.
Currently the helicopter flies from Norwich between 7am and 7pm. The charity's expert doctors and paramedics already work 24/7, with the night shift provided via rapid response vehicle. By flying 24/7, the charity estimate they will be able to attend up to 600 more missions a year then they currently do, flying all over East Anglia, not just in Norfolk.
To do this, EAAA need to raise an additional £1 million a year – on top of the £12 million they already need to keep their helicopters flying and saving lives – and aim to be operational 24/7 by helicopter in 2020 - becoming the first air ambulance charity in the East of England to do so.
"It's vitally important to have a night-time helicopter service in the area, especially in rural Norfolk where it can take so long to get around by car. We've designed this event to support our mission 24/7 and have been really impressed with the number of people who have already signed up to take part and will be supporting us next month. Seeing teams like these lovely ladies entering is really special and we can't wait to see a sea of blue EAAA supporters taking over the North Norfolk coastline next month. We hope that passers-by on the day will help to cheer these amazing walkers on!"

EAAA Events Fundraiser