PHEM Trainees: The start of new journeys in pre-hospital emergency medicine
18 August 2023
Each six to twelve months, we welcome a new cohort of doctors and/or critical care paramedics (CCPs) to begin their specialist PHEM (pre-hospital emergency medicine) training with EAAA. The start of this journey is an intensive one-week course to become a PHEM practitioner at the highest level.
Last week, we were pleased to welcome the latest cohort of six clinicians to EAAA. The recruitment process is rigorous; the candidates have been selected because of their medical backgrounds, and they have demonstrated they have what it takes to progress in the field of PHEM.
Most will be at the very start of their PHEM journey, but they will already be experienced medical clinicians in other fields, which may include emergency department, anaesthetic, intensive care or military doctors. Our aim is to bring them to a high and safe level of supervised PHEM practice. Our week-long PHEM course, before the trainees begin their EAAA placement, gives us an opportunity to determine the level of support they will need as they move through their PHEM journey with us.
It's a very demanding programme. Every candidate is different, but as their placements progress, they develop the advanced skills and knowledge to attend patients during what may be the worst moment of their and their family's lives.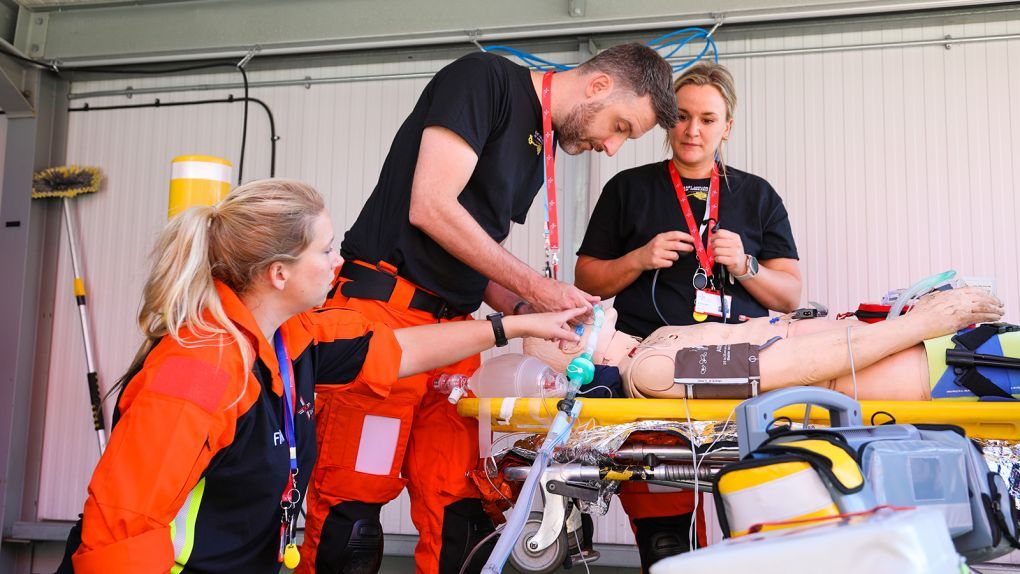 Behind the scenes of a PHEM course
Each day has a different theme and is a mini-course in itself, including critical care, emergency surgical procedures, major incidents, as well individual assessments. The morning is theoretical in nature with lectures, workshops and discussions. We consolidate this learning in the afternoon with simulations and practical exercises. The final day includes assessments and a major trauma exercise.
It's not a pass/fail course, but it enables our charity to learn where to focus our supervision for each trainee before they are signed off to attend life-threatening emergencies with us, which is usually between four and six weeks of supervised missions.
Latest evidence, equipment and life-saving surgical skills
Our passion is to improve patient outcomes to save lives and keep more families together. We strive to constantly improve, develop, and share knowledge and experience to progress each cohort of trainee PHEM doctors and critical care paramedics to become the PHEM specialists of the future.
The PHEM trainees benefit from our research and the latest evidence behind advanced out-of-hospital critical care. This includes training in innovations such as SPEAR (Specialist Percutaneous Emergency Aortic Resuscitation) and POCUS (Point of Care Ultrasound). These are significant developments in the field of pre-hospital care to improve patient outcomes. These procedures delivered on-scene can give patients the best chance of surviving and recovering from a life-threatening emergency.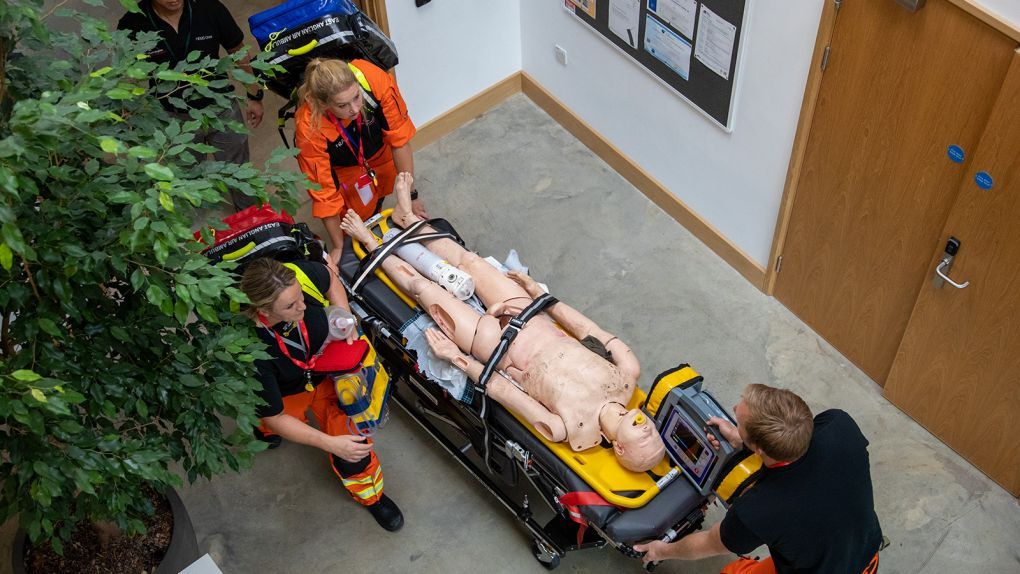 Real-life scenarios
Using the state-of-the-art facilities and equipment at Helimed House, our Norwich Headquarters, and out in the field, our PHEM course provides clinicians with the essential practice to deal with many of the real-life incidents they may be tasked to.
Our simulation suite enables us to recreate some of the conditions clinicians could encounter when assessing and treating patients. This includes varying the temperature, darkness and even adding a strong wind to make the conditions even more challenging to replicate external environments.
Cutting edge technology
During training, the PHEM trainees will also develop their skills by using high-spec simulation manikins and monitors, which are controlled by iPads. Thanks to specialist iSimulate technology, we can simulate a manikin patient's condition. For example, altering the manikin's respiratory, heart rate and blood pressure.
These replicate the monitoring equipment we use in real-life situations when we are tasked to a patient in the East of England. We can also recreate patient noises on an iPad to further add to the simulation and replicate situations that may happen for real in the pre-hospital environment. Videos can even be projected on the walls all around trainees.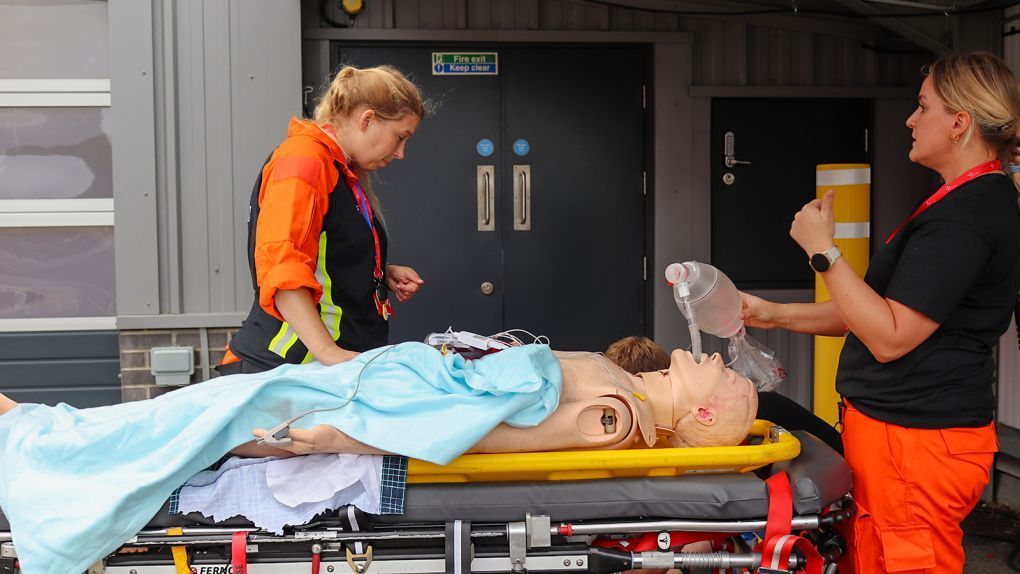 Collaborative working
Creating opportunities for the PHEM trainees to practice with a larger group of professionals in different scenarios and locations, with various distractions, is essential. It means when they attend real-life situations, they have experience of working under pressure in chaotic and fast-moving situations.
We are grateful for the support of colleagues from the ambulance service who bring so much to our PHEM training by sharing expertise and assisting with exercises.
It's ok to not be ok
We also provide an introduction to the charity's culture of open and honest discussion to nurture resilient individuals and supportive colleagues.
While it's important that our trainees are tested under stress, it's done in a supportive way. Clinicians will be exposed to extremely challenging, often tragic and distressing circumstances. With that in mind, we place much emphasis on welfare, support, and building personal resilience.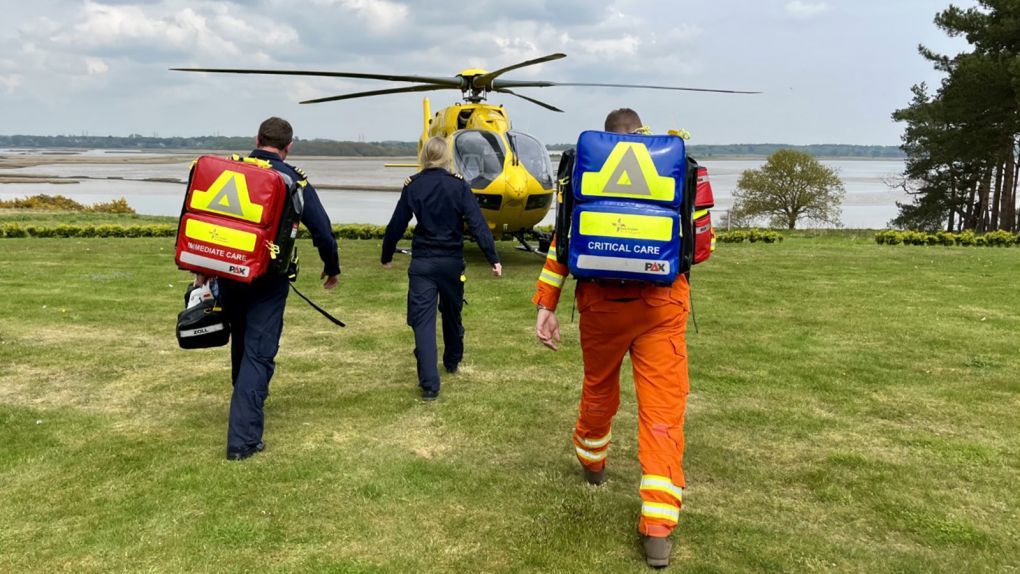 Impact
The impact of this specialist pre-hospital emergency medicine training is improved patient outcomes for the most seriously ill and injured people in East Anglia. From road traffic collisions to cardiac arrests to medical emergencies, our specialist doctors, critical care paramedics and pilots bring the advanced skills, equipment and medicine directly to you or your family, in the fastest time possible.
The PHEM course is just one of the ways we continue to push the boundaries in pre-hospital emergency medicine to give patients the best chance of surviving and recovering from a life-threatening emergency.
None of this would be possible without your incredible support, thank you.
Together we save lives.