Blood is now available on every mission
26 July 2021
East Anglian Air Ambulance (EAAA) is now permanently able to deliver blood transfusions as a core part of its life-saving service.
Following an urgent fundraising appeal made by EAAA in May, the air ambulance charity, which covers Norfolk, Suffolk, Cambridgeshire and Bedfordshire, is now able to carry packed red blood cells and freeze-dried plasma on every mission.
Blood transfusions ensure that the most gravely injured patients suffering a major bleed have the best chance of getting to hospital through increasing oxygen delivery and clot production.
EAAA's Blood on Board project has involved raising in excess of £90,000 and essential partnership working between two of the region's hospitals, Addenbrooke's and the Norfolk and Norwich University Hospital (NNUH), and two volunteer-driven blood biker charities, SERV Suffolk and Cambridgeshire and Norfolk Blood Bikes.

Below: some of the team at NNUH who have made this possible.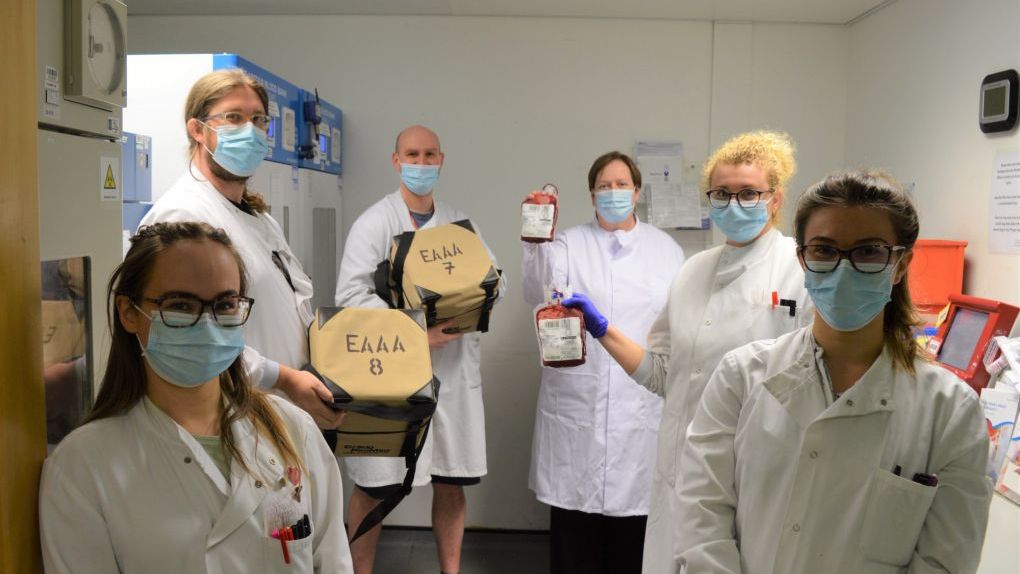 Together, these organisations ensure EAAA has a daily supply of the red blood cells needed to help save lives, to each of its operational bases (one at Cambridge airport and one at Norwich airport), every day of the year. The hospitals are key in sourcing, checking and providing the red blood cells and the blood bike volunteers are essential in getting the blood cells from the respective hospitals to EAAA every evening, and returning any unused blood cells back to the hospital.
Delivering this life-saving treatment will require additional funding year-on-year to cover the annual costs incurred.
Richard Hindson, Head of Operations at EAAA said: "This entire project has been successful thanks to the generosity of the public and the fantastic partnership working between Addenbrooke's, NNUH, SERV Suffolk and Cambridgeshire and Norfolk Blood bikes."
"I'm hugely grateful and really proud to know that going forward we will have two vital blood products available on every mission for the patients where these treatments might be the difference between life and death. It is a privilege to work alongside other charities and hospitals whose main aim is to save lives and achieve the very best outcomes for our patients. "

Head of Operations, EAAA
The key steps required to get this life-saving treatment to the patient:
O- red blood cells are prepared by the local pathology lab to each EAAA operating base, involving a lot of important checks and paperwork to ensure quality and traceability.
Once ready to go, the red blood cells are placed into temperature-controlled and insulated 'blood boxes' and picked up every night from the hospital by a blood bike volunteer.
The blood bike volunteer then delivers the packages straight into a secure fridge at the EAAA base, to keep the blood at the right temperature.
The blood boxes are then carefully loaded onto the helicopter and rapid response vehicles by the EAAA clinical crews the next morning, ready to be used on an emergency call-out.
The blood boxes can exist out of the fridge on the helicopter or RRV for 24 hours before they need to be replaced or returned to the lab on the next blood biker delivery.
Any blood that is not used within a 24-hour period then follows the same journey in reverse back to the lab, where it is checked and processed so that it can be used by a patient in the hospital instead.
Carol Harvey, EPA Network Blood Transfusion Manager at NNUH, added: "I am really pleased that we are doing this and we are delighted that the team can play such a vital role in helping to save patient lives. There has been a lot of work and paper work that has gone into getting this off the ground, but it is all worthwhile to help save lives. I want to thank the teams at EAAA and NBB for their dedication to ensuring this project is able to take place."
Below: Katherine Philpott of CUH with Mick Thurman, volunteer and operations manager at SERV Suffolk and Cambridgeshire, who work together to supply the EAAA Cambridge base with packed red blood cells.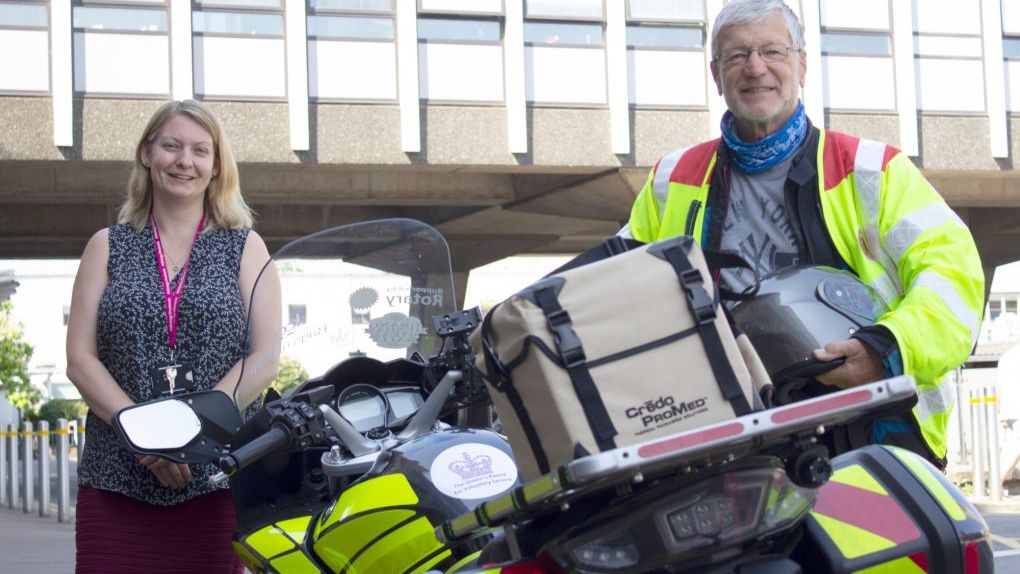 CUH blood transfusion laboratory manager, Katherine Philpott, said: "We are delighted, thanks to the generosity of donors, to be able to prepare and package blood stocks to help EAAA save the lives of people treated at short notice and in difficult conditions. We wish them continued success with this service, which often results in the transportation of patients back to Addenbrooke's for further care."

Below: Sean Moore, Chairman of Norfolk Blood Bikes, and Norfolk blood bike volunteer Ryan Slatford visit the Norwich base to mark the start of the project in July.
Sean Moore, Chairman of Norfolk Blood Bikes, said: "Norfolk Blood Bikes are proud to be resupplying the EAAA crew based at Norwich. The team at NBB have been very keen to restart the blood on board after the trial finished in December, and hope that our nightly resupply will assist in saving those patients who need it. Our moto is we'll go no matter what, yes that even means that we will still resupply the EAAA in all weathers."
Cindy Dickerson, Chair of SERV Suffolk and Cambridgeshire (The Bloodrunners) added: "Our volunteers will be supporting our EAAA colleagues by delivering blood products to them every day, enabling them to carry blood on board each time they attend a seriously injured or sick patient. We are absolutely thrilled to be part of this exciting initiative."
The red blood cells are now available on every East Anglian Air Ambulance helicopter or rapid response vehicle mission alongside lyoplas, freeze-dried plasma, to help treat people suffering life-threatening bleeds.
Below: Norfok Blood Bikes delivering Blood to our Norwich HQ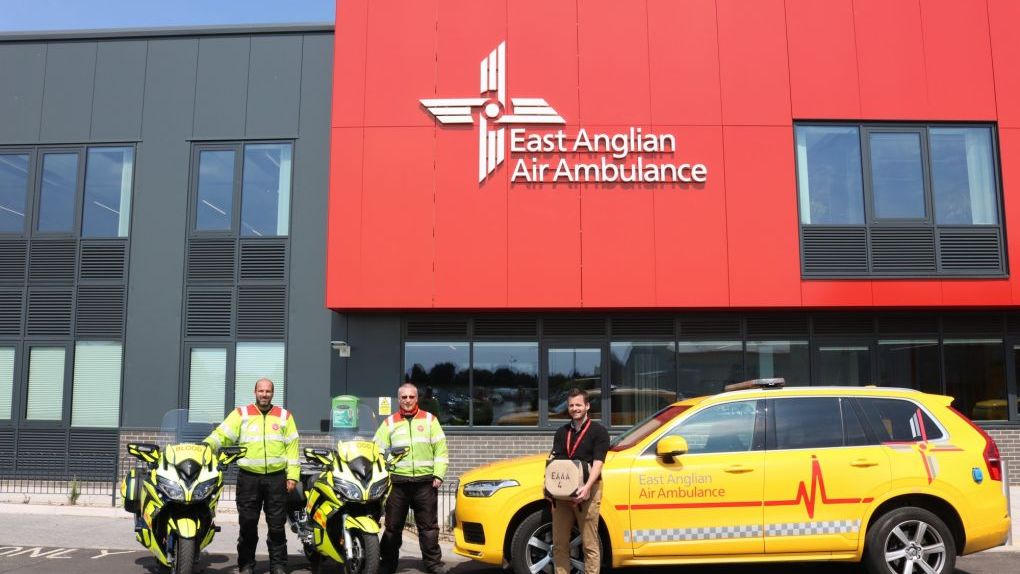 Richard Hindson continued: "To get to where we are now is the result of years of hard work and none of it would be possible without the public who have supported this project and the lab teams and blood bikers who work so hard to get us the red blood cells that we need, every day of the year.
"We developed some experience in setting up the red blood cell supply chain to our bases and delivering these treatments over the past few years, as part of a clinical trial which ended in December. Over the last seven months we have been busy putting everything in place, including raising the vital funds required, to make these treatments a permanent part of our service. I couldn't be happier that this month we've achieved a really big goal for our patients and the level of care we aim to provide pre-hospital."

To find out more about the blood appeal and how you can support this project, go to: www.eaaa.org.uk/blood