EAAA Critical Care Paramedic wins Critical Care Practitioner of the Year
08 December 2021
East Anglian Air Ambulance's (EAAA's) Critical Care Paramedic Liam Sagi, from Felixstowe, Suffolk, has been named Critical Care Practitioner of the Year at the prestigious Air Ambulances UK Awards of Excellence, which was held at a special virtual ceremony on Friday and attended by air ambulance charity leaders and team members from across the UK.
Liam Sagi regularly goes above and beyond for the charity, its staff and most importantly its patients. Working with the air ambulance charity since 2018, Liam not only provides exceptional clinical patient care but is an indispensable and supportive team member and stands out for his remarkable motivation and dedication to the charity.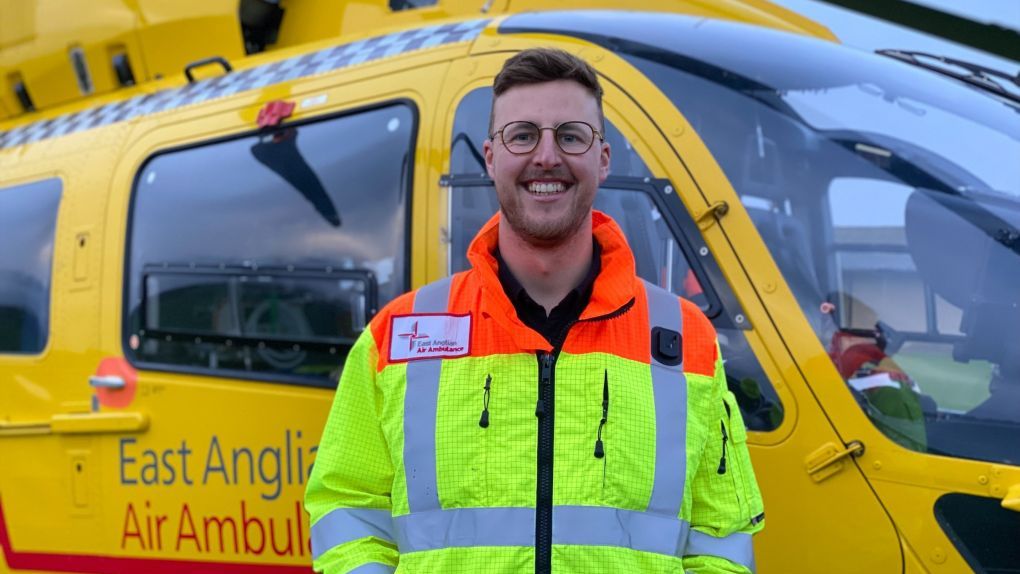 "Just to be nominated for this award is a huge honour. I feel incredibly privileged to do my job and I love being able to help people at their worst hour so to be presented with this award is truly humbling. I am very thankful."

Critical care Paramedic
Liam also had the incredibly unique experience of treating one his colleagues last year, when she was involved in a road traffic collision. Despite the psychological and well-being impact of this, Liam and his colleagues quickly provided advanced life-saving care, flying their colleague to the major trauma centre for further treatment. She has since made a full recovery. Liam is also regularly involved in events to raise funds and awareness for the charity, such as hosting EAAA's Annual Roadshow in October.
In his spare time, Liam volunteers as a Critical Care Paramedic for Suffolk Accident Rescue Service (SARS). Over the last 15 months he has volunteered over 1,200 hours of his time as a SARS volunteer responder, on top of his commitments to EAAA, responding in his own time to patients who are critically ill and injured.
The Awards, sponsored by BMW Group, celebrate the professionalism, excellence, and dedication of all those who work and volunteer within the air ambulance community to ensure that people with a life-threatening injury or illness rapidly receive advanced pre-hospital critical care to provide the best possible chance of survival.
Matthew Jones, CEO of EAAA, added: "Liam is an absolutely outstanding member of the team who is not only brilliant in delivering pre-hospital emergency medicine for his patients but also brings boundless energy and enthusiasm to the workplace. He has done a fantastic job in supporting various charity projects over the last 12 months and I am utterly delighted that he has been recognised with this award. EAAA was shortlisted in five different categories at this year's Awards of Excellence and we're very proud for our work to have been well represented at a national level and for Liam to have won Critical Care Practitioner of the Year."
Simmy Akhtar, CEO of Air Ambulances UK, added: "The nominations for this year's awards were truly outstanding and are a great reflection of the day to day work that air ambulance charity team members and volunteers do to help save lives and improve patient outcomes. Their dedication and commitment to patients, families and their loved ones is truly remarkable. I would like to congratulate all of our winners and thank them for their valuable and inspirational contribution to helping people in their time of need."